John McCain tells Donald Trump to prove Obama wiretap claim or else retract it
The Arizona senator said Mr Trump could resolve the matter 'in a minute'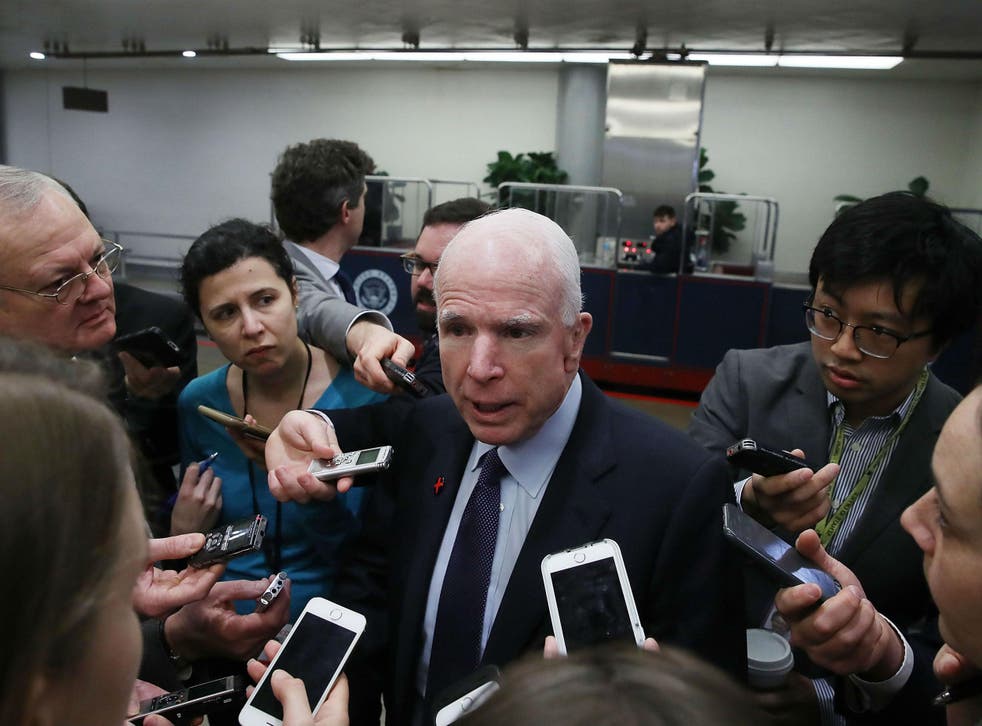 A senior Republican senator has called on Donald Trump to either provide evidence that Barack Obama wiretapped his offices or else retract the claim.
Mr Trump last weekend accused Mr Obama of electronically eavesdropping on him shortly before the November election. He did so without providing any evidence, and the White House called on Congress to investigate the claim.
The House Intelligence Committee agreed to do so, and asked the White House to provide any evidence of the allegations by Monday. But speaking on CNN, John McCain, said Mr Trump could very easily clear up the matter.
"I have no reason to believe that the charge is true, but I also believe that the President of the United States could clear this up in a minute," Mr McCain said.
"All he has to do is pick up the phone, call the director of the CIA, director of national intelligence and say, 'OK, what happened'."
He added: "The president has one of two choices, either retract or provide the information that the American people deserve."
Saturday Night Live Alec Baldwin returns as Donald Trump for Independence Day spoof
Mr McCain has long had a difficult relationship with Mr Trump. During the election campaign, Mr Trump claimed that Mr McCain, who served five years as prisoner of war in Vietnam, was only considered a hero "because he got caught".
The Arizona senator eventually backed Mr Trump, in a move that seemed measured to ensure he did not alienate the people he needed to reelect him.
Through his spokesman, Mr Obama denied Mr Trump's accusation, as have other current and former national security figures.
Mr McCain also expressed his concern with the mounting questions about the relationships between Russian officials and people tied to the Trump campaign.
"There's a lot of aspects of this whole relationship with Russia and Vladimir Putin that requires further scrutiny, and so far, I don't think the American people have gotten all the answers," Mr McCain said.
"In fact, I think there's a lot more shoes to drop from this centipede."
Mr McCain, who has advocated a hard line against Russia, called into question the failure of the Republican Party to adopt at its 2016 national convention a plank for the provision of defensive weapons to Ukraine following Russia's invasion of Crimea.
"Why was that taken out of the Republican platform," Mr McCain asked. "Clearly, it was not the will of most Republicans."
Join our new commenting forum
Join thought-provoking conversations, follow other Independent readers and see their replies