Donald Trump's new Education Secretary Betsy DeVos 'donated nearly $900,000 to Senators who helped confirmation'
'I have decided to stop taking offence at the suggestion that we are buying influence ... We expect a return on our investment,' Ms Devos once wrote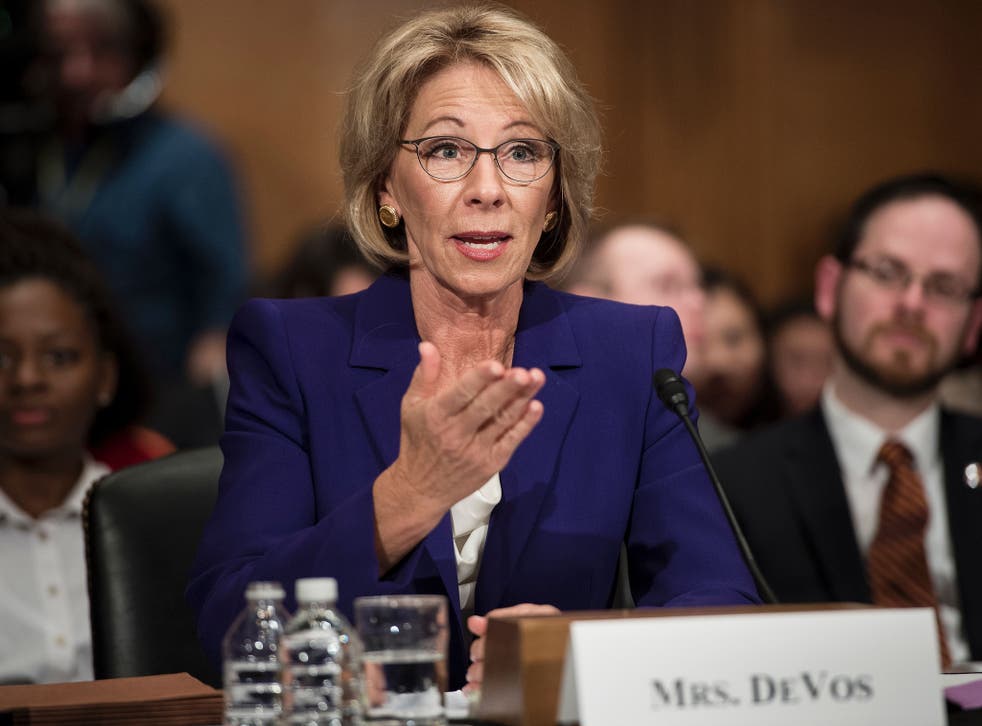 Donald Trump's new Education Secretary reportedly donated nearly $900,000 over the years to the Senators who confirmed her into the job.
Betsy DeVos was a controversial choice for the role and was criticised for her performance before the Senate confirmation committee.
She has previously spoken of her desire to "advance God's kingdom" though the education system. She also candidly admitted that she "expects something in return" for her money when it came to political donations.
Over the years, the Education Secretary has donated almost $4 million (£3.2 million) to Mr Trump's Republican Party.
Education secretary Betsy DeVos wants to 'advance God's kingdom' through US school system
The vast majority was given in the 2016 election cycle, according to the Centre for American Progress, although Ms DeVos has contributed to party since 1980.
Of the 51 politicians who voted for her to be Education Secretary, 22 had received a total of $894,350 (£712,686) in campaign donations from Ms DeVos, according to the Mic news outlet.
The largest donation was to Mr Trump's former rival for the Republican presidential nomination, Senator Marco Rubio, who received $98,300 (£78,276).
She also made two donations of $70,200 (£55,900) to Senators Bill Cassidy and Thom Tillis. Others donations ranged from $60,050 (£47,817) to just $1,000 (£796).
Ms DeVos has been politically active as a campaigner for many years but this will be the first government position she has held.
She is known to support the use of education "vouchers" – a $10,000 taxpayer funded voucher which is given to parents to put towards their child's schooling at a private or religious institution.
Critics claim it takes taxes out of the public system and places it directly into private hands.
Ms DeVos has also come under fire for her attitude towards donations.
"My family is the biggest contributor of soft money to the Republican National Committee," she wrote in the political magazine Roll Call, in 1997. "I have decided to stop taking offence at the suggestion that we are buying influence.
The controversial orders Donald Trump has already issued

Show all 9
"Now I simply concede the point. They are right. We do expect something in return. We expect to foster a conservative governing philosophy consisting of limited government and respect for traditional American virtues. We expect a return on our investment."
The tight vote confirming Ms DeVos as Education Secretary was indicative of her divisive nature.
Fifty Senators voted against her, including two Republicans. It forced Vice President Mike Pence had to make an unprecedented move and vote in her favour, so she could cross the line with 51 ballots.
On Ms DeVos's confirmation, education policy campaigner the Centre for American Progress, Catherine Brown, said: "It's true that money talks, and for the Republican Senate majority, $4 million in donations from Betsy DeVos and her family spoke louder than the voices of hundreds of thousands of constituents that called, emailed, tweeted, faxed, and protested about Ms DeVos' nomination.
"Unprepared, unaware, and unqualified, Ms DeVos will now lead an agency whose work touches the lives of virtually every American. If there's anything we hope Ms DeVos learned from her confirmation process, it's that the American people do not want our public school system to be devalued and defunded, and any attempt to voucherise our schools will not happen quietly."
The Independent has contacted the Department of Education for comment.
Join our new commenting forum
Join thought-provoking conversations, follow other Independent readers and see their replies