Donald Trump's black voter 'outreach' is meant to appeal to moderate, white Republicans
Trump has repeatedly made his case to black voters in front of mostly white audiences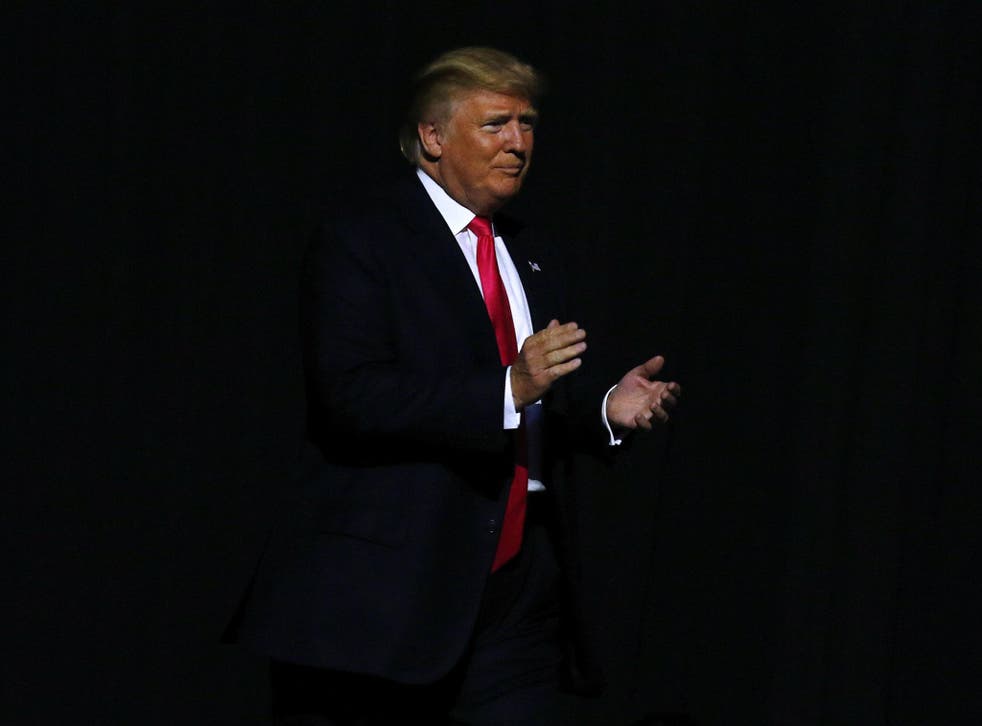 Donald Trump has made what appear to be attempts to reach out to black voters following dismal polling showed an historical low for a GOP candidate.
But the New York businessman's efforts have been criticised for what many call a half-hearted attempt to woo voters of colour, and in fact are only intended to soften his image to more moderate Republicans uneasy with voting for a racist.
What has he said?
Mr Trump appeared before predominantly white audiences in North Carolina and Michigan last week asking black voters, "What the hell do you have to lose?"
"You're living in poverty, you have no jobs, your schools are no good," he said. "If you keep voting for the same people, you will keep getting exactly the same result."
During a speech in Austin, where he positioned himself as "the law and order candidate", Mr Trump added: "Give Donald Trump a chance! We will turn it around! We will make your streets safe so when you walk down the street, you don't get shot, which is happening now. That's what's happening now."
What is the response?
President of the National Urban League told the New York Times that Mr Trump painted an incorrect picture of black communities in the US.
"It's an inaccurate portrayal of the community that seeks to define the community by only its biggest challenges," he said. "Black America has deep problems – deep economic problems – but black America also has a large community of striving, successful, hard-working people: college-educated, in the work force."
Michael Steele, former chairman of the Republican National Committee, criticised Mr Trump's apparent outreach to black voters while only speaking to mostly-white audiences. He claims to have passed along invitations to speak at Historically Black Colleges and Universities to no avail.
Donald Trump defends Milwaukee police shooting
"The fact of the matter is it's something that you've got to be a little bit smarter about," he told the Wall Street Journal. "You don't go to a white community to talk about black folks. Hello, it doesn't make sense."
Former publisher of the black-owned newspaper The Atlanta Daily World, Alexis Scott, told the Times that it appeared that Mr Trump was using the appeal to black voters as further outreach to moderately conservative white people.
"I hear him not talking to black people, but talking to white people about black people so they will think he cares about black people," she said. "The real thing that he's trying to do is try to protect some of the white vote by suggesting to them that he cares."
Many critics argue that Mr Trump's own history undermines his claim to be the the person to address racial inequality in black communities.
In the 1970s, Mr Trump faced a lawsuit from the Department of Justice over accusations that he violated the Fair Housing Act. The Trumps were accused of discriminating against black people who applied to their properties, even going so far as marking them with the letter "C" to denote "coloured".
In 1989, before he named himself the "law and order candidate", Mr Trump took out a full-page advert in the New York Daily News arguing for the execution of the Central Park Five – five boys wrongfully accused of raping a jogger in the Manhattan park.
Even after the actual perpetrator of the crime confessed, Mr Trump called a $14m settlement issued by the city to the exonerated group the "heist of the century".
Why now?
While Trump has trailed Hillary Clinton significantly amongst black voters since he entered the general election, his polling hit rock bottom with only one per cent of the black vote according to an NBC/Wall Street Journal poll early in August.
Although Democrats have a loyal voter base among black voters, Mr Trump's polling has proven far less than previous Republican nominees since Barry Goldwater – the 1964 nominee who strongly opposed the Civil Rights act.
But recent polling also shows that Mr Trump only has the edge among non-college-educated white men, as college-educated and moderate Republicans are trepidatious about voting for the candidate give the controversy he generates.
Nevertheless, Mr Trump remains ever the optimist in his public addresses. If things go his way, he will most certainly win the black vote in 2020.
"At the end of four years," he said last weekend, "I will gain over 95 per cent of the African American vote, I promise you.
Register for free to continue reading
Registration is a free and easy way to support our truly independent journalism
By registering, you will also enjoy limited access to Premium articles, exclusive newsletters, commenting, and virtual events with our leading journalists
Already have an account? sign in