Donald Trump hits back again at Republican Senator Bob Corker as feud deepens
Alexandra Wilts
Washington DC
Tuesday 24 October 2017 16:23 Comments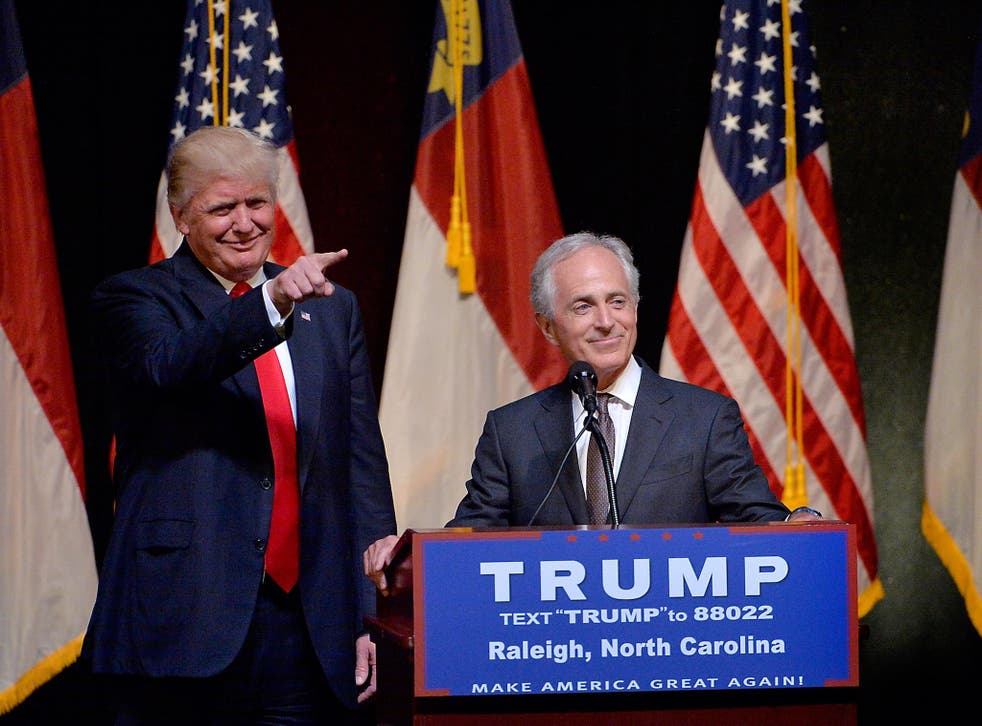 President Donald Trump has labelled Republican Bob Corker "incompetent" as a feud between the pair deepens.
"Sen. Corker is the incompetent head of the Foreign Relations Committee, & look how poorly the U.S. has done," Mr Trump tweeted. "He doesn't have a clue as....the entire World WAS laughing and taking advantage of us."
"People like liddle' Bob Corker have set the U.S. way back," he added. "Now we move forward!"
Speaking to CNN before the latest barrage of tweets from Mr Trump, Mr Corker said world leaders are "very aware" that much of what Mr Trump says "is untrue."
"The president has great difficulty with the truth," Mr Corker told the network on Capitol Hill, where Mr Trump is scheduled to meet with senators later in the day to forge consensus on a tax reform plan.
During the startling barbs, the Republican, who endorsed Mr Trump for president in 2016, said that he wouldn't make that same decision twice.
"No way," Mr Corker said when asked about supporting the President again. He said that Mr Trump isn't even a good role model for the nation's children: "No, absolutely not."
The Tennessee Republican senator, who is retiring, said Mr Trump "is obviously not going to rise to the occasion as president."
Donald Trump's least presidential moments so far...

Show all 30
Mr Corker and Mr Trump also traded insults before the Republican senator spoke to CNN.
Mr Trump posted a tweet earlier on Tuesday saying that Corker "couldn't get elected dog-catcher."
Mr Corker announced earlier this year that he would not seek re-election in 2018. Since then, he has become more forthcoming about his views on the President, calling the White House an "adult day-care center".
Mr Corker is the chairman of the Senate foreign relations committee, a prominent position he used to vocally oppose the Iran nuclear agreement negotiated by the Obama administration. Under the 2015 agreement with six nations, Iran agreed to restrict its nuclear programme for at least 10 years in exchange for the loosening of economic sanctions that had crippled its economy.
While the Republican voted against approving it – and had pushed for legislation that would give Congress greater oversight on such agreements – Mr Trump has attempted to paint the senator as a strong supporter of the nuclear deal.
Register for free to continue reading
Registration is a free and easy way to support our truly independent journalism
By registering, you will also enjoy limited access to Premium articles, exclusive newsletters, commenting, and virtual events with our leading journalists
Already have an account? sign in
Join our new commenting forum
Join thought-provoking conversations, follow other Independent readers and see their replies