Donald Trump removes law protecting buildings from floods and sea-level rise
'It's going to be quick. It's going to be a very streamlined process. And by the way, if it doesn't met environmental safeguards, we're not going to approve it - very simple'
Chloe Farand
Friday 16 February 2018 10:32 Comments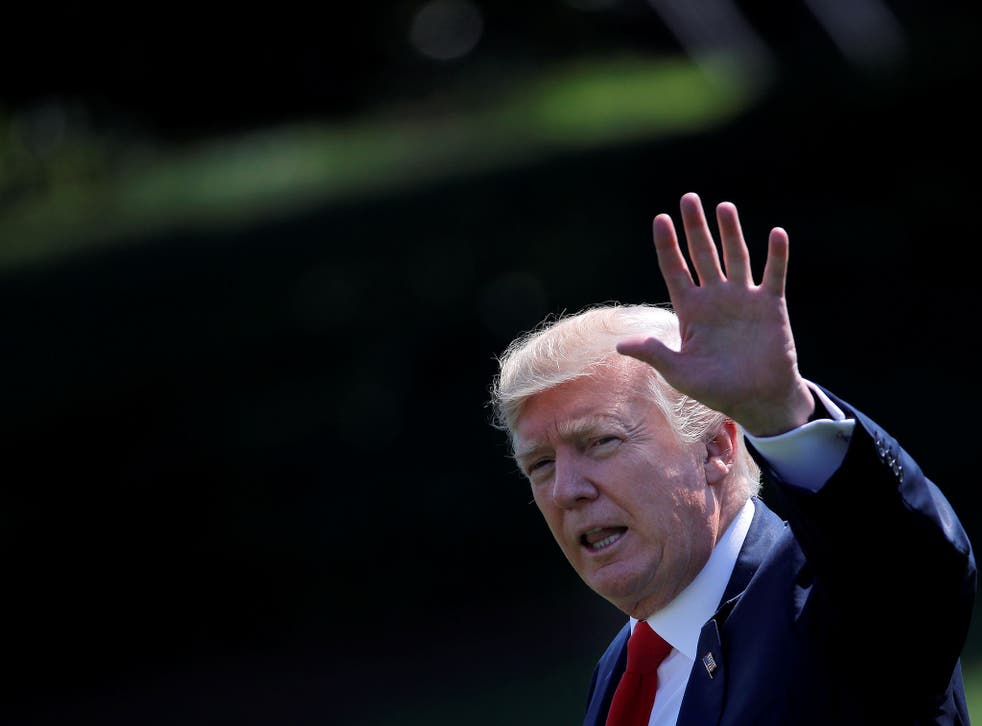 Donald Trump has signed an executive order which will revoke a law aiming at reducing buildings' exposure to flooding and sea-level rise, while speeding up approval for major infrastructure projects.
While the public debate was focused on the President's response to the neo-Nazi rally in Charlottesville, which turned violent, he announced the revocation of the Obama-era restrictions over the financing of building projects in flood-prone areas.
This latest executive order will roll back rules regarding environmental reviews as part of his proposal to spend $1 trillion to fix ageing US infrastructure.
Under the Obama administration, an executive order aimed to restrict government-funded building projects in areas which could be subject to flooding, sea-level rise and other consequences of climate change.
It required that builders factor in scientific projections for increased flooding and ensure that projects could withstand sea-level rise and severe storms and downpours. This included all infrastructure projects from housing to highways.
The aim was to ensure that infrastructure funded with taxpayers money would last as long as intended.
Speaking to reporters during a press conference at Trump Tower, Mr Trump said: "It's going to be quick. It's going to be a very streamlined process. And by the way, if it doesn't met environmental safeguards, we're not going to approve it - very simple.
"No longer will we allow the infrastructure of our magnificent country to crumble and decay."
The executive order also aims to see permits being agreed quicker for highways, bridges, pipelines and other major building efforts.
A spokesperson for the White House said the order would set a two-year goal for completing permits on major infrastructure plans while creating a single federal protocol for big projects.
Mr Trump has repeatedly complained that it takes too much time to get permits and approvals for construction projects.
During his election campaign, he also pledged to implement widespread deregulation in a bid to boost businesses, the economy and job creation.
World news in pictures

Show all 50
So far, Mr Trump has issued dozens of rules and orders to reverse Obama-era regulations addressing climate change and its consequences.
US officials estimated the country suffered $260bn in flood related damages between 1980 and 2013.
Rafael Lemaitre, former director of public affairs at the Federal Emergency Management Agency (FEMA) who worked on the Obama executive order, said Mr Trump was undoing "the most significant action taken in a generation" to safeguard US infrastructure.
He said the country was facing a choice of either "building smarter now" or leave taxpayers to foot the bill when it floods.
Flood policy expert Eli Lehrer added the executive order would be "disastrous for taxpayers" and that the Obama-era rule "would have saved billions of dollars over time".
Additional reporting by agencies.
Register for free to continue reading
Registration is a free and easy way to support our truly independent journalism
By registering, you will also enjoy limited access to Premium articles, exclusive newsletters, commenting, and virtual events with our leading journalists
Already have an account? sign in
Join our new commenting forum
Join thought-provoking conversations, follow other Independent readers and see their replies