Donald Trump's new campaign head Stephen Bannon accused of domestic abuse in 1996
The cases has resurfaced as Mr Trump is trying to improve his standing with women voters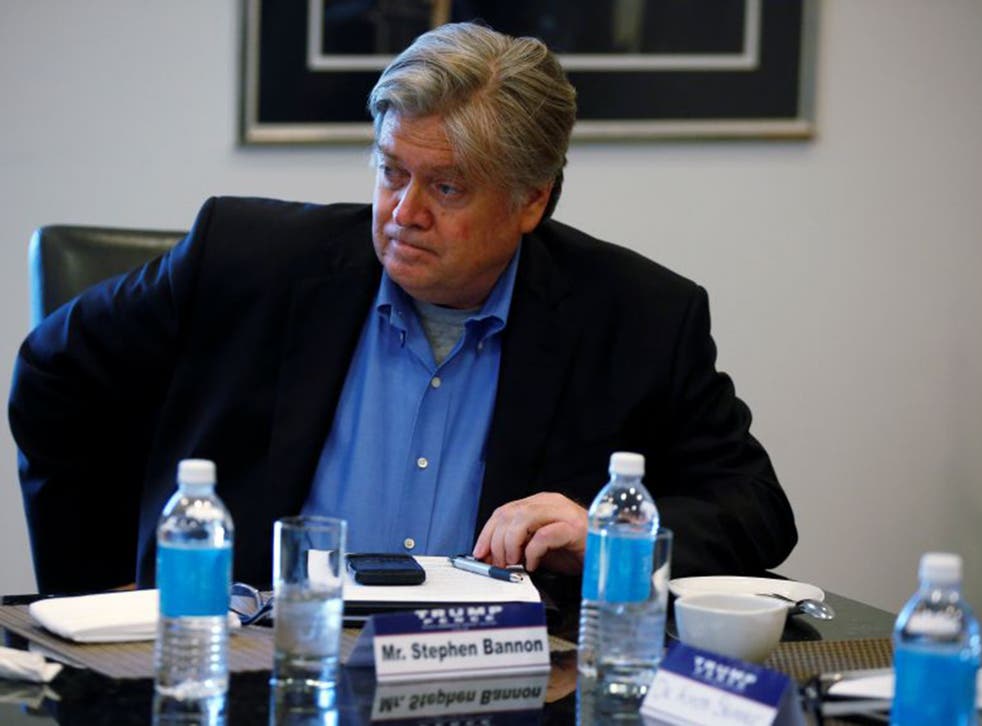 Stephen Bannon, the newly appointed Chief Executive Officer of Donald Trump's presidential campaign, was once charged with physically abusing one of his wives, it has been reported.
The legal case, unearthed and reported by the Politico website, revolved around claims that an altercation between Mr Bannon and his then wife in 1996 became violent when he pulled at her neck and wrist. The argument was allegedly about their finances.
Mr Bannon, who allegedly also smashed a telephone when his wife attempted to call the police, was charged in Santa Monica, where the couple were living, with misdemeanor domestic violence, battery and dissuading a witness.
According to the records, the case was eventually dismissed when Mr Bannon's ex-wife - they subsequently divorced - failed to show up for a court hearing. He had pleaded not guilty to the charges against him.
Mr Bannon, 62, joined the Trump campaign nearly two weeks ago after arranging to take a leave of absence from his job running the ultra-conservative news website Breitbart.
Hiring someone known as a relentless and noisy rabble-rouser for the far right was already a risky proposition for Mr Trump who has spent the last days trying to soften the tone of his campaign to appeal to those voters with particular reasons to be suspicious of him.
Among the constituencies Mr Trump has consistently polled poorly with is women, including many who would normally describe themselves as Republican. It will not help if the perception takes hold that he has picked a person once charged with domestic battery as his top aide.
Questions were also being raised yesterday about where Mr Bannon resides. He is registered to vote in Florida, a key swing state in the election, but the home he lists as his address is empty and slated for demolition, the Guardian reported on Friday. Registering to vote in Florida while not actually living there could be a violation of the state's election laws.
"I have emptied the property," Luis Guevara, the owner of the house, which is in the Coconut Grove section of Miami, told the newspaper. "Nobody lives there … we are going to make a construction there."
Mr Bannon's ex-wife, with whom he had twin girls, filed to dissolve their marriage five months after the alleged abuse in Santa Monica. In a police report she said that her husband also "became physical" during arguments on three of four previous occasions.
A spokeswoman for Mr Bannon suggested the case was ancient history. "The bottom line is he has a great relationship with the twins, he has a great relationship with the ex-wife, he still supports them," Alexandra Preate told Politico.
The woman, who is not named by the website, was Mr Bannon's second wife. They had been married seven month when the incident occurred.
"In the beginning of their relationship, she said they [had] 3 or 4 argument that became physical and they had been going to counseling. There has not been any physical abuse in their arguments for about the past 4 years. [REDACTED] said they have been arguing a lot, but no violence," the police report, obtained by Politico, stated.
Join our new commenting forum
Join thought-provoking conversations, follow other Independent readers and see their replies