Donald Trump peddling 'lies and xenophobia' by linking Syrian refugees and Isis, UN counter-terror expert says
Republican candidate claimed 'many' refugees have links to extremists in television debate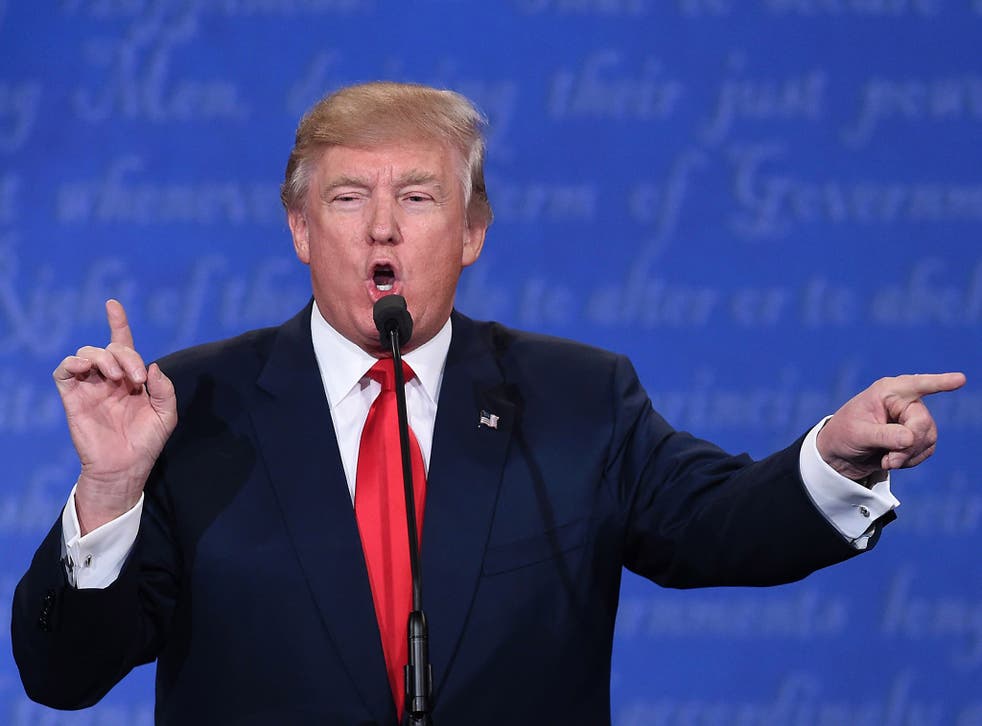 A United Nations investigator on terrorism has accused Donald Trump of peddling "lies and xenophobia" with repeated attempts to link Syrian refugees and Isis.
The Republican candidate has made the claim on numerous occasions and repeated the assertions during his third and final television debate with Hillary Clinton.
Mr Trump claimed his rival was "taking in tens of thousands of Syrian refugees who probably, in many cases - not probably - who are definitely, in many cases, Isis-aligned".
Trump says Clinton has been 'fighting Isis her entire adult life'
Ben Emmerson, the UN's special rapporteur on the protection of human rights in counter-terrorism, said his own investigation concluded that "there is no evidence that terrorist groups take advantage of refugee flows to carry out acts of terrorism, or that refugees are somehow more prone to radicalisation than others".
"Almost without exception, refugees and migrants do not pose a risk of terrorism," he told a press conference.
"They are, in fact, at risk of fleeing the areas where terrorist groups are most active.
"And irresponsible statements of the kind made by Mr Trump on Wednesday do nothing but fuel prejudice and stigma."
Mr Emmerson, a British barrister, said there was "almost no statistical support" for the Presidential candidate's claims.
He added: "The reason I single out Donald Trump is because I think he went further than any other leader has gone by asserting that there was definitely a link between substantial numbers of Syrian refugees into the United States and Isis, and that is nothing more or less than a xenophobic lie."
What did Donald Trump say during the third presidential debate?

Show all 9
The special rapporteur said national security risks caused by the refugee crisis had been "irresponsibly and misleadingly overblown in many countries", with terrorism being used to stoke public fear.
Mr Emmerson said Mr Trump's comments were "one of the clearest examples", amounting to "the peddling of lies and xenophobia."
His report on the impact of counter-terrorism measures on the human rights of migrants and refugees has been presented to the UN General Assembly.
Mr Trump's presidential campaign has been dogged by controversies over his statements on Muslims and refugees, although widespread criticism is deemed unlikely to sway much of his support base.
Last year he called for a temporary ban on all Muslims entering the US, before backtracking on the proposal, and has since been ridiculed for appearing to claim Isis had been in existence for 50 years.
The Republican candidate is currently trailing Mrs Clinton in the polls and has hinted at defeat by repeatedly claiming the election is "rigged" against him.
Additional reporting by AP
Register for free to continue reading
Registration is a free and easy way to support our truly independent journalism
By registering, you will also enjoy limited access to Premium articles, exclusive newsletters, commenting, and virtual events with our leading journalists
Already have an account? sign in
Register for free to continue reading
Registration is a free and easy way to support our truly independent journalism
By registering, you will also enjoy limited access to Premium articles, exclusive newsletters, commenting, and virtual events with our leading journalists
Already have an account? sign in
Join our new commenting forum
Join thought-provoking conversations, follow other Independent readers and see their replies