Donald Trump's campaign manager Corey Lewandowski arrested and charged with battery for grabbing reporter
 Lewandowski turned himself into police at 8am on Tuesday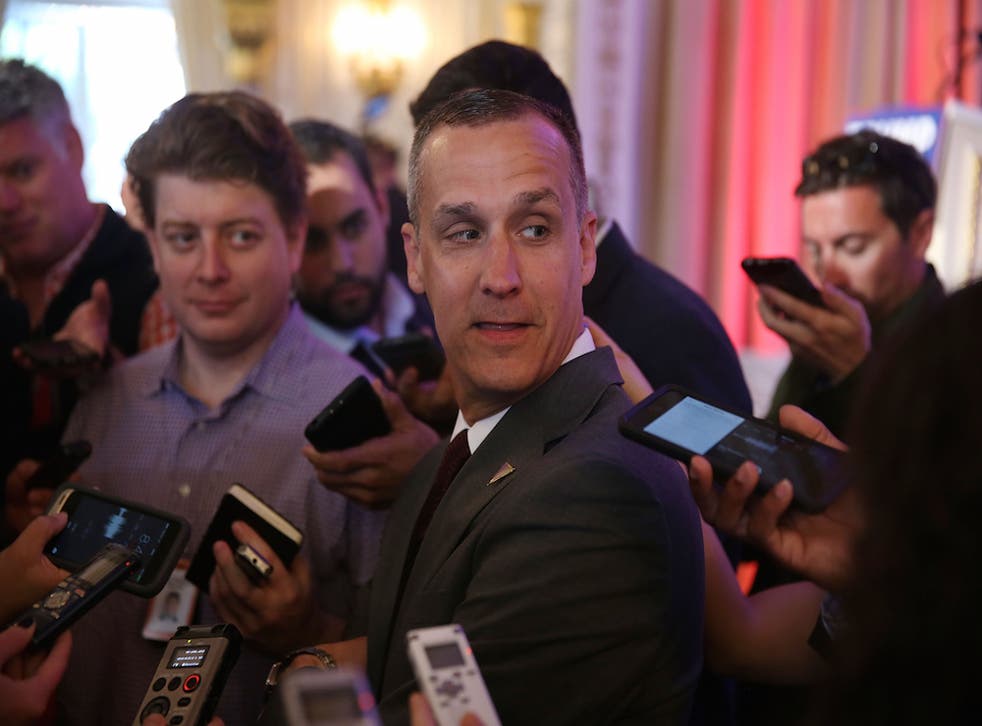 Donald Trump's campaign manager Corey Lewandowski has been arrested and charged with simple battery of former Breitbart reporter Michelle Fields.
Lewandowski turned himself in to police shortly after 8am on Tuesday, The Palm Beach Post reports.
The 28-year-old Fields filed charges against Lewandowski, 41, with the police department in Jupiter, Florida where the incident occurred earlier this month. Fields has said that she was forcefully grabbed and nearly thrown to the ground when she approached Trump to ask him a question. Washington Post reporter Ben Terris later identified Lewandowski has the man who grabbed Fields.
The Jupiter Police Department later announced that they would investigate the March 8 incident but had not named Lewandowski as a suspect.
"Mr Lewandowski was issued a Notice to Appear and was given a court date. He was not arrested," the Trump campaign said in a statement. "Mr Lewandowski is absolutely innocent of this charge. He will enter a plea of not guilty and looks forward to his day in court. He is completely confident that he will be exonerated."
Trump also defended his campaign manager on Twitter.
"Wow, Corey Lewandowski, my campaign manager and a very decent man, was just charged with assaulting a reporter. Look at tapes-nothing there," Trump wrote. "Why aren't people looking at this reporters earliest statement as to what happened, that is before she found out the episode was on tape?"
Trump Campaign Manager Corey Lewandowski Charged With Assaulting Reporter
Texas Senator Ted Cruz also responded to Lewandowski's arrest during a campaign stop in Wisconsin.
"I think it is a really unfortunate development," Cruz told reporters. "I think it helps clarify for the voters what the Trump campaign is all about."
Fields previously tweeted photos of her bruised arm after the Trump campaign said the incident never happened. Lewandowski replied directly to Fields' tweets maintaning his innocence.
Fields, editor-at-large Ben Shapiro, and several others resigned from Breitbart just days after the alleged incident.
"Today I informed the management at Breitbart News of my immediate resignation," Fields told Politico in a statement. "I do not believe Breitbart News has adequately stood by me during the events of the past week and because of that I believe it is now best for us to part ways."
Register for free to continue reading
Registration is a free and easy way to support our truly independent journalism
By registering, you will also enjoy limited access to Premium articles, exclusive newsletters, commenting, and virtual events with our leading journalists
Already have an account? sign in