Trump 'ignores warnings from aides' his calls are being spied on by China and Russia
President denies reports, saying they are 'soooo wrong!'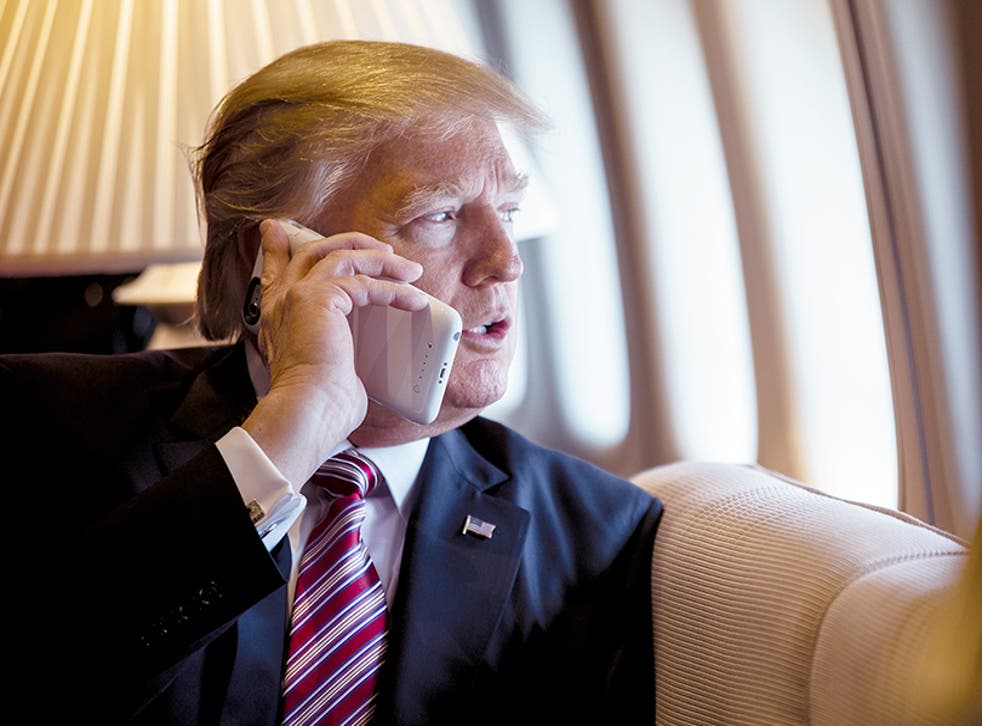 Donald Trump has denied reports Russian and Chinese spies are able to listen in on his private conversations because he uses iPhones and insisted he only uses secure government phones.
The president's casual attitude towards digital security is helping China formulate a lobbying and espionage effort which is shaping the country's foreign policy and informing possible methods of preventing the trade war Mr Trump has launched from escalating further, according to a report in The New York Times.
Aides who spoke on condition of anonymity, told the paper the garrulous president has been pressured into using the landline more often, but has refused to give up his iPhones despite the major security issues.
Officials reportedly said they "can only hope he refrains from discussing classified information when he is on them".
Hours after the article was published, Mr Trump responded directly to the allegations.
"The so-called experts on Trump over at the New York Times wrote a long and boring article on my cellphone usage that is so incorrect I do not have time here to correct it," he tweeted. "I only use Government Phones, and have only one seldom used government cell phone. Story is soooo wrong!"
Mr Trump's denials are at odds with US intelligence reports "from human sources inside foreign governments" which apparently indicate China and Russia are both frequently eavesdropping on the president's calls.
The Chinese have reportedly created a list of the president's confidantes whom they hope to influence.
Those on the list include billionaire Stephen Schwarzman, chief executive of private equity company The Blackstone Group, which has made billions of dollars through property deals in China.
Steve Wynn, another billionaire and former Las Vegas casino magnate, who also has significant connections in China, is reportedly on the list as well.
Friends of both the men and other regular contacts of the president's have been identified by the Chinese, The New York Times reported, adding that Beijing was aiming to feed trade arguments to them in the hope they will reach Mr Trump's ears.
Support free-thinking journalism and attend Independent events
The aides said they were not seeking to undermine the president, but were speaking out of frustration at Mr Trump's approach to security.
Mr Trump's response to the article comes less than 24 hours after he received a standing ovation for calling for "peace and harmony" amid a wave of attempted bombings apparently targeting prominent Democrats including Hillary Clinton and Barack Obama, but in which he also said the media has a responsibility "to stop the endless hostility and constant negative and oftentimes false attacks and stories".
The president also blamed "anger in society" on negative media reports.
The president has repeatedly attacked The New York Times and CNN, while praising Fox News, which tends to offer more favourable coverage of his presidency and policies.
Register for free to continue reading
Registration is a free and easy way to support our truly independent journalism
By registering, you will also enjoy limited access to Premium articles, exclusive newsletters, commenting, and virtual events with our leading journalists
Already have an account? sign in
Register for free to continue reading
Registration is a free and easy way to support our truly independent journalism
By registering, you will also enjoy limited access to Premium articles, exclusive newsletters, commenting, and virtual events with our leading journalists
Already have an account? sign in
Join our new commenting forum
Join thought-provoking conversations, follow other Independent readers and see their replies