Donald Trump enjoys a taco bowl on Cinco de Mayo to appeal to Hispanic voters
The GOP candidate has a nearly 80 per cent unfavorabiity rating among Hispanics, polls show
Feliks Garcia
New York
Thursday 05 May 2016 21:00 Comments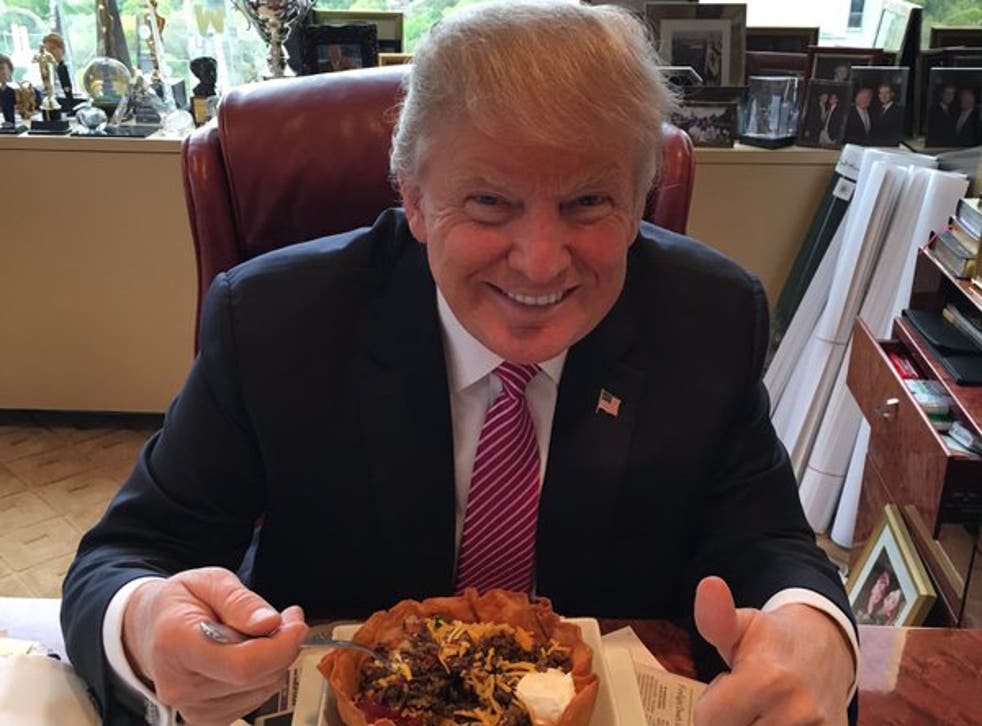 Presumptive Republican nominee Donald Trump launched his campaign by calling Mexicans "rapists" and "criminals", and he has run on the promise of building a monumental wall on the US southern border. Mexico would foot the bill, of course.
But in honour of Cinco de Mayo - a holiday incorrectly believed by many Americans to be Mexico's Independence Day - Mr Trump decided to celebrate in his own peculiar way.
Posing with a taco bowl from a cafe within his Trump Tower in New York, Mr Trump declared, "I love Hispanics!" touting the quality of the dish.
The taco bowl is served as the "Taco Fiesta" on the Trump Cafe menu - a taco shell filled to the brim with ground beef, jalapeños, tomatoes, and chili spices, the menu says - and costs $13.50 (£9.32); slightly higher than New York state's 2016 minimum wage.
According to a recent Gallup poll, some 77 per cent of Latino voters view Mr Trump unfavorably. A February Washington Post-Univision poll found that 80 per cent of Latinos had the same view of the New York tycoon.
Hillary Clinton was quick to point out the contradictions between the tweet and Mr Trump's platform of mass deportations.
Others immediately jeered Mr Trump on Twitter, resulting in a barrage of jokes directed at the candidate.
Cinco de Mayo commemorates the 1862 Battle of Puebla, when the Mexican army fought off French forces. Mexico won their independence from Spain decades earlier on 16 September 1821. The Puebla battle is largely regarded as a victory against foreign intervention.
Register for free to continue reading
Registration is a free and easy way to support our truly independent journalism
By registering, you will also enjoy limited access to Premium articles, exclusive newsletters, commenting, and virtual events with our leading journalists
Already have an account? sign in
Join our new commenting forum
Join thought-provoking conversations, follow other Independent readers and see their replies