Trump says he 'admired' Martin Luther King at civil rights museum opening amid boycotts over his attendance
Several black leaders held a separate event, including the mayor of Jackson, Mississippi 
Mythili Sampathkumar
New York
Saturday 09 December 2017 19:30 Comments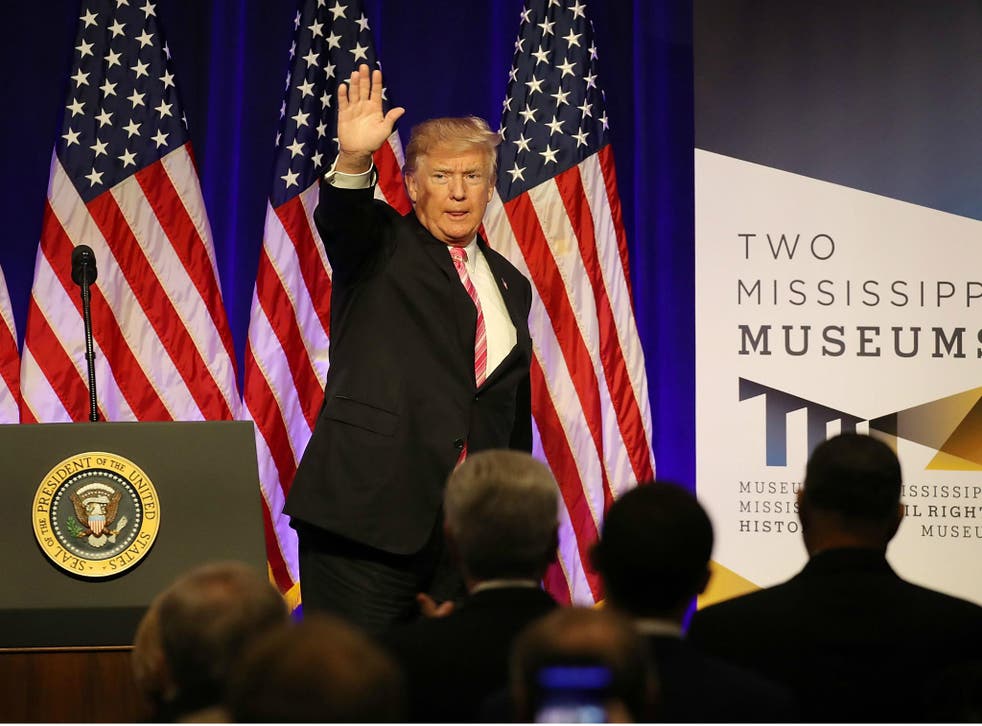 Amid protests and boycotts over his attendance, US President Donald Trump said Martin Luther King, Jr was "a man I have studied, watched, and admired for my entire life" during the opening of a civil rights museum in Jackson, Mississippi.
He spoke at a private event instead of the larger main ceremony and left promptly after his speech, skipping a ribbon-cutting ceremony.
In his remarks to assembled guests, Mr Trump said: "The civil rights museum records the oppression, cruelty and injustice inflicted on the African-American community, the fight to bring down Jim Crow and end segregation, to gain the right to vote and to achieve the sacred birthright of equality."
"And it's big stuff. That's big stuff. Those are very big phrases, very big words," he said off the cuff, but mostly stuck to the prepared speech.
The president also mentioned Medgar Evers, a Mississippi civil rights activist and World War II veteran who was murdered by a white supremacist in 1963.
Mr Evers' widow Myrlie was expected to be in attendance but was not. His brother Charles Evers, who endorsed Mr Trump, was there and the President mentioned he "liked [him] a lot."
Some black leaders, including civil rights leader and Georgia Congressman John Lewis and Congressman Bennie Thompson of Mississippi, boycotted the event.
In a joint statement, they called Mr Trump's visit to the museum and "insult" to the civil rights movement.
World news in pictures

Show all 50
They also wrote that Mr Trump's "disparaging comments about women, the disabled, immigrants and National Football League players disrespect the efforts of Fannie Lou Hamer, Aaron Henry, Medgar Evers, Robert Clark, James Chaney, Andrew Goodman, Michael Schwerner and countless others who have given their all for Mississippi to be a better place."
NAACP President Derrick Johnson also boycotted the event and said in a statement that: "we take this stand out of respect for our heroes and ancestors who, often at the cost of their lives."
"We honour that legacy by speaking truth to power and calling out this administration's divisive policies and its pullback from civil rights enforcement," the statement read.
Mr Johnson held an event separate from the President at the Smith Robertson Museum in Jackson, which the mayor of the city, Chokwe Antar Lumumba, also attended.
Mr Lumumba said that he did not attend the event with Mr Trump because of his "appreciation of martyrs both known and unknown that will not allow me to share the stage with a president who does not have a containing commitment to civil rights."
He added: "Once again Mr President, we don't want you to tell us what civil rights means in Mississippi."
About 50 protesters greeted the President at the opening of the museum.
Register for free to continue reading
Registration is a free and easy way to support our truly independent journalism
By registering, you will also enjoy limited access to Premium articles, exclusive newsletters, commenting, and virtual events with our leading journalists
Already have an account? sign in
Join our new commenting forum
Join thought-provoking conversations, follow other Independent readers and see their replies