Donald Trump clashes with Republican Senators during party peace talks
The presumptive nominee spoke to Senate and House Republicans in Washington DC, where he also met privately with his former primary rival, Ted Cruz
Tim Walker
US Correspondent
Thursday 07 July 2016 22:59 Comments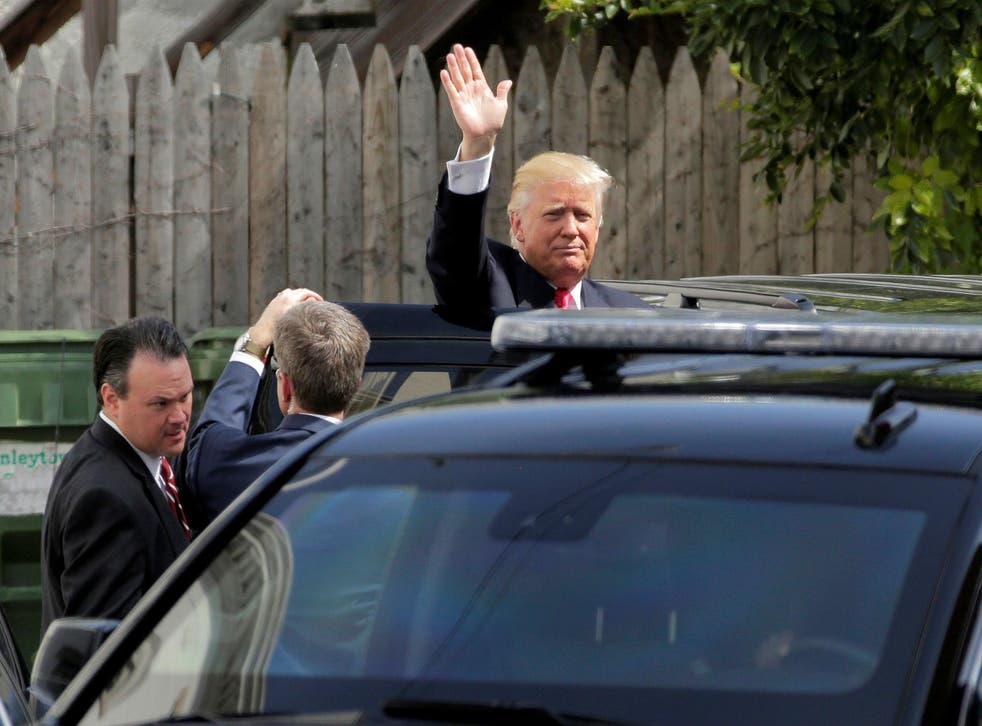 Donald Trump has made the rounds of Republicans in Washington DC in a bid to convince the party's elected officials that he ought to be their standard-bearer at November's presidential election. But while GOP leaders insisted the meetings with Senators and House members had gone well, the presumptive nominee reportedly clashed with some behind closed doors.
In a private meeting with Senate Republicans on Thursday, Mr Trump singled out three Senators who have failed to endorse him. Mark Kirk of Illinois, who recently withdrew his endorsement following the property mogul's racially charged attacks on a federal judge, did not attend the meeting. Mr Trump described him as a "loser" in comments to his fellow legislators.
Senator Ben Sasse of Nebraska, a conservative who has consistently criticised Mr Trump and his Democratic rival Hillary Clinton, spoke with the presumptive nominee but declined to discuss their exchange after the event. A spokesman for Mr Sasse told reporters that he "continues to believe that our country is in a bad place and, with these two candidates, this election remains a dumpster fire."
Senator Jeff Flake of Arizona, who has criticised Mr Trump for his tough rhetoric on immigration, which is likely to alienate many Latino voters in the Grand Canyon State, told the businessman that he was not yet prepared to support his candidacy. According to the Washington Post, Mr Trump threatened to attack Mr Flake on the campaign trail.
Sources told the newspaper Mr Flake then implored Mr Trump to stop attacking Mexicans, while Mr Trump predicted Mr Flake would lose his Senate re-election bid in the Autumn – only to be informed that Mr Flake is not running for re-election this year. The testy exchange will have done little to cultivate party unity ahead of the GOP convention in Cleveland this month.
The presumptive nominee also met privately with Texas Senator Ted Cruz and Republican National Committee Chairman Reince Priebus. Messrs Trump and Cruz fought a bitter primary battle, during which Mr Trump cast aspersions about Mr Cruz's wife's looks and aired unfounded claims that the Senator's father was complicit in the JFK assassination.
Mr Cruz has so far declined to lend Mr Trump his endorsement. Before withdrawing from the presidential race in May, he described the reality TV billionaire as a "pathological liar" and a "narcissist at a level I don't think this country has ever seen."
Mr Cruz said on Thursday that his discussion with Mr Trump had been "positive and productive" and that he had agreed to speak at the Republican convention - but, he added: "There was no discussion of any endorsement."
Mr Trump's meeting with GOP House members is thought to have been friendlier than his Senate encounter, as he sought to reassure congressmen that his candidacy would not endanger their prospects in down-ballot 2016 races. While Republicans are united in their desire to defeat Ms Clinton, many remain unpersuaded that Mr Trump is up to the task.
In his remarks, the presumptive nominee vowed that as President he would appoint conservative justices to the Supreme Court, which has been touted by GOP leaders as the best reason to rally behind Mr Trump, regardless of his failings. House Speaker Paul Ryan said after the meeting that Mr Trump "did a great job engaging with our members, and I think our members appreciated it."
The meetings came as Mr Trump continued to defend himself over a recent controversy, telling supporters in Ohio on Wednesday that his campaign should never have deleted and replaced his tweet featuring a meme of Hillary Clinton, a pile of money and a six-pointed star, which commentators have condemned as anti-Semitic.
Though he did not mention that particular furore on Thursday, Mr Trump did reportedly complain about the media coverage of his recent comments regarding Saddam Hussein, whom he described on the stump as a "really bad guy", even as he praised the late Iraqi dictator for, he claimed, being "so good" at "killing terrorists".
The rolling controversies around Mr Trump's campaign have caused concern among those Republicans who hoped he could become a more measured and disciplined candidate in a general election. Speaking to journalists later on Thursday, South Carolina congressman Mark Sandford said he "wasn't particularly impressed" by Mr Trump's outreach efforts.
"It was the normal stream of consciousness that's long on hyperbole and short on facts," Mr Sandford said.
Register for free to continue reading
Registration is a free and easy way to support our truly independent journalism
By registering, you will also enjoy limited access to Premium articles, exclusive newsletters, commenting, and virtual events with our leading journalists
Already have an account? sign in
Join our new commenting forum
Join thought-provoking conversations, follow other Independent readers and see their replies