Donald Trump accuses CNN of 'fake news' after three reporters resign over retracted Russia story
President calls on broadcaster to retract 'phony stories' as alt-right seizes on dispute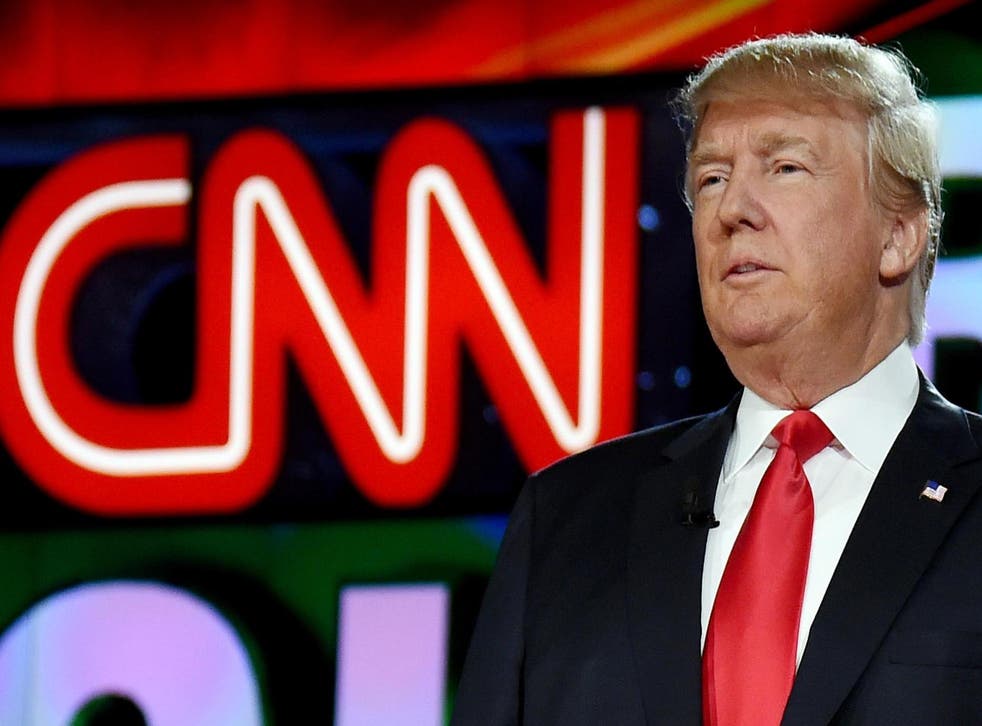 Donald Trump has launched a fresh attack on CNN after three journalists resigned over a retracted story on Russia.
"Wow, CNN had to retract big story on 'Russia,' with 3 employees forced to resign," the President wrote on Twitter.
"What about all the other phony stories they do? FAKE NEWS!"
Mr Trump followed his statement with retweets calling CNN the Fake News Network (FNN) and promoting coverage criticising the Democrats by right-wing broadcaster Fox News.
"Fake News CNN is looking at big management changes now that they got caught falsely pushing their phony Russian stories," he added later. "Ratings way down!"
Jack Posobiec, an alt-right activist and conspiracy theorist who was controversially given White House press accreditation last month, responded by calling on the administration to revoke CNN's access.
The retracted story reported on a supposed investigation into a pre-inaugural meeting between an associate Mr Trump and the head of the Russian Direct Investment Fund.
A statement from CNN said it had apologised to Anthony Scaramucci adding: "The story did not meet CNN's editorial standards and has been retracted."
Donald Trump's new ad attacks 'Fake News' media, causing CNN to refuse to air it
Mr Scaramucci, an American entrepreneur, served on the transition team and was Mr Trump's pick for director of the White House Office of Public Liaison and Intergovernmental Affairs before George Sifakis was appointed to the post instead.
He welcomed CNN's retraction on Saturday, saying the broadcaster "did the right thing".
"Classy move," he wrote on Twitter. "Apology accepted. Everyone makes mistakes. Moving on."
The story was posted on the network's website on Thursday and was removed with all links disabled the following night.
Its author, Thomas Frank, was among those who resigned, alongside Eric Lichtblau, an assistant managing editor in CNN's Washington bureau, and Lex Haris, head of the investigations unit.
In a statement, Mr Haris said he had been with CNN since 2001, "and am sure about one thing: This is a news organization that prizes accuracy and fairness above all else. I am leaving, but will carry those principles wherever I go."
A CNN executive told the Associated Press that the story was posted without going through the expected checks and balances for one of such sensitivity, and that the resignations were caused by the failure to follow proper procedures.
In pictures: President Donald Trump on tour

Show all 39
The network did not specify what in the story was factually incorrect. It had claimed that the the Senate intelligence committee was looking into a discussion on 16 January between Mr Scaramucci and Kirill Dmitriev, whose Russian Direct Investment Fund guides investments by US entities in Russia.
The dispute is a blow for CNN, which has defended itself against frequent accusations of "fake news" from Mr Trump and his supporters.
It is one of several outlets targeted over critical coverage of the President, including the ongoing investigations into alleged links between his campaign team and Russia.
Mr Trump's sustained attacks on the media as "dishonest" and the "enemy of the American people" have alarmed observers including human rights groups.
The UN's Special Rapporteur on freedom of opinion and expression, David Kaye, sounded a warning over the "public demonisation of critical media" last month.
Stressing that journalists are still censored, harassed, attacked and murdered around the world, he said: "All too many leaders see journalism as the enemy, reporters as rogue actors, tweeps as terrorists, and bloggers as blasphemers.
"The whipping up of hatred against the media may serve short-term ambitions of the powerful, but it will have a long-term deleterious impact on the right to information and the democratic process."
Join our new commenting forum
Join thought-provoking conversations, follow other Independent readers and see their replies