Donald Trump accuses CNN of 'vicious and purposeful mistake' over Wikileaks emails in series of tweets
President fails to name the 'many outlets' he says are 'far more trusted'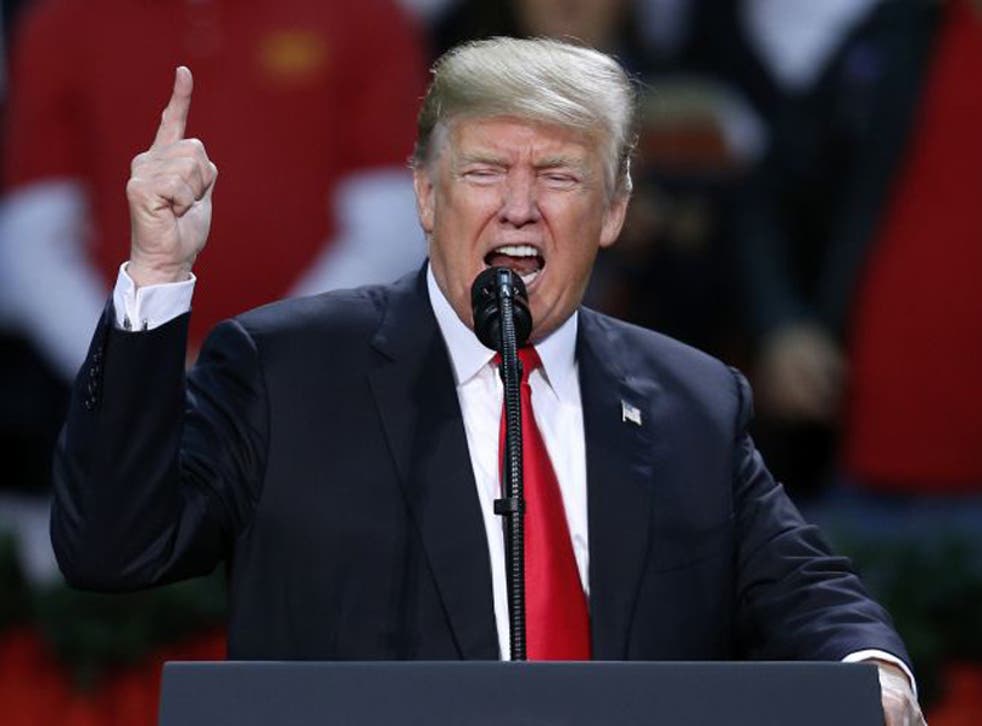 Donald Trump has attacked CNN in a furious series of tweets after it corrected a story about him and his son, Donald Jr.
The US President accused the network of a "vicious and purposeful mistake" in its reporting.
Mr Trump has previously attacked the "FAKE NEWS media", in which he included The New York Times, CNN, NBC and others, as "the enemy of the American People".
He has used the "fake news" slogan to rally his supporters and deflect criticism repeatedly on the campaign trail as well as during his presidency.
He said on Saturday: "CNN'S slogan is CNN, THE MOST TRUSTED NAME IN NEWS. Everyone knows this is not true, that this could, in fact, be a fraud on the American Public. There are many outlets that are far more trusted than Fake News CNN. Their slogan should be CNN, THE LEAST TRUSTED NAME IN NEWS!"
CNN reported a story yesterday that Mr Trump and his son were sent a "decryption key" which would have allowed them to access hacked documents from Wikileaks before they were available to the public.
There was no evidence any of the recipients - which included now-White House Communications Director Hope Hicks and Trump Organisation officials - accessed the information.
However, the CNN report was incorrect. The email was not sent on 4 September but ten days later, as confirmed by the Washington Post.
That meant the email containing the Wikileaks key was sent one day after those hacked documents were made public, meaning the Trumps were not given early access.
CNN corrected the report and admitted it "less significant than CNN initially reported".
World news in pictures

Show all 50
But, Mr Trump accused them of intentionally misleading readers, tweeting: "Fake News CNN made a vicious and purposeful mistake yesterday. They were caught red handed, just like lonely Brian Ross at ABC News (who should be immediately fired for his "mistake"). Watch to see if @CNN fires those responsible, or was it just gross incompetence?"
Mr Trump himself has made more than 1,600 false statements so far as President, according to The Washington Post's tally.
The cable news outlet and the President have been at odds repeatedly in the past 11 months.
Mr Trump tweeted last month about a "fake news trophy," singling out CNN.
n July, the President retweeted a user's video of footage from one of his appearances on World Wrestling Entertainment's programme in 2007. During it, Mr Trump body slams WWE owner Vince McMahon who has the CNN logo superimposed over his face.
CNN responded to the President's repeated criticism a few weeks ago with an advertising campaign that features a simple white screen with a red apple.
A narrator's voice is heard saying: "this is an apple. ...Some people might try to tell you that it's a banana. They might scream, banana, banana, banana over and over and over again. They might put BANANA in all caps. You might even start to believe that this is a banana."
And it ends with: "But it's not. This is an apple."
His latest attack on journalists came just minutes after he talked up the success of a rally held in Pensacola, Florida, where he urged supporters to get behind controversial Senate candidate Roy Moore.
"A big contingent of very enthusiastic Roy Moore fans at the rally last night. We can't have a Pelosi/Schumer Liberal Democrat, Jones, in that important Alabama Senate seat. Need your vote to Make America Great Again! Jones will always vote against what we must do for our Country," he said on Twitter.
"Arena was packed to the rafters, the crowd was loud, loving and really smart. They definitely get what's going on," he added.
Mr Moore, 70, faces multiple allegations of sexual misconduct, including accusations that he molested two teenage girls and pursued romantic relationships with several others while in his 30s. He has denied all the allegations.
The White House said the rally was a campaign event for Mr Trump. But the location — close to the Alabama-Florida border and broadcasting in both states' television markets — stoked speculation that it was a backdoor way for the president to boost Mr Moore's campaign without actually setting foot in the state.
Additional reporting by agencies
Join our new commenting forum
Join thought-provoking conversations, follow other Independent readers and see their replies