Coronavirus: What we know so far
Coronavirus: Trump again downplays threat, says more Americans die annually from flu
Health secretary called virus threat inside US 'low,' but warned that assessment 'could worsen'
Donald Trump again sought to downplay the risks stemming from the coronavirus outbreak, saying more Americans die each year of the 'flu.
The president also again blamed a stock market slide on "the unknown" aspects of the coronavirus crisis and the Democratic presidential candidates, calling on the Federal Reserve to act to stave off a broader economic crisis.
Speaking to reporters over Marine One's idling helicopter engines while departing the White House for a campaign rally in South Carolina, Mr Trump noted tens of thousands of people die each year from seasonal influenza.
His stance towards the mass outbreak has been criticised by Democrats and some public health experts for not sounding a more serious public tone about the mysterious virus that has killed around 2,500 people worldwide.
"We haven't lost anybody yet," Mr Trump said. "There haven't been any deaths in the United States yet."
The response to Coronavirus in Daegu South Korea

Show all 11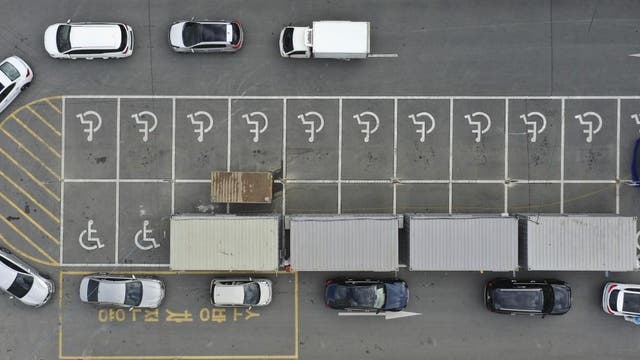 Hours earlier, his health and human services secretary, Alex Azar, called the coronavirus threat inside the United States "low", but told reporters it "could worsen".
The president again said investors are more jittery about the opposition party's slate of candidates than the coronavirus – even though markets have fallen on days that did not follow a Democratic presidential debate.
He also furthered his years-old feud with the Federal Reserve, taking a shot over "mistakes" he says the central bank makes and calling on its leaders to step in if the stock market continues to tank.
"I hope the fed gets involved," the president said, griping that the central banks of European countries like Germany are "stuffing the till" while the Fed "sits there" doing nothing. Federal Reserve officials said Friday they would consider an interest rate cut if stock indexes continue to lose value.
As he again pressured the central bank – something for which even some Republicans have criticised him – Mr Trump was quick to note the Fed is "independent" of the White House. But he also said it does "a disservice to our country".
Mr Trump was not asked about a Washington Post report he is considering pushing another round of tax cuts if the market drop continues.
But minutes earlier, a White House official pushed back on the idea, saying internal discussions about such a package in a possible second term have been ongoing for months. Still, the same official said all options for combating the coronavirus, health- and economy-wise, remain "under discussion".
Join our new commenting forum
Join thought-provoking conversations, follow other Independent readers and see their replies