Trump 'planning to cut diplomacy and foreign aid by a third to pay for military spending'
US President also tells media he thinks the money would come from a 'revved-up economy'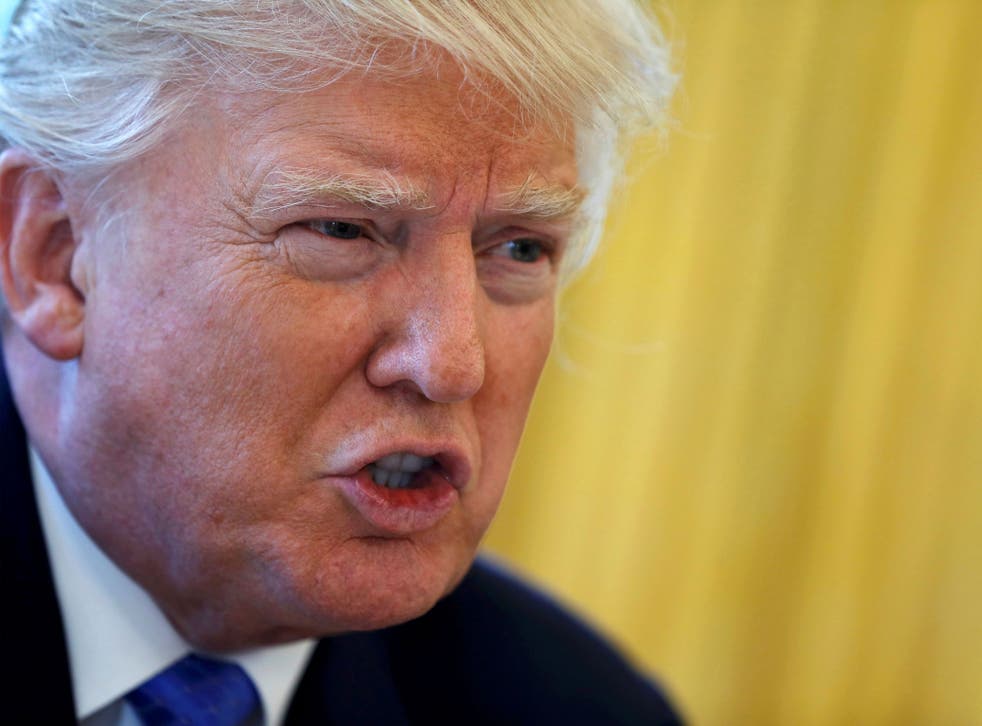 US officials say Donald Trump's administration is proposing deep cuts in spending for diplomacy and foreign aid programmes to help pay for increased military spending.
Officials familiar with the proposal say it calls for slashing 37 per cent from the State Department and the US Agency for International Development budgets. Development assistance would take the biggest hit.
The officials spoke on condition of anonymity because they were not authorised to discuss the spending plan publicly before it is presented to Congress.
Mr Trump announced he would increase spending on the military by $54bn (£43bn) in his first budget. The US already far outspends the rest of the world in that area, splurging more than twice as much as its closest rival, China.
The controversial orders Donald Trump has already issued

Show all 9
The Department of Defence's official budget in 2016 was $526bn (£424bn) and the Department of Energy, which oversees the US nuclear arsenal, cost still more on top of that.
In the current fiscal year, the State Department and USAID received $50.1bn (£40.4bn), a little more than one per cent of the total federal budget. Officials say a 37 per cent cut would likely require reductions in staff, including security contractors at diplomatic missions abroad.
It comes as Mr Trump told interviewers he did not plan to fill hundreds of currently vacant government posts.
He told Fox and Friends: "In many cases we don't want to fill those jobs. They're unnecessary to have. We have so many people in government.
"I look at at some of the jobs and it's people, over people, over people, and I say 'What do all these people do?' You don't need all those jobs."
Asked how he would pay for his $54bn military spending increase, he said: "I think the money's going to come from a revved-up economy.
"You look at the kind of numbers we're doing, we were probably GDP of a little more than one per cent, and if I can get that up to three, or maybe more, we have a whole different ball game, it's a whole different ball game, and that's what we're looking to do."
Additional reporting by agencies
Join our new commenting forum
Join thought-provoking conversations, follow other Independent readers and see their replies