Donald Trump says DACA recipients 'have nothing to worry about' for next six months
The programme impacts roughly 800,000 people
Clark Mindock
New York
Thursday 07 September 2017 15:59 Comments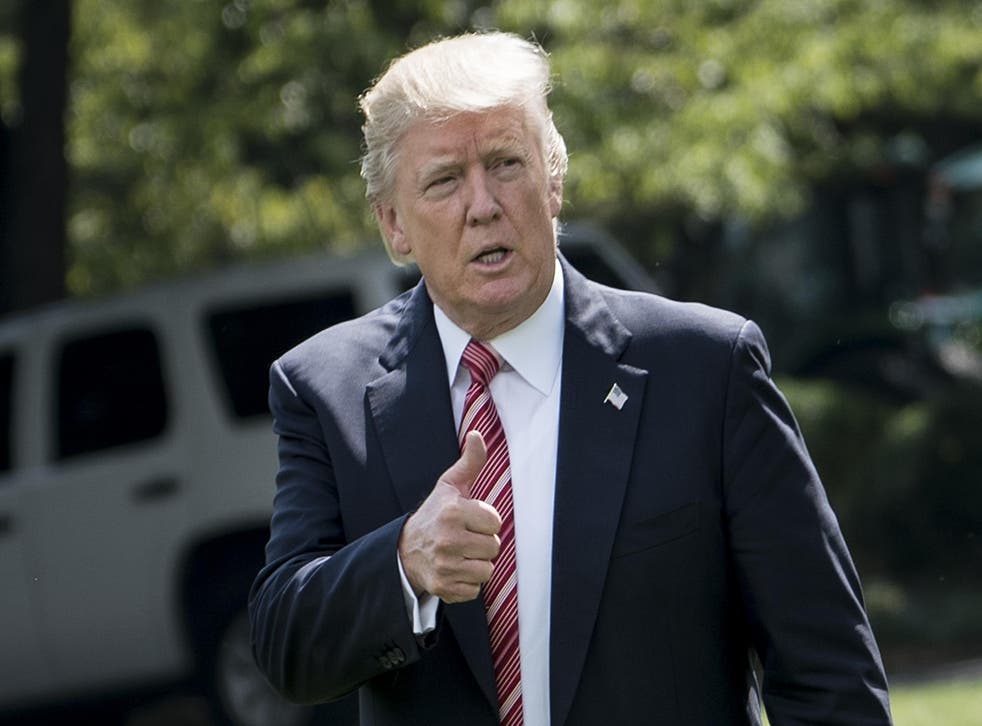 Donald Trump says that undocumented immigrants protected under the Deferred Action for Childhood Arrivals programme he decided to scrap this week have "nothing to worry about" at least for now.
The Trump administration announced this week that it would get rid of the programme, which granted legal status to immigrants who came to the US illegally when they where children. Immigrants protected under the programme, because of their age upon arrival, theoretically didn't have a say in whether they would move to the US originally.
DACA was implemented during the presidency of Barack Obama in 2012, and affects roughly 800,000 individuals in the US. With the DACA protections, young immigrants were able to apply for work permits, and were shielded from threats of deportation.
"For all of those (DACA) that are concerned about your status during the 6 month period, you have nothing to worry about - No action!," Mr Trump tweeted.
The announcement of repeal, made by Attorney General Jeff Sessions, immediately drew criticism from those immigrants. Many expressed concern with the uncertainty of their legal status in the US - for many of them the only country they've ever known.
The President has issued mixed messages about the programme this week. Mr Trump, in a statement accompanying the initial declaration, said that the Obama-era initiative led to a "massive surge [of] young people who would become members of violent gangs throughout our country." He continued to say that revoking DACA was necessary to ensure "safe communities, a robust middle class, and economic fairness for all Americans."
Protestors rally at JFK Airport against Muslim immigration ban

Show all 20
Later, though, Mr Trump insisted that he would revisit the issue in six months if Congress is unable to find a way to legalise the program through proper legislative channels. He said that he has "great love" for Dreamers - the name used to describe the immigrants who came to the US as children - though he also said that he would put American citizens first.
"I have a love for these people, and hopefully Congress will be able to help them and do it properly," Mr trump said.
Love or no love for Dreamers, Democrats quickly criticised the repeal of DACA - which Mr Trump has branded as a gradual phase-out, not a sudden end - as cruel. That included a rare rebuke from the President's predecessor, Mr Obama, who wrote a lengthy rebuke of the action.
"To target these young people is wrong - because they have done nothing wrong" Mr Obama wrote in a statement posted on Facebook. "It is self-defeating - because they want to start new businesses, staff our labs, serve in our military, and otherwise contribute to the country we love. And it is cruel."
Register for free to continue reading
Registration is a free and easy way to support our truly independent journalism
By registering, you will also enjoy limited access to Premium articles, exclusive newsletters, commenting, and virtual events with our leading journalists
Already have an account? sign in
Join our new commenting forum
Join thought-provoking conversations, follow other Independent readers and see their replies