Donald Trump disregards party turmoil and appoints Chris Christie to lead White House transition
Transition team appointment sends a clear message: Trump is measuring for Oval Office curtains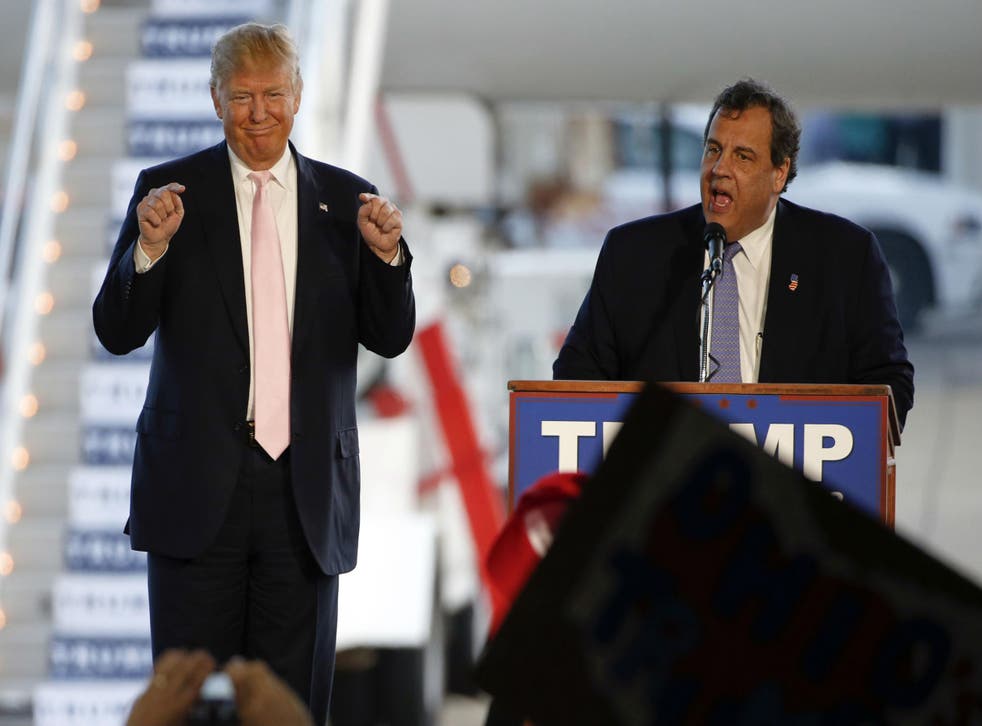 Donald Trump has done the equivalent of measuring for curtains in the Oval office, appointing New Jersey Governor Chris Christie to lead the transition team that would lay the road from a win in the general election to his inauguration as the next American president next January.
The bold announcement came as Mr Trump continues to face significant turmoil in the higher ranks of the Republican Party over his ascent to becoming its presumptive presidential nominee after four months of bruising primaries.
On Monday, the billionaire businessman was giving scant sign that he would be willing to make peace with Republican house speaker Paul Ryan, who so far has eschewed endorsing him. The two are to meet for peace talks on Thursday in Washington DC. He also declined to rule out blocking Mr Ryan from serving as co-chairman at the party's national convention in July.
Responding to the challenge, Mr Ryan said on Monday that he would step aside from presiding over the national convention if Mr Trump, as the nominees-in-waiting formally asked him to.
In an interview with the Milwaukee Journal Sentinel, Mr Ryan also slammed talk of a possible third-party run to try to derail the Trump train, saying it "would be a disaster for our party". Among those approached by anti-Trump conservatives to consider such a bid has been the 2012 Republican nominee, Mitt Romney.
Republicans have urged Mr Trump to act in a more "presidential" manner and become more co-operative. There was further alarm after Mr Trump suggested on Sunday he would reverse two of his key policies, vowing to raise the minimum wage and leverage higher taxes on the rich.
The resulting furore forced the candidate on Monday to attempt to clarify his remarks on taxes which had appeared to represent a rupture from Republican orthodoxy of keeping taxes low for the wealthy as party of the "trickle-down" model for economic growth. He said he had meant only that taxes on the rich might be higher than he had suggested in his own economic plan released last September but not that they would be higher than they are now.
"I'm not talking about a tax increase. I'm talking about a tremendous tax decrease, OK?" Mr Trump protested on the Fox Business Network, saying proposals always change in negotiations with Congress but that he was committed to cutting taxes. "I'm not talking a raise from where they are now; I'm talking about a raise from my low proposal."
After abandoning his own doomed bid for the nomination, Governor Christie stunned his own party's leadership by endorsing Mr Trump at a crucial time during the primary contests in March, becoming the first Republican with a national profile to do so.
It has long been assumed that he expected a big job in return. That would mean more than just chairman of the transition team. A seat at the cabinet table would surely be his, if not the number two spot as vice presidential nominee on the Trump ticket.
Mr Trump told NBC News that he had been "blindsided" by Mr Ryan's decision to hold back from endorsing of him, noting that they had spoken by telephone in March and that the call had been "friendly".
But he is also making clear in interviews that if he doesn't get the support of Mr Ryan or indeed of the so-called party establishment as a whole, he will live with that. "I'd like to have his support, but if he doesn't want to support me that's fine," he said.
But a press release announcing the Christie appointment, insisted that Mr Trump "is working toward unifying the party by working with several Republican leaders now voicing their support for Mr. Trump and his candidacy".
Trump supporter and former Alaska governor Sarah Palin, told ABC News that Mr Ryan's career "is over" for not supporting him. Four of the last five Republican presidential nominees – George Bush, George W Bush, John McCain and Mitt Romney – have announced they will skip the convention in Cleveland, Ohio.
Mr Trump is the Republican nominee in all but name since Ted Cruz and John Kasich both quit the race last week. He could face a hurdle however, if Mr Cruz's nearly 600 delegates align to vote against Mr Trump. He needs the magic number of 1,237 delegates at the convention to become the nominee.
Mr Trump has broken party lines with his more moderate stances on issues like Planned Parenthood, which runs women's clinics nationwide some of which offer abortions, and has even spoken against sweeping anti-LGBT laws in North Carolina, saying transgender people should be able to use "any bathroom they want".
His popularity has ascended as the outsider, self-funding his campaign and criticising the "rigged" political system. The party divisions are having an adverse effect on funding, according to the New York Times. The Republican convention faces a $7 million shortfall in sponsorship. Traditional sponsors like Walmart and Coca Cola have reportedly been reconsidering their commitments.
Register for free to continue reading
Registration is a free and easy way to support our truly independent journalism
By registering, you will also enjoy limited access to Premium articles, exclusive newsletters, commenting, and virtual events with our leading journalists
Already have an account? sign in
Register for free to continue reading
Registration is a free and easy way to support our truly independent journalism
By registering, you will also enjoy limited access to Premium articles, exclusive newsletters, commenting, and virtual events with our leading journalists
Already have an account? sign in
Join our new commenting forum
Join thought-provoking conversations, follow other Independent readers and see their replies