Trump will not extend DACA's March 5 deadline when 'dreamers' work permits expire, suggests White House
'What makes them act is pressure', White House Chief of Staff John Kelly said of Congress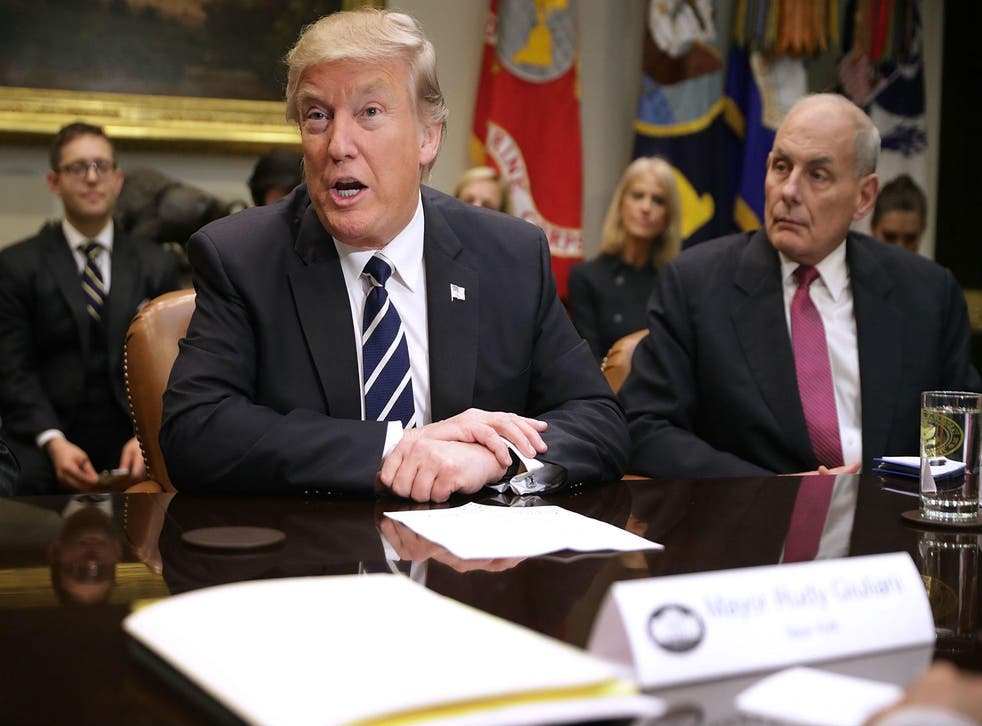 President Donald Trump is not expected to extend the March 5 deadline when work permits begin expiring young immigrants known as 'dreamers', White House Chief of Staff John Kelly has suggested.
"I doubt very much" that Mr Trump would extend the Deferred Action for Childhood Arrivals (DACA) programme, Mr Kelly told reporters on Capitol Hill, according to the Washington Post.
He added that he was "not so sure this president has the authority to extend it" because the original programme protecting the immigrants was not based on law – a proposition that has been disputed by Democrats as well as Supreme Court justices.
An idea that has floated around the Capitol is that legislators come up a short-term legislative patch for DACA as they negotiate a longer-term solution – a proposal that Mr Kelly said he would not recommend.
"What makes them act is pressure," Mr Kelly said of Congress.
Under DACA, Dreamers were able to apply to defer deportation and legally reside in the US for two years. After that, they could apply for renewal.
But Mr Trump rescinded the Obama-era programme in September, throwing the futures of nearly 700,000 young immigrants – many of whom have known no other home than the US - into uncertainty. A federal court last month ordered the Department of Homeland Security to continue accepting applications for DACA, leading some to believe that Congress would have more time to resolve the issue. Attorney General Jeff Sessions is currently appealing against the court ruling.
Mr Trump has called on Congress to come up with legislation to allow Dreamers to stay in America. But immigration has been a difficult issue for Congress, with former President Barack Obama having implemented DACA after a lack of action on immigration reform. Republicans called the policy a breach of Mr Obama's executive authority.
Last month, to end a three-day government shutdown over an impasse on an elusive deal to protect Dreamers, Senate Majority Leader McConnell promised to take up an immigration bill if senators failed to reach an agreement on the matter by February 8.
Now – with that deadline quickly approaching and no immigration deal on the horizon – it appears that Mr McConnell may have to make good on his promise. The issue has been further complicated by the fact that DACA work permits expire in less than a month.
Donald Trump's first year: in pictures

Show all 29
The immigration proposal the President recently offered to Congress has drawn strong opposition from Democrats, whose support is expected to be necessary for the Senate to pass a bill. Republicans hold a slim 51-49 majority in the 100-member upper chamber, meaning an immigration bill would need the votes of nine Democrats – if Republicans play by the rules – to move forward.
Mr Trump has said he would grant about 1.8 million dreamers legal status, including a path to citizenship – in exc,hange for increased enforcement, the construction of his long-promised border wall, and a restructuring of legal immigration channels that moves away from reuniting families and gives priority to higher-skilled immigrants.
Mr Kelly called this a "generous" offer because it would protect far more than the 690,000 Dreamers currently enrolled in DACA.
"The difference between [690,000] and 1.8 million were the people that some would say were too afraid to sign up, others would say were too lazy to get off their asses but they didn't sign up," Mr Kelly said, according to Politico. "That's beyond what anyone could have imagined, whether you're on the right or the left."
Mr Kelly also said Dreamers would not a priority for deportations if their protections lapse and Congress fails to pass a legislative solution.
Along with Democrats, some Republicans are sceptical of Mr Trump's proposal.
The White House has also already rejected a new plan from Senator John McCain, a Republican, and Senator Christopher Coons, a Democrat, that would grant permanent legal status to dreamers and bolster security along the US's southern border. But the new legislation does not provide for the $25bn to $30bn that Mr Trump and conservative Republicans want for border security construction projects.
Mr Trump continued to market his plan on Tuesday, tweeting that "nearly 7 in 10 Americans support an immigration reform package that includes DACA, fully secures the border, ends chain migration & cancels the visa lottery. If D's oppose this deal, they aren't serious about DACA-they just want open borders."
In a separate tweet, Mr Trump said that "We need a 21st century MERIT-BASED immigration system"
Mr Trump continued to market his plan on Tuesday, tweeting that "nearly 7 in 10 Americans support an immigration reform package that includes DACA, fully secures the border, ends chain migration & cancels the visa lottery. If D's oppose this deal, they aren't serious about DACA-they just want open borders."
In a separate tweet, Mr Trump said "We need a 21st century MERIT-BASED immigration system", adding that the current family-based legal immigration programmes and the diversity visa lottery system "are outdated programmes that hurt our economic and national security."
Join our new commenting forum
Join thought-provoking conversations, follow other Independent readers and see their replies