Donald Trump signs order making it easier for men to sexually harrass women at work and get away with it
It rolls back a number of Obama-era protections for women in the workplace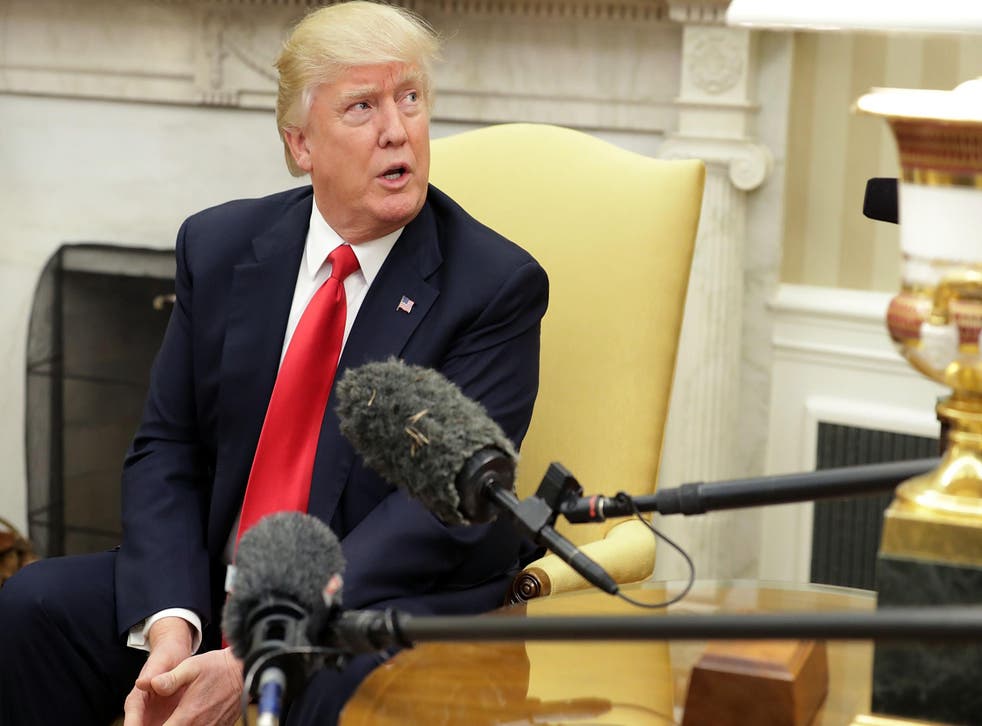 Donald Trump has been accused of damaging the prospects of female workers by signing an executive order rolling back Obama-era protections for women in the workplace.
The US President last week revoked the 2014 Fair Pay and Safe Workplaces order, which President Barack Obama put in place to ensure companies given federal contracts complied with a raft of labour and civil rights laws.
These included two rules that helped protect female employees: wage transparency and a ban on forced arbitration clauses for sexual harassment, known as "cover-up clauses" by critics.
The wage transparency requirement forced companies with federal contracts to provide each employee with a "wage statement," making clear the rate of pay, the number of hours worked, the total amount of pay and any specific additions or deductions.
It was one of the few ways to help ensure women were being paid as much as their male colleagues.
Noreen Farrell, director of anti-sex discrimination law firm Equal Rights Advocates, told NBC: "We have an executive order that essentially forces women to pay to keep companies in business that discriminate against them, with their own tax dollars. It's an outrage."
Women in America currently earn on average 83 cents for every dollar earned by men, according to the latest analysis by the Economic Policy Institute.
Mr Obama's ban on "cover-up clauses" stopped companies with government contracts from using the forced arbitration clause to keep sex discrimination claims out of the courts and off the public record.
Donald Trump jokes that he has 'sex' in common with his daughter Ivanka
Maya Raghu, director of workplace equality the National Women's Law Center, told the news channel: "Arbitrations are private proceedings with secret filings and private attorneys, and they often help hide sexual harassment claims.
"It can silence victims. They may feel afraid of coming forward because they might think they are the only one, or fear retaliation."
The forced arbitration clause became the subject of public debate last year when Fox News presenter Gretchen Carlson dodged an arbitration clause in her own contract by directly suing the company's former chief Roger Ailes over claims of sexual harassment.
By repealing the Fair Pay order, Mr Trump has again made it possible for companies previously subject to it to continue to force sexual harassment cases into secret proceedings that are never seen by the public or other employees.
In pictures: Protests, pomp and Donald Trump

Show all 30
Campaigners also say the order discriminates against LGBT people. Several of the civil rights laws that companies will no longer have to prove they abide by prohibited discrimination based on sexual orientation and gender identity.
"This administration has made it extremely difficult to enforce these federal laws," Camilla Taylor, a lawyer at a law firm that fights for the rights of LGBT people, told Keen News.
"It's sending a message to these companies that the federal government simply doesn't care whether or not they violate the law."
* Update. An earlier version of this article suggested that women in the US earn 83 cents for every dollar earned by men doing the same job. In fact, the statistic relates to the average differential across all employment, as the study linked to in our article made clear. 20/4/17
Register for free to continue reading
Registration is a free and easy way to support our truly independent journalism
By registering, you will also enjoy limited access to Premium articles, exclusive newsletters, commenting, and virtual events with our leading journalists
Already have an account? sign in
Register for free to continue reading
Registration is a free and easy way to support our truly independent journalism
By registering, you will also enjoy limited access to Premium articles, exclusive newsletters, commenting, and virtual events with our leading journalists
Already have an account? sign in
Join our new commenting forum
Join thought-provoking conversations, follow other Independent readers and see their replies