Donald Trump criticised for 'playing golf' while Florida shooting victims funerals took place nearby
President 'tweeted and played golf' as teenagers laid to rest
Chris Baynes
Tuesday 20 February 2018 12:30 Comments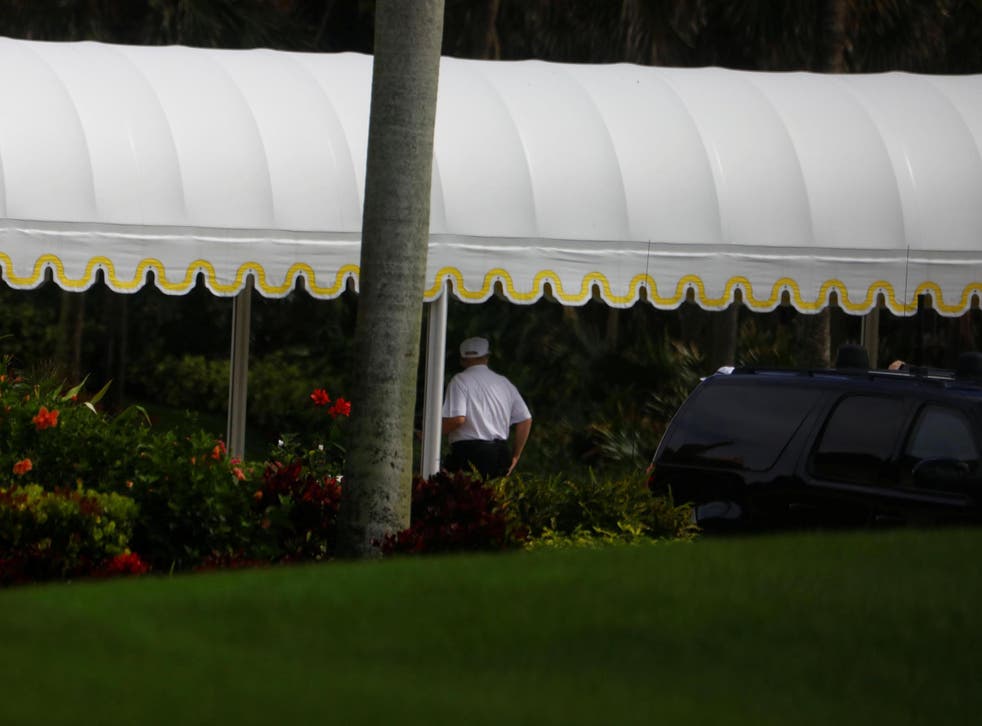 Donald Trump reportedly played golf as victims of the Florida school shooting were laid to rest at funerals just 45 miles away.
The President arrived at his Trump International Golf Club in Palm Beach on Monday morning.
Less than an hour's drive away, grieving friends and relatives filed into services for 14-year-old Alaina Petty and 15-year-old Luke Hoyer.
Mr Trump has previously met some of the victims of the massacre at the Marjory Stoneman Douglas High School, where 17 students and staff were killed.
He avoided the golf course over the weekend which he spent at his Mar-a-Lago resort, in a decision aides said was a mark of respect for the dead.
But he is known to enjoy the sport to relax.
Officials did not say if Mr Trump had played golf on Monday, but he was pictured wearing a white polo shirt and matching cap as he apparently returned to the course.
Mr Trump's critics noted the President did not mention the teenagers' funerals, despite finding time to launch Twitter attacks on Barack Obama and Oprah Winfrey.
"The president tweeted and played golf today, a day that saw two families bury their children," CNN's Anderson Cooper told viewers. "For anyone still waiting for the president to pivot, that's a pivot away from the murder of 17 people to himself."
Mr Trump left his resort and returned to Washington later in the day.
Earlier, more than 1,500 mourners had thronged Church of Jesus Christ of Latter Day Saints in Coral Springs to hear eulogies for Alaina Petty.
Family members said the teen enthusiastically joined clean-up efforts after Hurricane Irma struck Florida in September. She was a "vibrant and determined young woman, loved by all who knew her," they said.
Nearby, Luke Hoyer's family and friends gathered at The Church by the Glades to pay tribute to "a good kid" who was "very loving and just enjoyed life".
Mr Trump repeatedly criticised his predecessor Barack Obama for playing golf following tragedies.
After the Democrat was pictured on a golf course shortly after announcing the murder of American journalist James Foley by Isis, Mr Trump tweeted: "What kind of President doesn't get playing golf after a cruel beheading isn't the thing to do? Detached from reality he is."
Register for free to continue reading
Registration is a free and easy way to support our truly independent journalism
By registering, you will also enjoy limited access to Premium articles, exclusive newsletters, commenting, and virtual events with our leading journalists
Already have an account? sign in
Join our new commenting forum
Join thought-provoking conversations, follow other Independent readers and see their replies