Paris attack: Donald Trump says shooting will 'probably help' Marine Le Pen in France's presidential election
One police officer was killed in the attack, while two other officers were injured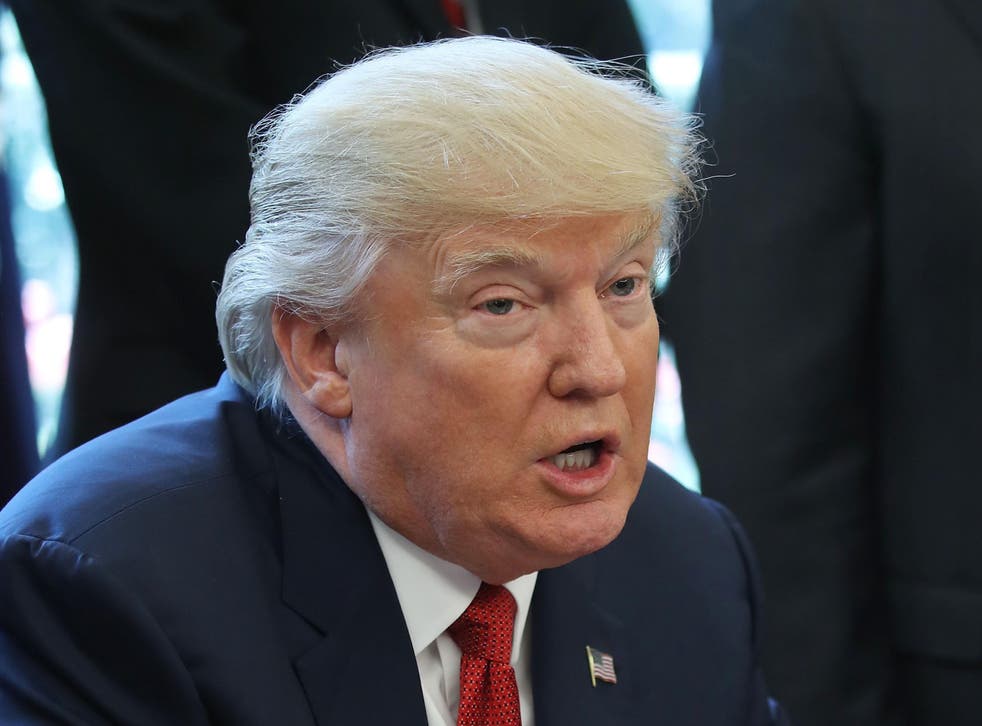 Donald Trump has claimed a terror attack that left a police officer dead in Paris will "probably help" far-right candidate Marine Le Pen in France's upcoming election.
While Mr Trump said he was not explicitly endorsing Ms Le Pen, he believes she will be helped by the attack that also saw two officers injured, because she's the candidate who is "strongest on borders, and she's the strongest on what's been going on in France."
The comments came hours after the US President wrote on Twitter: "Another terrorist attack in Paris... The people of France will not take much more of this.
"Will have a big effect on presidential election!"
Mr Trump did not mention any specific candidates in his tweet, before mentioning Ms Le Pen in an interview with Associated Press. US presidents typically avoid weighing in on specific candidates running in overseas elections. But Mr Trump suggested his opinion was no different from an average observer, saying, "Everybody is making predictions on who is going to win. I'm no different than you."
Analysts predict the atrocity in Paris could also bolster conservative Francois Fillon. Both he and Ms Le Pen have sought to capitalise on the terror attack, which follows a series of Isis-linked massacres that have left more than 230 people dead in France since 2015.
Ms Le Pen and Mr Fillon declared "war" on Islamism, both vowing to protect citizens with bolstered police forces and immigration crackdowns.
The Front National (FN) leader claimed a war was being waged aiming to "subject France to a totalitarian ideology".
Gunman attack on the Champs-Elysees

Show all 23
"This war is being waged without pity and without respite… the response must total across the entire country," she added.
"I call for the awakening of our people's ancient soul, capable of opposing a bloodthirsty barbarism."
She called for France to reinstate border checks and to arrest all suspects on France's "fiché S" terror watch list, while deporting foreign suspects and removing French citizenship from dual nationals.
Mr Fillon has also put security centre stage in his campaign, vowing to increase police officers by 10,000 and prison places by 16,000, while stripping French jihadis who fight abroad of their nationality and banning them from returning to France.
Like Ms Le Pen, he has proposed an overhaul of the Shengen agreement that allows border-free movement through Europe and called for a new European border police force and an annual immigration quota.
Mr Fillon echoed his rival in claiming that "Islamist totalitarianism" should be the priority of France's next president, adding: "We are at war, there is no alternative, it's us or them."
Paris shooting: Police search home after Champs-Elysees attack
The centrist frontrunner, Emmanuel Macron, said he would also have French security in mind, pledging to increase police and gendarme numbers by 10,000 and improve intelligence services.
For several months, polls have forecast Ms Le Pen and Mr Macron to progress to the second round of the election, with the centrist former finance minister expected to easily beat the radical candidate.
But debates have seen the left-wing candidate Jean-Luc Melenchon enjoy a surge in support, amid a recovery by the former Prime Minister Mr Fillon, whose chances were damaged by a scandal involving payments to his wife.
Thursday's attack came days after police foiled an "imminent" bombing plot believed to be linked to the election, with the first round of voting starting on Sunday.
Isis flags were found at the suspects' homes and the group also claimed responsibility for the Champs Elysees shooting, identifying the attacker as a "fighter of the Islamic State" using the war name Abu Yusuf al-Baljiki.
The Prime Minister said the government has reviewed its already extensive election security measures and says it is "fully mobilised" for Sunday's vote, deploying 50,000 police and 7,000 soldiers.
Bernard Cazeneuve attacked Ms Le Pen and Mr Fillon for seeking to turn Thursday's atrocity "into an opportunity" for their campaigns.
"Nothing must hamper this democratic moment, essential for our country," he said, appealing for national unity and for people "not to succumb to fear."
Join our new commenting forum
Join thought-provoking conversations, follow other Independent readers and see their replies