Trump brings election conspiracy theories to Georgia as he rallies on the eve of crucial Senate runoffs
Donald Trump came to Georgia to campaign for the Senate, instead he campaigned for a re-run of the November election, writes Richard Hall
Tuesday 05 January 2021 07:34 Comments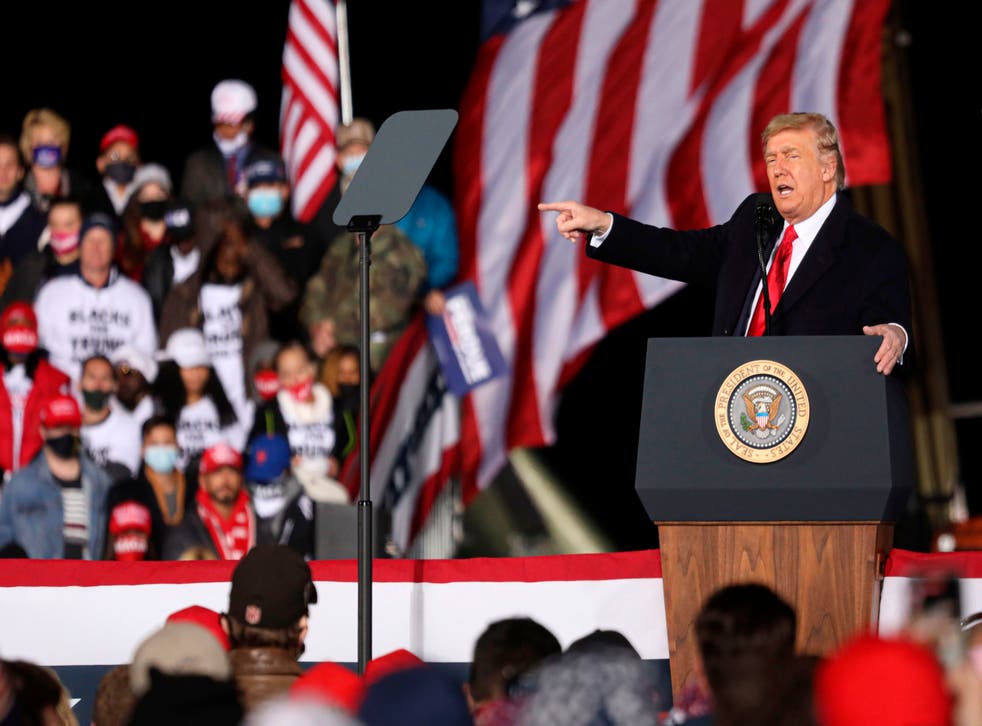 Leer en Español
Donald Trump doesn't like campaigning for other people. He made a point of saying so more than once as he took to the stage in Georgia on Monday night, ostensibly to rally support for fellow Republicans David Perdue and Kelly Loeffler on the eve of their crucial runoff races.
Even if he drifted in and out of something resembling a stump speech for his party colleagues, they were a secondary thought from the very start. In fact, he barely got past hello.
"I want to thank you very much. Hello Georgia. By the way, there's no way we lost Georgia, there's no way. That was a rigged election," were the first words out of the president's mouth.
"You know I've had two elections, I've won both of them. It's amazing. And I actually did much better on the second one," he added immediately afterwards, repeating debunked claims of fraud in an election that he lost by seven million votes.
Mr Trump's rallies have always resembled a kind of mass group therapy session. On the campaign trail, his grievances were the crowd's grievances. His enemies, their enemies. He could talk about himself all day and be rewarded for it. But this trip to Georgia was not supposed to be about him.
On Tuesday, voters head to the polls for two runoff races which will decide who controls the US Senate after he has gone. A victory for either of the two Republican candidates would prevent Democrats from controlling both houses and stymie most, if not all, of Joe Biden's most ambitious plans.
With the runoffs likely to come down to razor-thin margins, Mr Trump's role is crucial to the Republican hopes. His attention over the past few weeks, however, has been focused almost entirely on fighting the last war, on scrapping tooth-and-nail to overturn November's presidential election.
Many GOP strategists fear the president's repeated bogus claims that the election was rigged has depressed turnout among his most ardent supporters by convincing them there is no point in voting. Here in Dalton, in deeply conservative northwest Georgia, turnout among early voters has lagged behind every district in the state but one. Mr Trump's rally here was supposed to turn that around.
It didn't help Republican messaging that on the eve of his visit, a recording of a phone call was leaked in which the president urged Georgia's Republican secretary of state Brad Raffensperger to "find" votes that would overturn certified results from the presidential election and hand him victory. He has also gone to war with the Republican governor of the state Brian Kemp for contradicting his claims of a rigged election, calling him a "disgrace to the people of Georgia."
Speaking before his father, Donald Trump Jnr made a plea to anyone who might be considering staying home.
"Guys, when you're at a disadvantage, you don't take your ball and go home, you get out there and you fight harder," he said, adding that the idea of not voting was "dumb."
And while history suggests Republicans go into this race as favourites, they have reasons to worry. More than three million people have already voted, the highest turnout in a Georgia runoff ever. More than 100,000 people who did not vote in November have already voted, according to NBC, many of them from demographic groups that favour Democrats.  
Both Perdue and Loeffler have cast a Democratic victory here in Georgia in apocalytics terms, suggesting that they are all that stands between freedom and socialism. As he spoke, the president was flanked by two giant billboards which read: "Save the Senate, Save America."
There were times on Monday evening when the tension between Mr Trump's own motivation for being there seemed to clash with his party's. In the moments when he focused on the race at hand, he warned his supporters of the danger to the country should Democrats Jon Ossoff and Raphael Warnock win.
"The radical Democrats are trying to capture Georgia's senate seats so they can wield unchecked unrestrained, absolute power over every aspect of your lives," he said.
But his reasons for urgency often clashed with the alternate reality he has inhabited since losing the election, one in which he did not in fact lose, and will remain president for another four years. On one occasion during his speech, the president himself appeared to notice the contradiction in the middle of a sentence.
"If the liberal Democrats take the Senate and the White House... and they're not taking this White House, we're gonna fight like hell I'll tell you now," he said, before trailing off.
In one breath, Mr Trump called on his supporters to vote for Perdue and Loeffler to prevent total Democratic control. With another, he told them he would never leave.
As he said himself, partly in jest: "I don't do rallies for other people, I do them for me."
How Mr Trump's neverending presidential campaign will impact the race in Georgia is unclear. But what is clear is that most of his supporters now occupy that alternate reality with him.
Every rally attendee interviewed by The Independent believed the presidential election had been rigged, despite the Trump campaign and its allies having lost 61 out of 62 post-election court cases that attempted to overturn the result. The good news for Republicans is that they were all also intent on voting, even if they acknowledged some of his supporters had lost hope.
"I've heard a lot of people getting frustrated with the system," said Kary Rosenow, a retired police officer from Tennessee.
"They are throwing up their hands and saying what's the use. The whole concept of the Constitution is null and void, because exactly what we fled Great Britain for and founded this great nation is happening again," he said.
He added that he thought the inauguration of Mr Biden would provoke Americans to take up arms as they did in the Revolutionary War, and suggested that the coronavirus pandemic was a ploy to remove Mr Trump from office.
Some rally attendees shared conspiracy theories about hacked vote-counting machines, others of Chinese infiltration. Mr Rosenow appeared to posit scenarios similar to the QAnon conspiracy theory to explain opposition to the president's false claims of fraud from fellow Republicans.
"Trump is going to present the evidence, and the politicians, the media and the Supreme Court justices have been bribed by China or other entities or they've been blackmailed by their deviant behaviour and they will try to stick to their guns. But Trump is going to remain in office and you're gonna see another four years of the Democrats crying and whining," he said.
Janie Alexander, who came with her husband John from nearby Douglasville for the rally, said they too believe the presidential election was rigged, but they have already voted and think others will do the same.
"I went on Thursday and I saw a Dominion machine," said Ms Alexander, referring to the company that manufactures the voting machines used in Georgia and which have been the focus of the president's bogus claims of fraud. "I don't have as much confidence as I used to have," she said.
"But I don't think it'll affect it. I think Republicans are smarter than that," she added. "It's a planted lie from the media to make people not vote."
Her husband, however, said he had thought about not voting.
"I can tell you personally it disheartened me enough that I had to look away," he said. "But after you sleep on it a bit you think no, I need to vote now more than I ever have."
Mr Trump's Monday rally might have been his last as president. If so, it may be a fitting end. Here was a man who burned down the Republican Party and rebuilt it in his own image. Faced with a choice of helping his party or helping himself, there was only ever one choice.
He even allowed himself a moment of self-reflection mid-speech as he looked to the future.
"If they win, I get no credit. And if they lose, they're going to blame Trump," he said.
Register for free to continue reading
Registration is a free and easy way to support our truly independent journalism
By registering, you will also enjoy limited access to Premium articles, exclusive newsletters, commenting, and virtual events with our leading journalists
Already have an account? sign in
Join our new commenting forum
Join thought-provoking conversations, follow other Independent readers and see their replies