Donald Trump wants Hillary Clinton to run against him in 2020
Clinton has said she is 'done with being a candidate'  
Alexandra Wilts
Washington DC
Monday 16 October 2017 14:16 Comments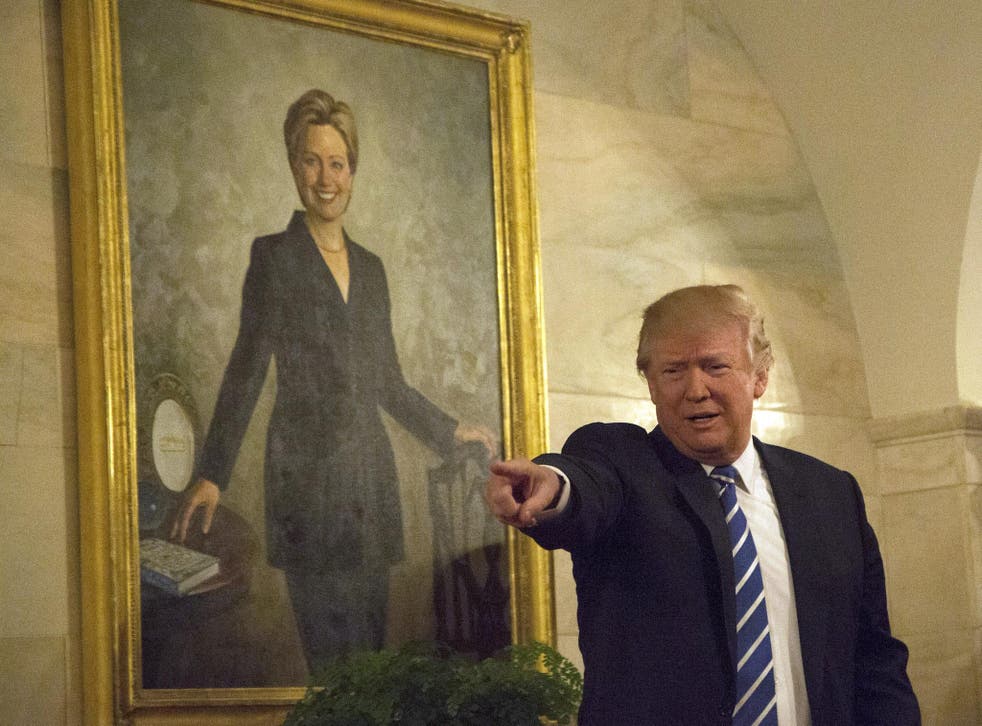 Donald Trump has said he wants Hillary Clinton to run again for president.
In a morning tweet, the President said: "I was recently asked if Crooked Hillary Clinton is going to run in 2020? My answer was, 'I hope so!'"
Ms Clinton has said she is "done with being a candidate".
However, she has expressed that she would remain active in national politics, telling CBS in September that she believed "our country's future is at stake."
Prior to her 2016 bid for the White House, Ms Clinton ran for the Democratic nomination for President in 2008, eventually losing to Barack Obama.
Following her loss to Mr Trump last year, Ms Clinton mostly disappeared from the public eye. But in recent months, while promoting her new book What Happened, the former senator and Secretary of State has been candid about her thoughts on Mr Trump and the events that transpired during the presidential campaign.
While speaking on Sunday at the Southbank Centre's London Literature Festival, Ms Clinton said she was worried that Mr Trump could in "a moment of pique" launch a nuclear missile. She also accused the President of "picking fights" with North Korea and Iran for the sake of "point scoring."
Donald Trump's least presidential moments so far...

Show all 30
Earlier this year, Mr Trump warned that threats from North Korea would be greeted with "fire and fury like the world has never seen". The Trump administration is currently engaged in a standoff with North Korea over the regime's expanding nuclear weapons programme.
On Friday, Mr Trump struck a blow against the 2015 Iran nuclear agreement by choosing not to certify that Tehran is complying with the deal. In the Obama-era accord, Iran had agreed to restrict its nuclear programme for at least 10 years in exchange for the loosening of economic sanctions.
Along with calling the deal merely a "temporary delay" on Iran's "path to nuclear weapons", Mr Trump said the removal of sanctions was giving the Iranian "regime" more funds to support terrorism.
In July, Mr Trump joked that Russian President Vladimir Putin would have preferred Hillary Clinton to be in the White House.
"[I]f Hillary had won, our military would be decimated," Mr Trump said in an interview with the Christian Broadcasting Network. "Our energy would be much more expensive. That's what Putin doesn't like about me. And that's why I say, why would he want me?"
"We're going to be exporting energy – he doesn't want that. He would like Hillary where she wants to have windmills," the President added. "He would much rather have that because energy prices would go up and Russia, as you know, relies very much on energy."
Mr Trump is expected to seek re-election in 2020.
Register for free to continue reading
Registration is a free and easy way to support our truly independent journalism
By registering, you will also enjoy limited access to Premium articles, exclusive newsletters, commenting, and virtual events with our leading journalists
Already have an account? sign in
Join our new commenting forum
Join thought-provoking conversations, follow other Independent readers and see their replies