Donald Trump attacks Hillary Clinton's swing state 'firewall' in 11th-hour campaign blitz
The Republican nominee is mounting a last-minute assault on Democrat-leaning states such as Colorado, in hopes of breaking through to 270 electoral college votes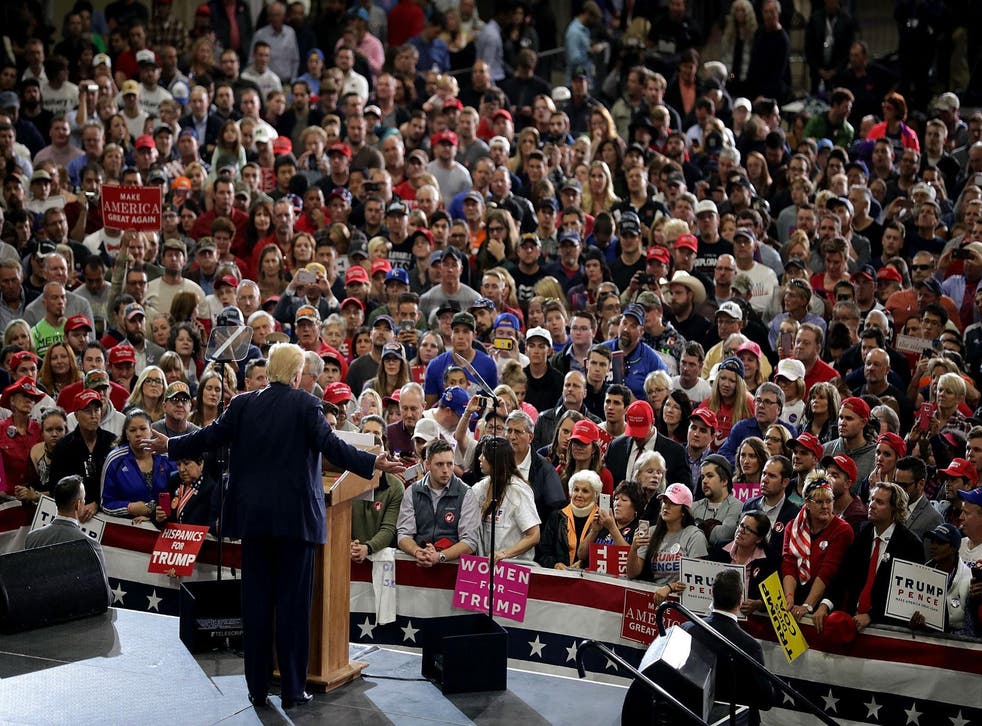 Donald Trump is all over the map. The Republican nominee for president spent Saturday on a cross-country campaign sprint that began early with rallies in Florida and North Carolina before heading west to Nevada and at last Colorado, where he took the stage at Denver's National Western Complex a little after 10pm. Trump Force One's flight-path was set to zig-zag back east on Sunday and Monday, with scheduled stops in six more states.
Many of the bases he'll hit during this eleventh-hour blitz offer Mr Trump only the slimmest chance of victory on election day. But with less than 100 hours left before the ballots are counted, and with his path to 270 electoral votes still a steep uphill climb, his campaign appears to have calculated that his best shot at winning the White House is to punch a hole somewhere – anywhere – in Hillary Clinton's so-called "firewall" of Democrat-leaning swing states.
"This is not easy," he said, noting halfway through his stump speech in Denver that he was still on New York time. "This is now one o'clock in the morning…" Americas clocks went back on Sunday morning, so at least he had an extra hour of sleep to look forward to afterwards.
What do Trump voters think of Clinton voters in Colorado?
Earlier on Saturday night, in Reno, Nevada, the property developer was hustled from the stage by Secret Service agents, after one of his supporters yelled "gun!" as they kicked and punched a protester. The man – who was, in fact, unarmed – later told reporters he had been holding not a weapon, but a sign that said: "Republicans Against Trump".
By then, however, the social media rumour mill was already turning. Mr Trump himself returned to the stage soon after the fracas and did not mention the incident at his next rally, but one of his introductory speakers characterised it as an "attempted murder", while the candidate's son Donald Jr and his social media manager Dan Scavino both retweeted a false claim that it had been an "assassination attempt".
This was Mr Trump's third visit to Colorado in the past eight days, as he puts his shoulder to a state where the Clinton campaign is piling furniture against the door to prevent him barging in. The former Secretary of State once enjoyed a solid lead in the Centennial State, which President Obama twice won comfortably. Yet with the race reaching its climax this weekend, her average poll lead here was down to less than three points.
Registered Democrats had claimed the advantage in Colorado's early voting numbers after the polls opened here on 24 October, only for Republicans to pull even on Friday, with each party accounting for approximately 35 per cent of the votes already cast by the end of the week. Colorado is one of several swing states that just weeks ago appeared to be clear blue but are now turning shades of purple.
Ms Clinton has been to Colorado just twice for campaign events since the Democratic National Convention in July, but her surrogates have swarmed the state in recent days. The candidate's husband, former President Bill Clinton, held a rally in Denver in Friday, while her erstwhile primary rival Bernie Sanders campaigned on Ms Clinton's behalf in historically conservative Colorado Springs on Saturday afternoon.
So confident was the Clinton campaign in the summer that it stopped running campaign commercials in Colorado altogether, only to begin a fresh barrage of ads last week. What once looked like confidence may turn out to have been complacency. "It has gotten ridiculously close," the state's Democratic governor, John Hickenlooper, told the crowd at Mr Clinton's Denver rally. "It shouldn't be anywhere like this close."
This year, for the first time, Colorado voters received their ballots in the post, and can choose to send them in or vote in person. The new system is conspiracy fodder for Mr Trump, who said last week that he had "real problems" with postal voting, suggesting election officials might toss out ballots cast for candidates they opposed. "If you haven't mailed your ballot yet, don't do it," he urged the crowd in Denver. "Go in person to your local polling centre and drop it in."
Ms Clinton remains the favourite here, despite the narrowing poll margins. Democrats point to her superior ground game – the Clinton campaign has 30 offices in the state, staffed by some 20,000 volunteers – and to Colorado's substantial Latino population. Around 15 per cent of the state's eligible voters are Hispanic, a group who appear to have turned out in record numbers in nearby Nevada, and who are expected to vote overwhelmingly against the Republican.
But Mr Trump appears unmoved by the traditional signifiers of electoral strength. "We're getting great poll numbers with the Latinos," he insisted, contrary to all the evidence. "They love what I'm saying." Noting his improved poll numbers in Colorado, he put his success down to his supporters' enthusiasm. "Why would anybody be enthused [by Ms Clinton]?" he asked. "We have record-breaking enthusiasm… enthusiasm like probably they've never seen before."
With the polls so erratic and events so unpredictable in the closing days of this bitter and protracted campaign, it is hard to know whether Mr Trump's last-ditch assault on Ms Clinton's swing state "firewall" represents the desperate flailing of a drowning campaign, or whether this staggeringly unorthodox candidate has intuited electoral weaknesses that his opponent failed to spot until it was too late. On Tuesday, he will have his answer.
Join our new commenting forum
Join thought-provoking conversations, follow other Independent readers and see their replies