Donald Trump accuses Hillary Clinton of hypocrisy over election recount in early morning tweetstorm
Green Party candidate Jill Stein has raised more than $6m of the $7m needed to cover fees and legal costs for a manual recount of ballots in Wisconsin, Pennsylvania and Michigan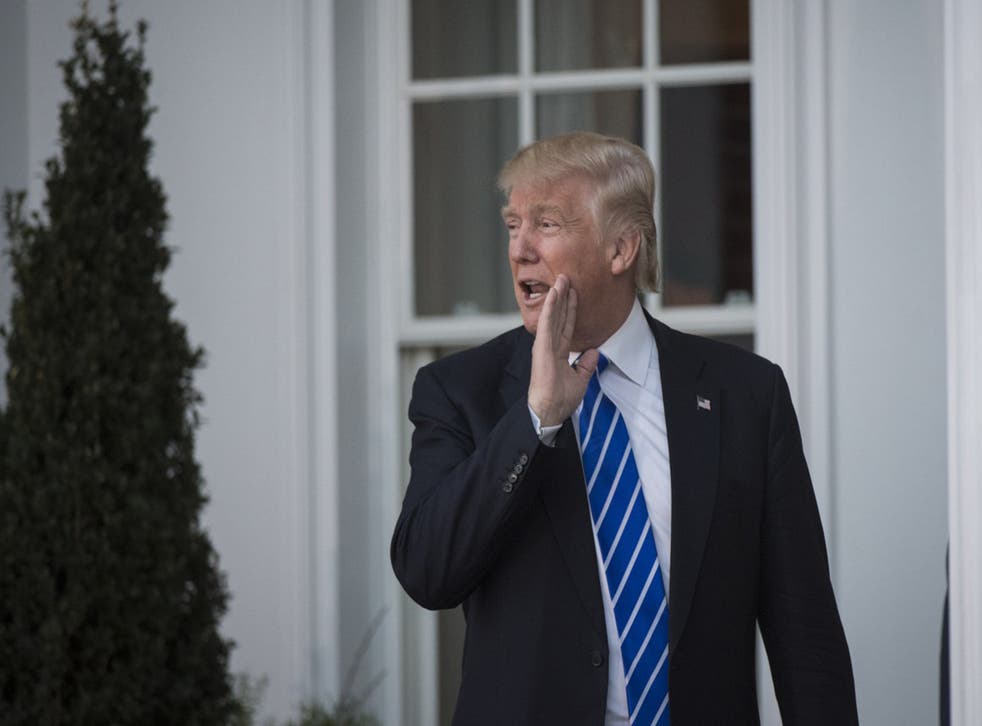 Donald Trump has accused Hillary Clinton of hypocrisy after the Democrat's presidential campaign team said it would participate in an election recount in three states.
Green Party presidential candidate Jill Stein has already filed for a recount in Wisconsin, and is raising funds to do the same in Pennsylvania and Michigan – all states that Mr Trump claimed over Ms Clinton, against expectations, on election day.
On Saturday, the President-elect described the recount effort as "ridiculous" and a "scam" in a statement released by his transition team. Early on Sunday, he took to Twitter, in response to the news that Ms Clinton's campaign would also take part.
"Hilary Clinton conceded the election when she called me just prior to the victory speech and after the results were in," he wrote. "Nothing will change."
Mr Trump, who spent much of his campaign complaining that the election would be rigged, and threatening not to accept its outcome should he lose, turned Ms Clinton's own pre-election comments against her in his early morning tweetstorm.
At the final presidential debate, Ms Clinton had called Mr Trump's threatened refusal to concede the election "horrifying", and, in her concession speech on 9 November, urged her supporters "to accept the results and look to the future."
Mr Trump tweeted that "so much time and money will be spent" on the recount, only to reach the same result. It was, he concluded, "sad".
His criticism came a day after Marc Elias, a lawyer for the Clinton campaign, said the Democratic nominee's team would not call for a recount themselves, but would participate in Ms Stein's effort, "in order to ensure the process proceeds in a manner that is fair to all sides."
Hillary Clinton urges supporters to give Donald Trump a chance to lead
The Wisconsin Elections Commission announced on Friday that it had received Ms Stein's petition to perform a recount of the vote there, amid claims from computer experts and electoral lawyers that vote totals could have been manipulated.
As of Sunday, a crowdfunding effort started by Ms Stein had raised more than $6m of the $7m needed to cover fees and legal costs for a manual recount of ballots in Wisconsin, Pennsylvania and Michigan.
Mr Elias said in his statement that the Clinton campaign's own analysts had not found any evidence of fraud or other irregularities, despite the repeated hacking of party and campaign databases that took place during the election.
"Let me be very clear: We do not have evidence of fraud. We do not have smoking guns. What we do have is an election that was surrounded by hacking," Ms Stein wrote on her campaign website.
After filing for a recount in Wisconsin, and having raised sufficient funds for a similar petition in Pennsylvania, to be filed by Monday, she went on, "We will focus on raising the needed funds for Michigan's recount (due Wednesday)."
In Pennsylvania, which has 20 Electoral College votes, Mr Trump won by roughly 68,000 votes, and in Wisconsin, which has ten such votes, his margin was even smaller: just 27,000. Michigan, which carries 14 votes, is still yet to be certified, with the difference between the two candidates amounting to fewer than 12,000.
Asked about the recount on ABC's This Week on Sunday, Ms Clinton's former Democratic primary rival Bernie Sanders said it was "not a big deal," adding: "I don't think anybody, Secretary Clinton or anybody else, thinks that there's going to be profound changes."
Register for free to continue reading
Registration is a free and easy way to support our truly independent journalism
By registering, you will also enjoy limited access to Premium articles, exclusive newsletters, commenting, and virtual events with our leading journalists
Already have an account? sign in
Register for free to continue reading
Registration is a free and easy way to support our truly independent journalism
By registering, you will also enjoy limited access to Premium articles, exclusive newsletters, commenting, and virtual events with our leading journalists
Already have an account? sign in
Join our new commenting forum
Join thought-provoking conversations, follow other Independent readers and see their replies