Donald Trump claims he would be beating Hillary Clinton if 'corrupt media' covered him fairly
Mr Trump unleashed a barrage of tweets after the 'New York Times' painted a dire picture of his struggling campaign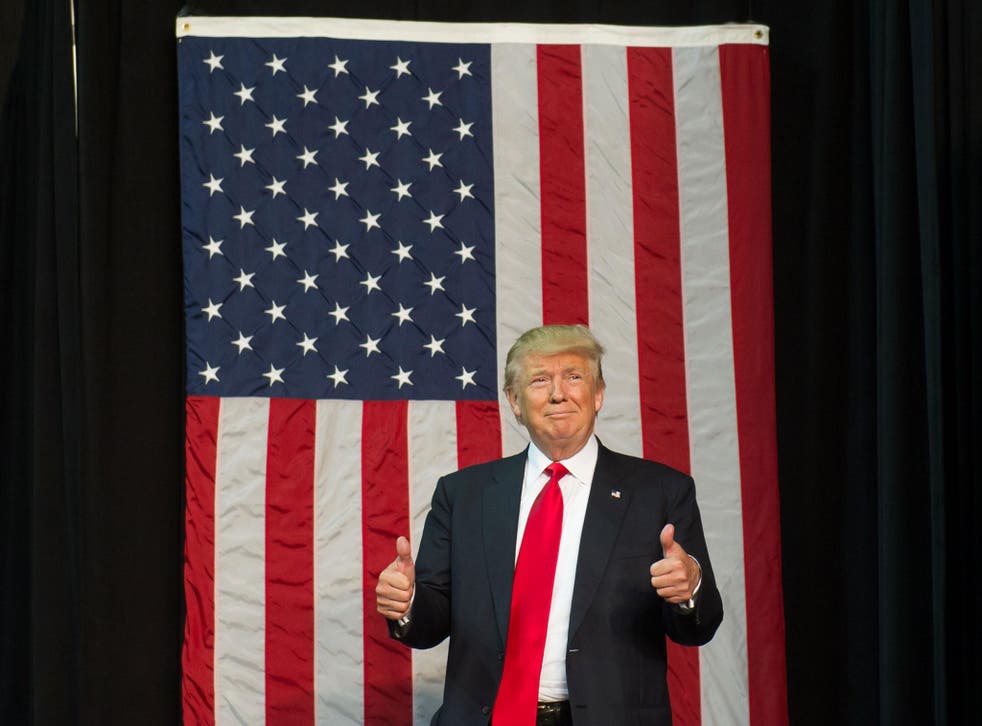 Donald Trump explained why he is behind Hillary Clinton in the polls: biased media coverage.
In a barrage of angry tweets, Mr Trump complained about the supposed media bias after the New York Times published a report about the troubled efforts of his campaign staff to restrain him.
"If the disgusting and corrupt media covered me honestly and didn't put false meaning into the words I say, I would be beating Hillary by 20%," he tweeted Sunday morning.
He unleashed an attack on the Times specifically for its use of anonymous sources, accusing the paper of writing fiction and threatening to revoke its media credentials – a move he made against the Washington Post in June.
Diagnosing a narcissist with Donald Trump
"Maybe we'll start thinking about taking away their press credentials," Mr Trump told a crowd at a Fairfield Connecticut rally. "When they write dishonest stories, we should be a little tough."
News outlets have placed significant scrutiny on remarks made by Mr Trump at rallies and during news conferences. In recent weeks, the New York real estate mogul has suggested Russian intelligence hack Hillary Clinton's email servers, implied "Second Amendment people" could assassinate either his opponent or potential Supreme Court justices, and said that both the Democratic nominee and President Barack Obama "founded" Isis.
Mr Trump has backtracked from all three remarks by explaining that he was being sarcastic.
In a bit of damage control, running mate Mike Pence is appearing on news programmes to explain the meaning of Mr Trump's statements.
In an interview with Fox News' Chris Wallace, Mr Pence explained that his running mate was stating that policies of the President and Democratic nominee that created the right circumstances for the Islamist extremist group to flourish.
"I think he was being very serious," Mr Pence said. "He was making a point that needs to be made, that there is no question that the failed policies of President Barack Obama and then-Secretary of State Hillary Clinton, in the wider Middle East, created a vacuum within Iraq in which Isis was able to arise."
However, Mr Pence's explanation contradicts what Mr Trump told conservative radio host Hugh Hewitt.
"Last night, you said the President was the founder of Isis. I know what you meant," Hewitt said. "You meant that he created the vacuum, he lost the peace."
"No, I meant he's the founder of Isis," Mr Trump replied. "I do. He was the most valuable player. I give him the most valuable player award. I give her, too, by the way, Hillary Clinton."
Hewitt continued: "But he's not sympathetic to them. He hates them. He's trying to kill them."
"I don't care," Mr Trump shot back. "He was the founder. His, the way he got out of Iraq was that that was the founding of Isis, OK?"
The Trump campaign has seen significant fallout in the polls in the past week.
Ms Clinton currently leads in all of the most recent major polls by a substantial margin at this stage in the election. The RealClear Politics average places Ms Clinton seven points higher than Mr Trump. According to an NBC News poll, the Democrat has a double-digit command over her opponent at 51 per cent to his 41.
But for Mr Trump, his lower polling numbers are a result of unfair media representation of words he actually says.
"I am not only fighting Crooked Hillary," he tweeted, "I am fighting the dishonest and corrupt media and her government protection process. People get it!"
Register for free to continue reading
Registration is a free and easy way to support our truly independent journalism
By registering, you will also enjoy limited access to Premium articles, exclusive newsletters, commenting, and virtual events with our leading journalists
Already have an account? sign in