Attorneys General seek documents regarding Trump hotel in case accusing president of violating constitution
The president is accused of benefiting from foreign dignitaries staying at his hotel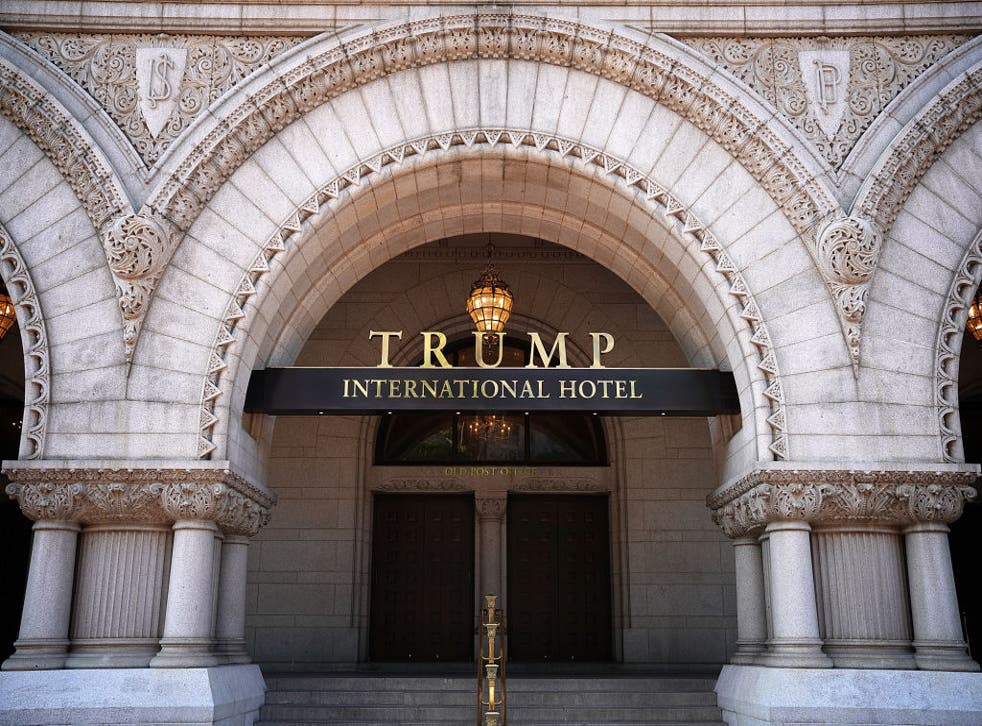 Two attorneys general have asked Donald Trump for any of his correspondence with government officials regarding his hotel in Washington DC.
The district's Attorney General Karl Racine and Maryland's Brian Frosh made the request to the US District Court in Maryland.
It was part of a civil suit against the president, alleging he violated the emoluments clause of the US Constitution and is benefiting from foreign governments without Congress' permission.
The Foreign Emoluments Clause of the Constitution bars federal officials from accepting gifts or rewards from foreign government officials; the Domestic Emoluments Clause says the president cannot accept benefits from state governments.
The hotel is just a stone's throw from the White House and several visiting dignitaries and state officials appear to have stayed at the hotel as paying guests.
Mr Trump's legal team has attempted to stop the case, but the judge, Peter Messitte, ruled in July 2018 that it can go forward.
Accusatory words projected on Trump DC hotel
This is the first case involving the emoluments clauses to ever go to trial.
Since Mr Trump placed his assets in a blind trust before he took office, the attorneys general have asked for other documents as well.
World news in pictures

Show all 50
They have requested, as part of the "document discovery" phase of the case, the hotel's business records with foreign government officials and records of money flowing from the hotel to the trust, and records from the General Services Administration of the federal government which leases the hotel to the Trump Organisation.
The attorneys general have also asked for records from the US Treasury Department which handles the lease payments for the hotel.
The case has run into some roadblocks as the Department of Justice, defending the president has asked the case be stalled until a critical question has been decided by Mr Messitte - whether to include Mr Trump as an individual in the case not just in his official capacity.
Register for free to continue reading
Registration is a free and easy way to support our truly independent journalism
By registering, you will also enjoy limited access to Premium articles, exclusive newsletters, commenting, and virtual events with our leading journalists
Already have an account? sign in
Register for free to continue reading
Registration is a free and easy way to support our truly independent journalism
By registering, you will also enjoy limited access to Premium articles, exclusive newsletters, commenting, and virtual events with our leading journalists
Already have an account? sign in
Join our new commenting forum
Join thought-provoking conversations, follow other Independent readers and see their replies