Donald Trump is mistaken if he thinks new security adviser HR McMaster will back all his policies
US general made his reputation as someone not afraid to challenge the hierarchy
Kim Sengupta
Diplomatic editor
Tuesday 21 February 2017 17:21 Comments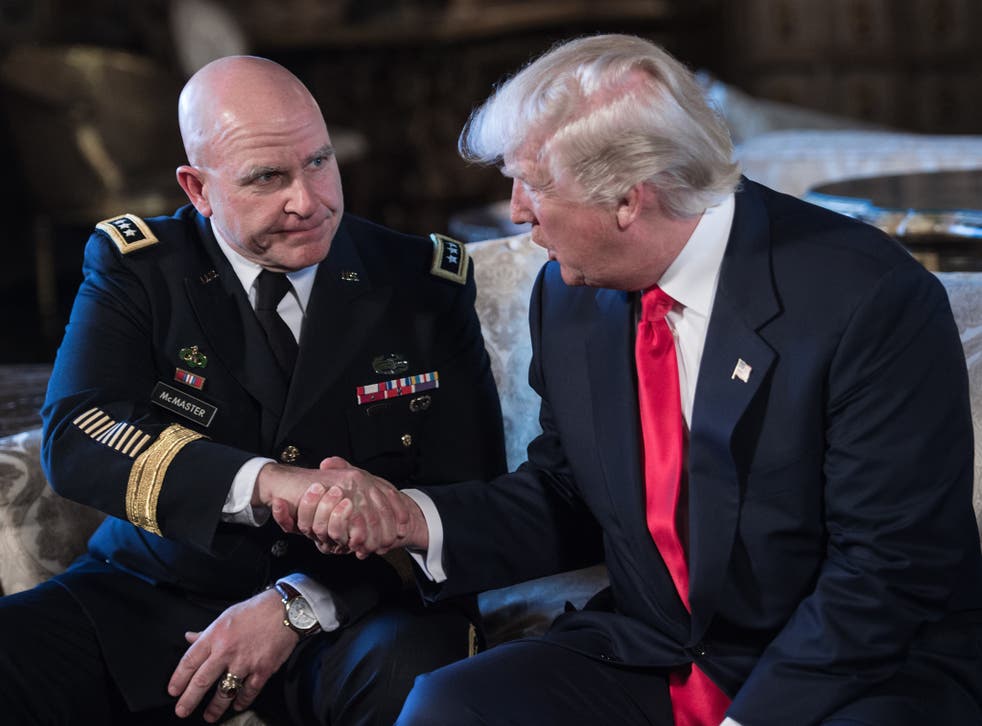 Donald Trump has at last got a national security adviser after his first one was forced to resign and two others approached for the job ruled themselves out.
But the President and his cronies would be mistaken if they think that Lt Gen HR McMaster would simply back whatever policy comes out of the White House.
Indeed, General Herbert Raymond McMaster made his considerable reputation as someone who is not afraid to challenge the hierarchy, and indeed had first made his mark by condemning senior officers for not standing up to the flawed policies of US presidents in the Vietnam War.
There are some echoes of those times in current events: the animosity shown towards the media by Mr Trump was also present in the White House during Vietnam -- albeit in nothing like the current poisonous extent – with both Presidents Lyndon Johnson and Richard Nixon blaming newspapers and television for undermining the war effort.
Gen McMaster's firm conclusion was "the war in Vietnam was not lost in the front pages of The New York Times or the college campus. It was lost in Washington DC".
The Vietnam indictment came in a book Dereliction of Duty, initially written as a Phd thesis, which got the attention of the best and the brightest of America's military men.
One of them was Gen David Petraeus, who helped secure Gen McMaster's promotion in face of opposition from conservatives in the military establishment.
After the national security adviser appointment, Gen Petraeus wanted to stress: "HR McMaster is a brilliant officer, a battlefield hero and a true soldier-scholar who will serve President Trump and his country exceedingly well."
The controversial orders Donald Trump has already issued

Show all 9
The new President, a Vietnam draft dodger, had shown a penchant for surrounding himself with military men.
But among them there has been a growing feeling of unease that serving Mr Trump and serving the country they had sworn to protect may not necessarily be the same thing.
Significantly, Gen Petraeus himself turned down the job, saying pointedly that "whoever it is that would agree to take that position certainly should do so with some very, very significant assurances that he or she would have authorities over the personnel of the organisation – that there would be a commitment to a disciplined process and procedures".
The Trump team were said to have been deeply annoyed by Gen Petraeus's words.
But this view had already been taken by the first person approached for the post after Lt Gen Michael Flynn became its shortest holder in American history, following his improper liaison with the Russian ambassador to Washington.
Vice Admiral Robert Harward turned down the job – one he described to friends as a "shit sandwich" – after being told that he would not be able to bring in his own team.
One person Admiral Harward is said to have wanted to get rid of was KT McFarland, who would have been his second-in-command, a former Fox News security commentator who had been accused of Islamophobia and someone who has shown a firm belief in conspiracy theories.
But the real elephant in the room, say military and intelligence officials, is Steve Bannon, the standard bearer for the hard right who is the White House chief strategist and to whom Mr Trump has given a place in the National Security Council – an unprecedented move for someone in that role.
To add to the wonderment, Mr Bannon, it was decreed, would be a regular attendee while the chairs of the Joint Chiefs of Staff of the armed forces and the director of National Intelligence would be allowed to participate only "where issues pertaining to their responsibilities and expertise are to be discussed".
Eliot Cohen, who was counsellor to Condoleezza Rice when she was Secretary of State, said he fully understood how Admiral Harward and Gen Petreaus felt. "No sane person would take this extremely important and difficult job without (a) control of staffing and (b) eliminating or neutering Bannon's shadow NSC staff. Without those things you're doomed not to frustration but failure," he said. "The question will be whether Trump can bring himself to accept that, or go looking for a mediocrity – who will, in turn, help facilitate more failure."
Trump admits to relationship with Putin in resurfaced video
Mr Cohen spoke before Gen McMaster took the job, and he would not call the general a mediocrity.
The question now, however, is whether the general, a man who values integrity and independence, sometimes at a cost to his own career, would last in the administration.
Gen McMaster has said of the military command: "We need leaders who have physical and mental courage on the battlefield, but also the courage to speak their minds and offer respectful and candid feedback to their superiors.
"Our leaders can't feel compelled to tell their bosses what they want to hear."
The general also spoke about failure of leadership: "I think there are usually four causes of breakdowns in moral character: ignorance, uncertainty, fear or combat trauma."
Critics of Mr Trump in the military point out that he, having made sure that he never heard a shot fired in anger, cannot blame the last factor if his presidency unravels.
Register for free to continue reading
Registration is a free and easy way to support our truly independent journalism
By registering, you will also enjoy limited access to Premium articles, exclusive newsletters, commenting, and virtual events with our leading journalists
Already have an account? sign in
Join our new commenting forum
Join thought-provoking conversations, follow other Independent readers and see their replies