Donald Trump announces new immigration policy favouring financially stable English speakers
The legislation would drastically cut the number of legal immigrants allowed into the country
Emily Shugerman
New York
Wednesday 02 August 2017 16:55 Comments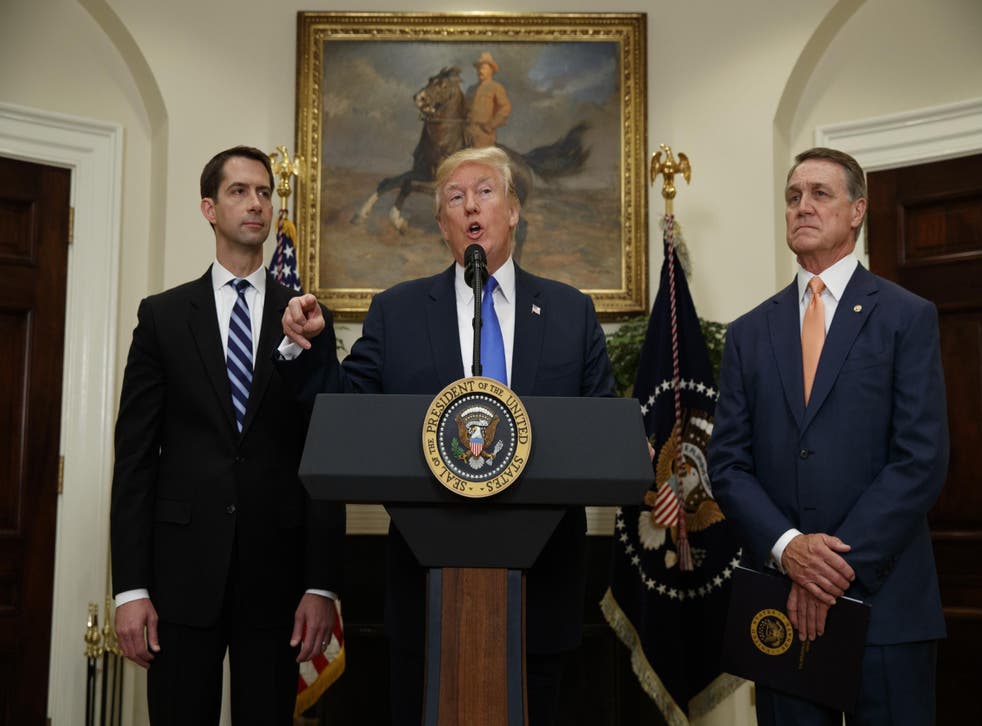 President Donald Trump is touting new legislation to overhaul the US immigration system, drastically cutting the number of legal immigrants allowed into the country and implementing a "merit-based" visa scheme.
If passed, the RAISE Act would cut the number of immigrants allowed into the United States by 50 per cent over the next 10 years. It would eliminate diversity lottery visas and crack down on so-called "chain immigration" – visas provided based on family connections, rather than jobs skills.
Mr Trump promoted the act alongside Senators Tom Cotton and David Perdue on Wednesday, claiming it would "reduce poverty, increase wages, and save taxpayers billions and billions of dollars".
And it would do so, he said, by favouring English-speaking, financially stable immigrants.
"This competitive application system will favour applicants who can speak English, financially support themselves and their families, and demonstrate skills that can contribute to the US economy," Mr Trump said.
He added: "They're not going to come in and just immediately collect welfare."
Under current US law, the majority of immigrants cannot receive food stamps, Medicaid, and Social Security until they have been in the US for at least five years.
Mr Cotton and Mr Perdue first introduced the RAISE Act to the Senate in February, but the legislation has since stalled in Congress. The Senators now plan to re-introduce it with a few changes – and the President's backing.
Mr Trump frequently spoke out against illegal immigration during his campaign, accusing immigrants of stealing jobs from American workers and bringing crime into the country. As President, he has pushed for the construction of a wall on the US-Mexico border, and implemented a travel ban on six Muslim-majority countries.
To Kamal Essaheb, director of policy and advocacy for the National Immigration Law Center, these policies are an attempt to shift the blame for Mr Trump's legislative failures onto the immigrant community.
"We've seen this during the campaign and we're now seeing this, unfortunately, in his policies," Mr Essaheb told The Independent. "This is a President who has found his scapegoat."
Protestors rally at JFK Airport against Muslim immigration ban

Show all 20
Despite his harsh words about illegal immigrants, the RAISE Act marks Mr Trump's first significant attempt at reforming the legal immigration system – and the country's most dramatic attempt in more than 50 years.
In his remarks on Wednesday, Mr Trump decried the current immigration system as "unfair," saying it benefits new immigrants over "struggling American families". In an accompanying statement, the White House claimed that an influx of unskilled workers has depressed American wages and harmed working families.
Mr Essheb dismissed these claims as "simply untrue".
"All the evidence shows that immigration is not only good for the economy in terms of GDP growth, but also good for wages of Americans themselves," he said.
A 2010 report from the Economic Policy Institute, for example, found that immigration increased the wages of native-born workers by an almost half a percent between 1994 and 2007.
Last week, BuzzFeed News reported that Mr Trump's private, South Florida estate had requested permission to hire 70 foreign, low-wage workers. The Trump National Golf Club has also requested permission to hire six foreign cooks.
Defending his hiring practises last year, Mr Trump said it is "very, very hard" to find employees in Palm Beach during peak tourism seasons.
"We, sometimes, we have to bring people in," he said.
Register for free to continue reading
Registration is a free and easy way to support our truly independent journalism
By registering, you will also enjoy limited access to Premium articles, exclusive newsletters, commenting, and virtual events with our leading journalists
Already have an account? sign in
Join our new commenting forum
Join thought-provoking conversations, follow other Independent readers and see their replies