Trump says impeachment 'is a very unfair thing', in rambling interview
President says he doesn't know if son was interviewed in Mueller investigation
Zamira Rahim
Sunday 23 June 2019 17:43 Comments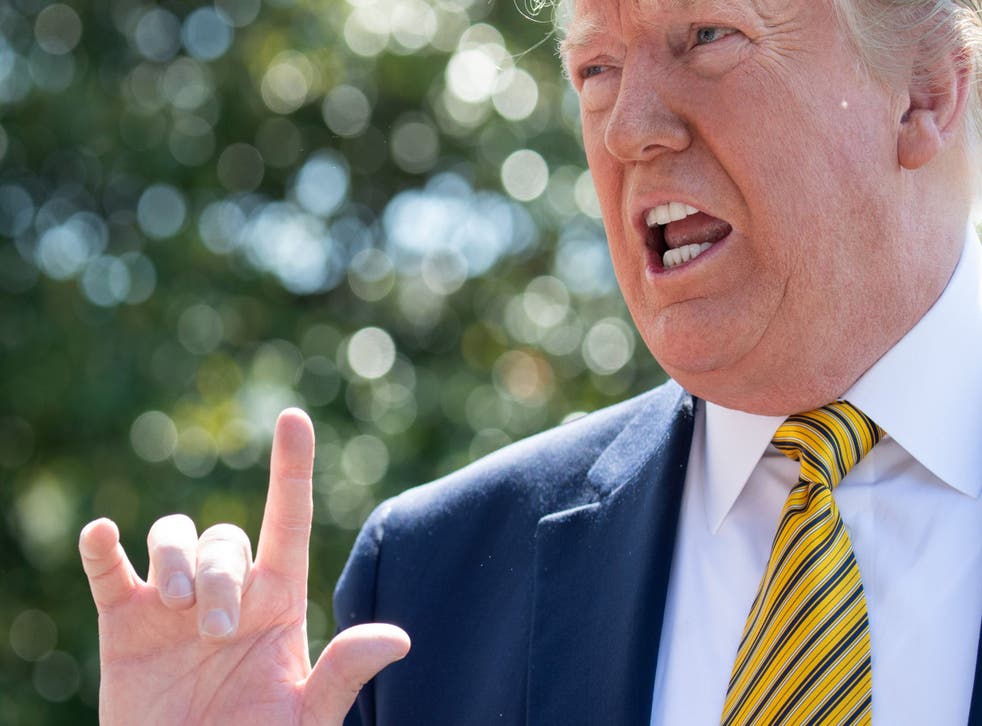 Donald Trump has said that facing impeachment would be "a very unfair thing" as he has done nothing wrong.
A number of Democratic politicians support the policy of impeaching Mr Trump, including Rashida Tlaib and Alexandria Ocasio-Cortez.
Senate Democrat leader Nancy Pelosi has refused to try and remove the president from office, despite the debate raging in her caucus over the issue.
And in wide-ranging interview with NBC News, the president gave a rambling answer during which he said he believed impeachment would only help him politically.
"I think I win the election easier," he said, when asked what would happen if the Democrats tried to open proceedings.
Donald Trump's least presidential moments so far...

Show all 30
"But, you know, I'm not sure that I like having it. Look, I did nothing wrong. I was spied on. What they did to me was illegal. It was illegal on the other side," he said, apparently referring to the Mueller investigation.
"I did nothing wrong. So impeachment's a very unfair thing because nothing that I did was wrong.
"And if you look at the Mueller report, there was no collusion. This was all about collusion," he added.
Chuck Todd, who was interviewing Mr Trump, attempted to explain that the Mueller report did not exonerate him.
"Nobody mentions Russia anymore," Mr Trump said, talking over his interviewer. "And it was about Russia. It was a hoax."
He also said he did not know if Donald Trump Jr, his son, had sat for an interview with Robert Mueller's team.
Although Democratic leaders oppose trying to impeach Mr Trump, an increasing number of their subordinates disagree.
"This president needs to be impeached," said Alexandria Ocasio-Cortez on Friday.
Impeachment articles have repeatedly been tabled by Democrats in the House of Representatives, despite criticisms from the party leadership.
Al Green and Brad Sherman tabled legislation last year and Rashida Tlaib did so again in March 2019.
But with party leaders still opposed to attempting the process, it remains unlikely that Mr Trump will be removed from office by Congress.
Support free-thinking journalism and attend Independent events
The NBC interview was filmed on Friday, just hours after the US president abruptly cancelled military strikes against Iran.
The strikes were planned as retaliation for Iran destroying an unmanned US drone but the president said he halted them after being told they would kill 150 people.
"I said, 'You know what? They shot down an unmanned drone, plane, whatever you want to call it," Mr Trump said during the interview.
"And here we are sitting with 150 dead people that would have taken place probably within a half an hour after I said go ahead.' And I didn't like it. I didn't think it was, I didn't think it was proportionate. "
But the president later said that if Iran "do something else, it'll be double."
The 73-year-old also claimed that Barack Obama, his predecessor. "had a lousy economy".
Mr Todd then showed the president charts comparing the economy during his presidency to Mr Obama's.
The interviewer said: "This recovery started and in the 28 months that you've been president and the last 28 months of Obama's presidency, he averaged more new jobs than your first 28 --"
The president then cut Mr Todd off with protests.
"You have to understand, nobody was working," he claimed.
"The whole place was a disaster. And I don't-- I'd never take that away."
Register for free to continue reading
Registration is a free and easy way to support our truly independent journalism
By registering, you will also enjoy limited access to Premium articles, exclusive newsletters, commenting, and virtual events with our leading journalists
Already have an account? sign in
Join our new commenting forum
Join thought-provoking conversations, follow other Independent readers and see their replies