Donald Trump impeachment vote to be forced by Democratic congressman Al Green
That vote would also force Democrats to go on the record about whether they support a measure calling for Mr Trump's removal from office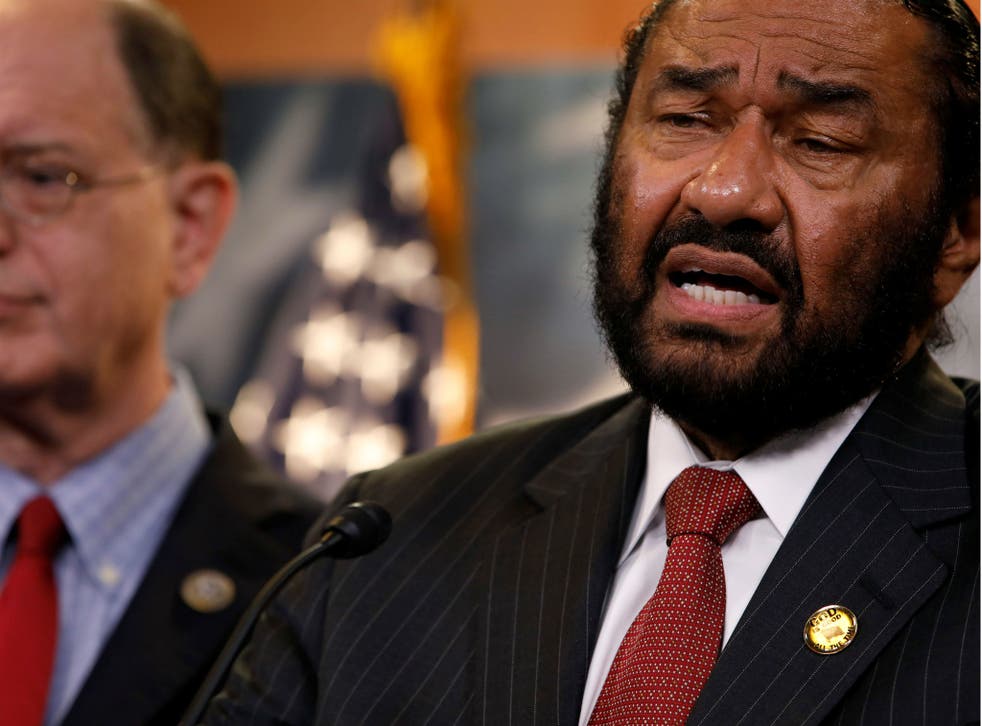 A Democratic congressman has said he intends to force a vote to impeach President Donald Trump.
"I love my country," Representative Al Green wrote in a letter to colleagues. "For this reason, I will bring articles of impeachment to a vote in the House of Representatives."
Members may offer "privileged" motions on impeachment, under House procedures, which means an individual member can force consideration of the subject.
Republicans leaders who control the House are expected to vote to brush Mr Green's motion aside, according to Politico. But the vote would also force Democrats, for the first time, to go on the record about whether they support a measure calling for Mr Trump's removal from office.
Mr Green, who represents Texas's ninth congressional district, took to the House floor in October to say that Mr Trump's response to neo-Nazi violence in Charlottesville, Virginia, his attack on NFL players who knelt during the national anthem in protest, and his debunked claim that Barack Obama had wire-tapped him, had all undermined the integrity of the Oval Office and "brought disrepute on the presidency".
Donald Trump's least presidential moments so far...

Show all 30
In his impeachment resolution, Mr Green asserts that the President's conduct in office amounts to a "high misdemeanour" that warrants removal from office.
"The framers of the Constitution wanted a means to remove a president who had not committed a crime, but was causing harm to society," he said in his letter. "In fact, impeachment, as prophetically defined by the framers of the Constitution, was designed for a time such as this and a president such as Trump."
A handful of other liberal members have also introduced their own articles of impeachment against Mr Trump, despite opposition from Democratic leaders.
The calls for removing Mr Trump from office have created some discord throughout the Democratic party.
House Minority Leader Nancy Pelosi has called the effort premature amid ongoing Russia investigations into alleged ties between the Kremlin and Trump campaign advisers. She has also said that impeachment must be rooted in facts rather than personal opinions about the President.
Join our new commenting forum
Join thought-provoking conversations, follow other Independent readers and see their replies