Donald Trump proposes $200bn infrastructure plan to fix roads, waterways and railways
House Democratic Leader Nancy Pelosi says its a 'puny infrastructure scam'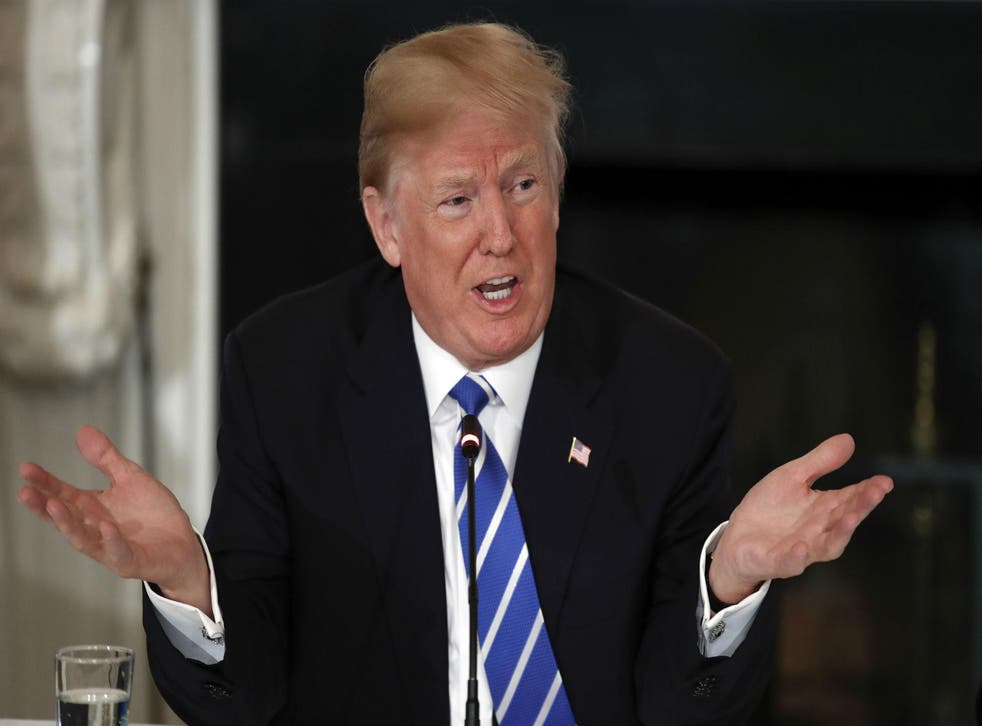 Donald Trump has unveiled his long-awaited infrastructure proposal – which immediately raised doubts about how serious the President is about fixing the nation's roads, bridges, waterways and railways.
Mr Trump has asked Congress to pass what he's calling the "biggest and boldest" infrastructure plan, which proposes allocating $200bn in federal funds to spur private investors, states and localities to invest at least $1.5 trillion in US infrastructure projects.
"If you want it badly, you're going to get it," Mr Trump told state and local officials at the beginning of a meeting on infrastructure and the White House. "And if you don't want it, that's OK with me too."
But his proposal has not appeased Democrats, who were expecting a larger request for federal funds to fix the nation's infrastructure.
"After a full year of empty boasts, the president has finally unveiled a puny infrastructure scam that fully fails to meet the need in America's communities," said House Democratic Leader Nancy Pelosi.
The plan, which the administration has called a starting point for negotiations, also does not directly address how the federal government will find the money it is calling for in investments.
"Our roads are in bad shape," Mr Trump said. "And we're going to get the roads in great shape. And, very important, we're going to make our infrastructure modernized. And we're really way behind schedule. We're way behind other countries."
The President has already appeared to acknowledge that Congress may not approve of his infrastructure plan. After the proposal had been released, he told reporters that the plan was not as important as military spending or the passage of tax cuts.
"If for any reason, they don't want to support to it, hey, that's going to be up to them," Mr Trump said of the Republican-controlled Congress.
Donald Trump's first year: in pictures

Show all 29
"What was very important to me was the military; what was very important to me was the tax cuts; and what was very important to me was regulation," he added. He suggested that infrastructure may not be as important as these priorities because states will "have to do it themselves if we don't do it. But I would like to help the states out."
Officials have said the $200bn in federal funding would come from cuts to existing programmes, according to the Associated Press.
Half of the money would go to grants for transportation, water, flood control, cleanup at some of the country's most polluted sites and other projects.
Meanwhile, About $50 billion would go toward rural projects — transportation, broadband, water, waste, power, flood management and ports. Some Republican senators had expressed concerns that the administration's initial emphasis on public-private partnerships would do little to help rural, Republican-leaning states.
"This plan recognizes what everyone in America knows firsthand: America's infrastructure is in disrepair, and it's long past time we start building again," said House Majority Leader Kevin McCarthy.
Mr Trump provided Congress with a similar infrastructure proposal last year that also relied on public-private partnerships. Democrats asserted that the President's request to set aside $200bn over 10 years for infrastructure was not the big spending he had promised during his campaign. According to the President's budget request, the funds would be used to encourage companies, as well as state and local governments, to invest at least $800bn in US infrastructure projects.
Calling it a "broken promise of this budget", Democratic congressman Brendan Boyle asserted that this proposal falls short of the $1 trillion Mr Trump pledged during the campaign, one of his few promises that received support from Democrats.
"Here we are now with the budget plan, and instead of having that $1 trillion plan – something that I would sincerely like to work with him on in this administration in a bipartisan way – it's actually $200 billion," Mr Boyle said during a House of Representative budget committee hearing last May.
Register for free to continue reading
Registration is a free and easy way to support our truly independent journalism
By registering, you will also enjoy limited access to Premium articles, exclusive newsletters, commenting, and virtual events with our leading journalists
Already have an account? sign in
Register for free to continue reading
Registration is a free and easy way to support our truly independent journalism
By registering, you will also enjoy limited access to Premium articles, exclusive newsletters, commenting, and virtual events with our leading journalists
Already have an account? sign in
Join our new commenting forum
Join thought-provoking conversations, follow other Independent readers and see their replies