Donald Trump's Iran deal decision pushes US 'down the road to war,' warns former George W Bush adviser
'If you think Iraq was a bad war, wait until you see Iran'
Samuel Osborne
Monday 16 October 2017 13:44 Comments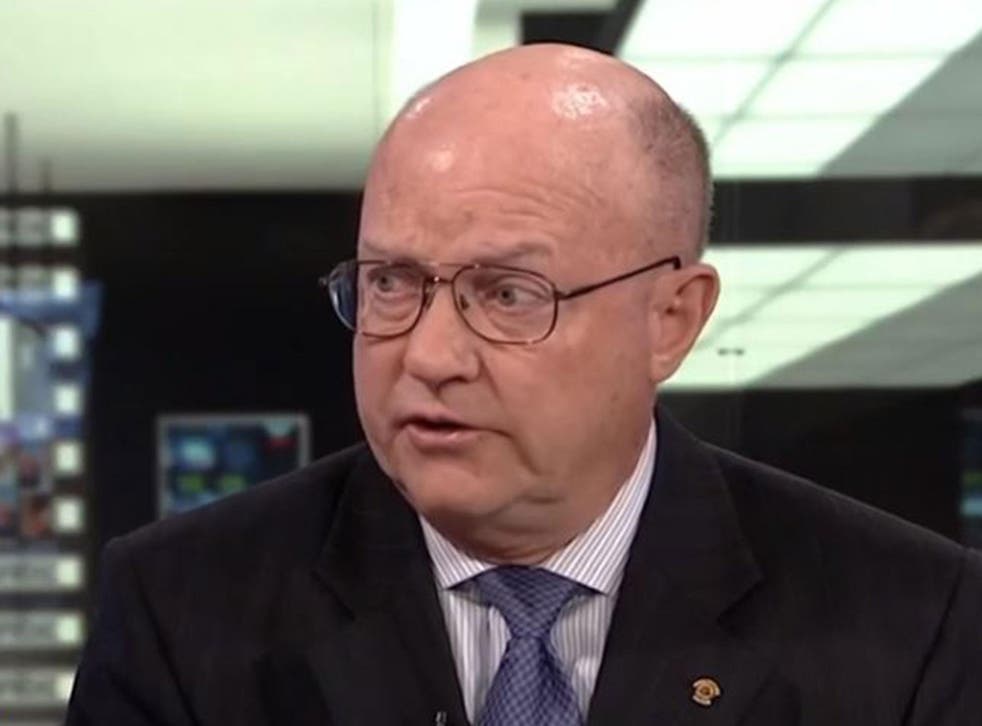 Donald Trump's decision not to re-certify the 2015 nuclear agreement with Iran is pushing the US "down the road to war," the former chief of staff for ex-Secretary of State Colin Powell has warned.
Retired US Army Colonel Lawrence Wilkerson said he "absolutely" thinks the end game is to provoke Iran enough in order to go to war.
"The German minister summed it up quite well, he said what Trump has done is make the Iran agreement a domestic play thing, in other words domestic politics," he told MSNBC's AM Joy programme.
"By doing that he's assured that the nuclear agreement will fail ultimately, and then what you have is one choice: war."
EU condemns Donald Trump's decision to decertify Iran nuclear deal
German Foreign Minister Sigmar Gabriel said if the US Conress decides to reimpose sanctions or terminate the deal completely, it could result in Iran developing nuclear weapons and raising the threat of conflict.
Asked if he thought the end game of Congress's move to impose new sanctions against Iran was to provoke the country to war, Mr Wilkerson replied: "Absolutely. I think that we're doing the same thing we did in 2003 with Iraq.
"We're marching down the road to war. If you think Iraq was a bad war, wait until you see Iran."
Mr Trump's refusal to formally certify Tehran was complying with the 2015 accord and his accusations it violated the deal led Iranian President Hassan Rouhani to accuse him to making "baseless accusations."
In response, the US President said Iran was spreading "death, destruction and chaos" around the world with its actions in Syria, Iraq and Yemen.
Donald Trump's least presidential moments so far...

Show all 30
When he was asked to describe why he believed the war would be worse, Mr Wilkerson said: "Trump said yesterday Iran is spreading global destruction, chaos - Saudi Arabia is the one doing that.
"The bloody war in Yemen, which we're sad to say, involved in with refuelling and targeting intelligence and bombs is the bloodiest war on the face of the Earth right now. The greatest humanitarian disaster since WWII with cholera and starvation. We're part of that."
He added: "The Saudis are far worse than Iran and we're getting ready to make that situation even worse, more profoundly destabilising, by taking on Iran militarily. There is no other choice. If you say it's unacceptable like Tillerson did, that Iran has a nuclear weapon, you either get [rid of them] through diplomacy or you get it through war."
Describing developing situations in Venezuela, Iran and Syria, he said: "I'll look at the camera right now and tell every GI out there, you've had 17 straight years of war, get ready for 17 more."
Register for free to continue reading
Registration is a free and easy way to support our truly independent journalism
By registering, you will also enjoy limited access to Premium articles, exclusive newsletters, commenting, and virtual events with our leading journalists
Already have an account? sign in
Join our new commenting forum
Join thought-provoking conversations, follow other Independent readers and see their replies