America's UN envoy Nikki Haley says she would never have used Russian embassy to make calls to Kremlin
Donald Trump's son-in-law Jared Kushner is accused of wanting to use the Russian embassy as a backchannel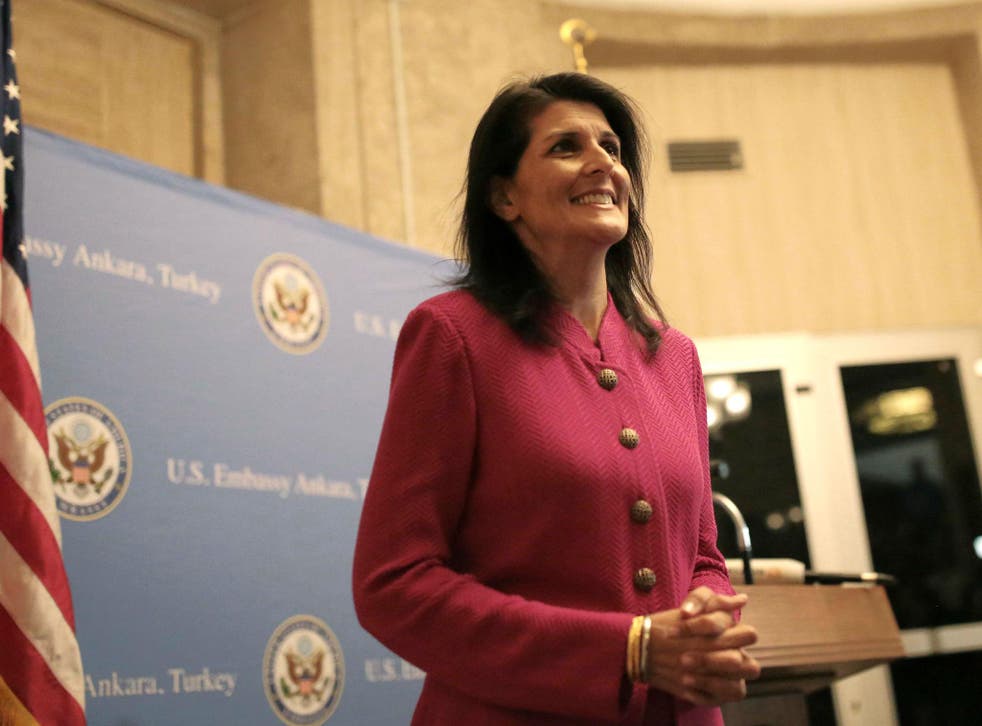 US Ambassador to the United Nations Nikki Haley would not confirm reports that senior White House aide Jared Kushner wanted to use the Russian embassy to securely communicate with the Kremlin before Donald Trump took office, but she "wouldn't do that" herself.
Mr Kushner, the President's son-in-law, allegedly told Russian Ambassador to the US Sergey Kisylak that wanted a back channel of communication with Moscow during Mr Trump's transition into office. Mr Kushner was a private citizen at the time.
"I don't know that to be fact. So I can't sit there and agree with an assumption that you're saying," said Ms Haley to CNN.
She said she was "not in that inner circle in the administration" but that she and Mr Kushner continue to do their jobs. "Until we see facts, it's hard to respond to something like that," she added.
Ms Haley is one of the few Trump administration officials who appears to not be involved in the Russia probe and has said in the past to MSNBC that Mr Kushner is "a very calm, stable voice" in the White House.
Mr Kushner has come under increased scrutiny by the FBI in the bureau's investigation into alleged ties between the Trump campaign team and Russia as well as the Kremlin's possible interference into the 2016 US election.
Ms Haley had come to his defence, noting that Mr Kushner "said that he will totally comply with the investigation and give every ounce of information that they need. And I think we can expect that."
He is not the sole focus of the investigation, but his meetings with Mr Kislyak and a Russian bank officer are being investigated, as the Washington Post has reported just a few weeks after former FBI Director James Comey was fired unexpectedly by Mr Trump.
The Democratic National Committee, victim of a computer hacking attack during the election, said Mr Kushner's security clearance should be put on hold until the FBI is done investigating him.
The House and Senate intelligence committees are also running parallel investigations. Mr Comey is set to testify on the matter before the Senate on 8 June.
No testimony date for Mr Kushner, or even if there will a public testimony, has been announced as yet.
Join our new commenting forum
Join thought-provoking conversations, follow other Independent readers and see their replies