Robert Mueller reportedly looking into Trump's 'attempt to oust' Jeff Sessions
The President says the Attorney General is 'disgraceful'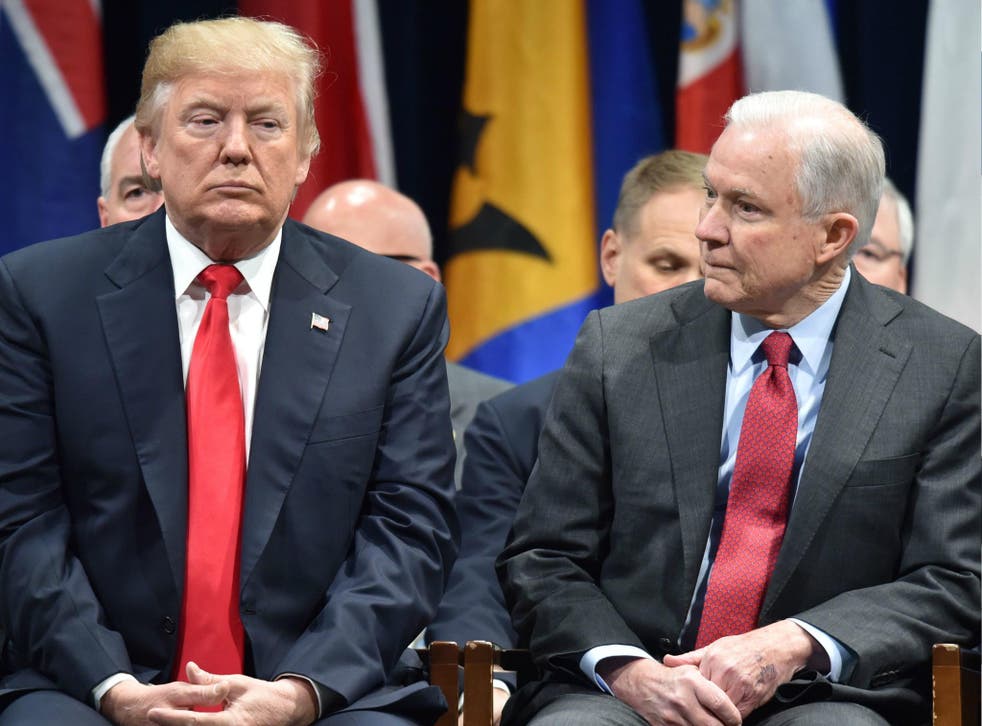 The special counsel in the Russia probe is reportedly investigating President Donald Trump's attempt to push Attorney General Jeff Sessions to resign.
Robert Mueller is apparently looking into whether this alleged attempt by Mr Trump is part of a pattern of obstructing justice in the investigation into whether the President's campaign team colluded with Russian officials during the 2016 election.
The Washington Post reported sources close to the team say that Mr Mueller has been asking witnesses about Mr Trump's comments from July to August 2017 when the President had been tweeting insults about Mr Sessions.
Mr Sessions had recused himself from being involved in the Russia investigation early last year due to his active campaigning for Mr Trump in 2016 and relationship with the rest of the campaign team.
The recusal paved the way for Mr Mueller and his team to be hired.
Around July and August 2017 Mr Trump tweeted "Why didn't A.G. Sessions replace Acting FBI Director Andrew McCabe, a Comey friend who was in charge of Clinton investigation" and accused Mr Sessions, one of his earliest supporters, of being "very weak" on supposed crimes committed by Hillary Clinton while she was Secretary of State.
Mr Trump had fired former FBI Director James Comey in May 2017. Later on that summer, Mr Comey testified in front of the Senate: ""I take the president at his word that I was fired because of the Russia investigation".
Donald Trump 'disappointed' in attorney general Jeff Sessions
He also said he saw Mr Trump's push for "loyalty" from him as "as a direction" to drop the investigation into former National Security Advisor Mike Flynn, but not the entire Russia probe.
Mr Flynn pleaded guilty at the end of 2017 to lying to the FBI about a meeting with former Russian Ambassador Sergey Kislyak before Mr Trump became President.
The biggest names involved in the Trump-Russia investigation

Show all 17
Others like former Trump campaign deputy Rick Gates and former foreign policy campaign aide George Papadopoulos also pleaded guilty on various charges and are said to be cooperating with Mr Mueller's team in exchange for possibly lighter sentences.
On 28 February, Mr Trump tweeted that it was "disgraceful" of Mr Sessions not to use Department of Justice prosecutors to investigate allegations that the FBI improperly obtained a warrant to conduct surveillance on former Trump adviser Carter Page.
Mr Sessions has left the task up to the FBI Inspector General instead, who Mr Trump said may have been "an Obama guy" in reference to Michael Horowitz, who was appointed to run the nonpartisan office in 2012 under previous President Barack Obama.
In a rare turn of events, Mr Sessions responded publicly in a statement rebuffing the President's criticism: "We have initiated the appropriate process that will ensure complaints against this Department will be fully and fairly acted upon if necessary. As long as I am the Attorney General, I will continue to discharge my duties with integrity and honor, and this Department will continue to do its work in a fair and impartial manner according to the law and Constitution."
Join our new commenting forum
Join thought-provoking conversations, follow other Independent readers and see their replies