Donald Trump 'least popular modern President' at this stage of his term, poll finds
More than half of Americans say they disapprove of the US President's performance in office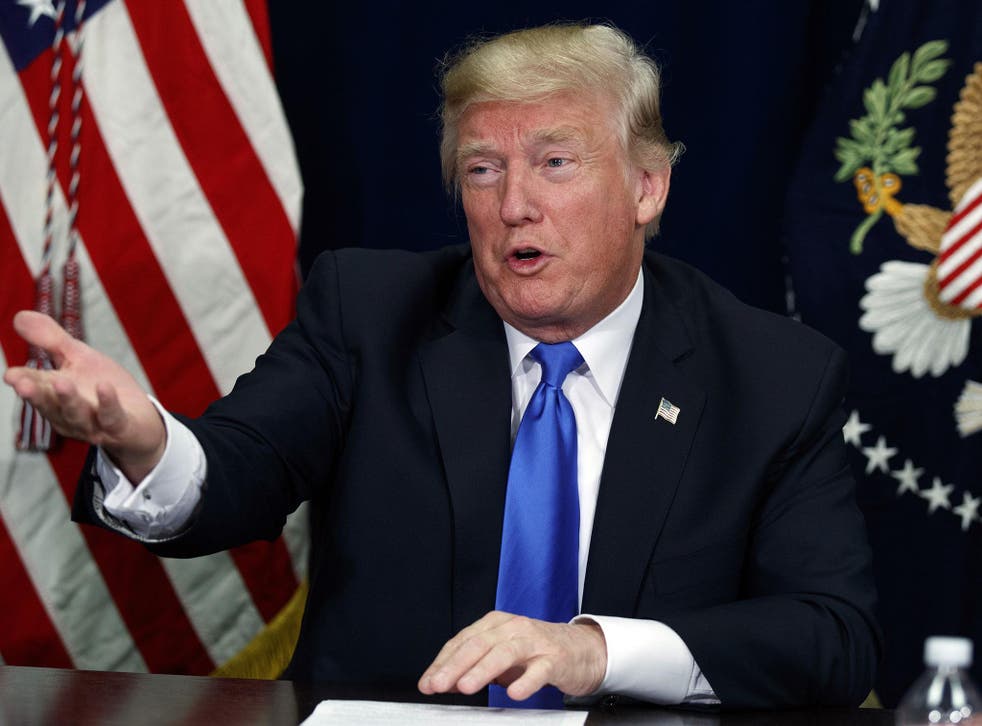 Donald Trump's approval rating has dropped to the lowest point of his presidency, making him the least popular modern president at this stage of his term, a poll suggests.
More than half of Americans disapprove of Mr Trump's job performance, according to the survey by NBC and the Wall Street Journal (WSJ).
The poll found Mr Trump's job approval rating fell five points since September to reach a 38 per cent positive rating, one point lower than the previous dip to 39 per cent the pollsters registered in May. Meanwhile, 58 per cent of respondents said they disapproved of his job as president.
This is also the lowest job approval rating of any modern-era president at this stage of his term when compared with previous surveys carried out by NBC and WSJ. Similar polls had George W Bush at 88 per cent approval, Barack Obama at 51 per cent and Bill Clinton at 47 per cent in the autumn of their first years in office.
Among the events that sparked most dislike from respondents, Mr Trump's handling of the NFL players' protests topped the list with 59 per cent saying they disapproved. This was followed by his failure to pass health care reforms in October and his response in the aftermath of Hurricane Maria in Puerto Rico, which respectively received 57 and 54 per cent negative ratings.
He gained his highest mark - a 48 per cent approval rating - in the aftermath of Hurricane Harvey in Texas and Hurricane Irma in Florida.
On the economy, 42 per cent of respondents gave Mr Trump thumbs-up while 37 per cent said they disapproved.
The survey was carried out among 900 adults, including 753 registered voters, and nearly half of them were interviewed on the phone.
The findings come after a rocky fortnight for the White House after Mr Trump was embroiled in a controversy about the claims of a US soldier's widow who said he had forgotten her husband's name during a phone call.
World news in pictures

Show all 50
Meanwhile, ongoing infighting within the Republican camp and the anticipation of the first charges stemming from special counsel Robert Mueller's investigation into Russian interference in last year's election have monopolised the headlines.
With Mr Trump's approval rating on the decline, voters could express their discontent in the polls in next year's midterm election.
Asked about the upcoming election, 48 per cent of registered voters taking part in the survey said they would prefer Congress to be controlled by the Democrats while 41 per cent said they wanted a Republican Congress.
Overall, 46 per cent of voters said they wanted more Democrats to be elected to Congress "to be a check and balance to Donald Trump and congressional Republicans".
Only 22 per cent of voters responded that they wanted to see more Republicans in Congress to help Mr Trump pass his agenda, and a remaining 22 per cent said they wanted their vote to send a different message to those two choices.
Join our new commenting forum
Join thought-provoking conversations, follow other Independent readers and see their replies