Donald Trump Jr and Eric Trump's Dubai trip reportedly cost taxpayers $73,000
President's sons rack up Secret Service costs on business trip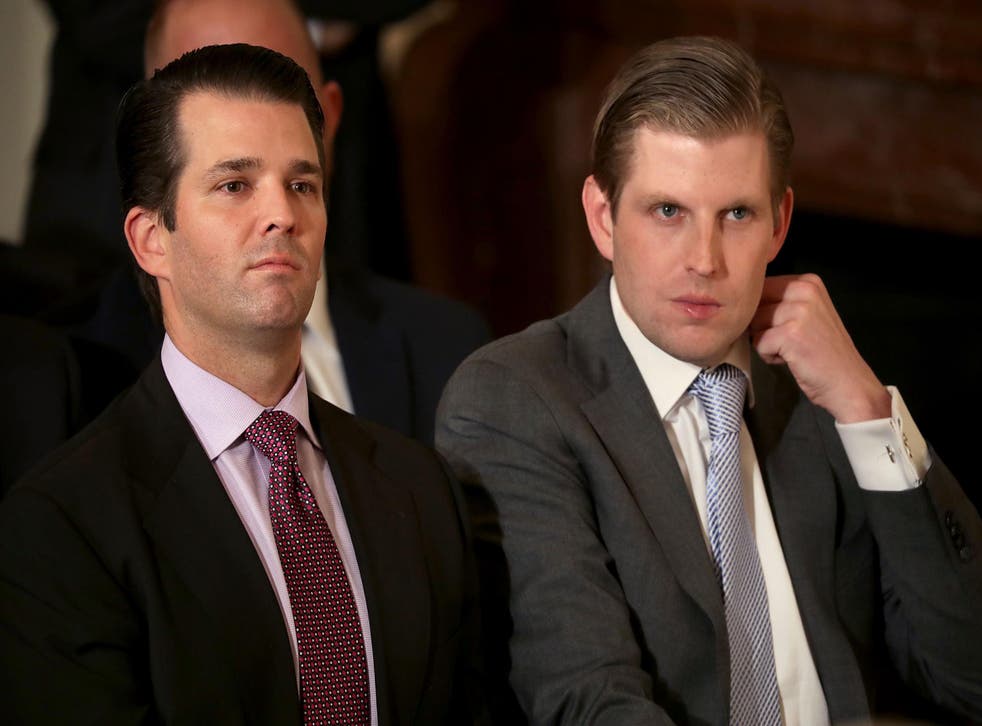 Eric Trump and Donald Trump Jr's trip to the United Arab Emirates cost taxpayers a minimum of $73,000(£51,820) in Secret Service fees, according to a new report.
Donald Trump's eldest sons travelled to Dubai to meet business partner Hussain Sajwani and visit Trump-brand properties in the area, according to a Trump Organisation spokesperson. The two conducted no government business.
The protection detail for the sons' two-week jaunt racked up at least $73,000 in fees, according to government purchase orders obtained by CBS News. The costs included things like car service and hotel stays for Secret Service agents near the Trump properties.
The Secret Service told The Independent it does not comment on the specifics of protectees' trips.
Social media posts show the Trump brothers attending the lavish wedding of Mr Sajwani's daughter, Amira. Eric Trump's wife, Lara Trump, also posted a picture from the wedding on Instagram.
Mr Sajwani, an Emirati billionaire, has been in business with the elder Mr Trump since at least 2005, when they unsuccessfully plotted to build twin Trump towers in Dubai, according to CNN.
Donald Trump's international Presidential trips

Show all 22
Years later, the two men agreed to develop two golf courses in the area: the Trump International Golf Club, Dubai and the Trump World Golf Club Dubai, designed by Tiger Woods. The Trump brothers visited both properties on their most recent trip, according to a statement from the Trump Organisation.
The Trump brothers took over their father's business dealings after his inauguration in 2017, assuming the helm of his flagship company. Both attended the opening of the Trump International Golf Course in February of that year, according to social media posts. Secret Service costs for that trip surpassed $16,000(£11,357), according to the Washington Post.
Even Fox News commentators can't support Donald Trump Jr
That same month, Eric's business trip to Uruguay cost taxpayers almost $100,000 (£80,000).
Donald Trump Jr previously requested to have his security detail scaled back, but it was restored in September of 2017, according to CNN.
The brothers aren't the only members of the Trump family to rack up steep vacation costs. Mr Trump's daughter, Ivanka, raised eyebrows when she and husband Jared Kushner took a spring skiing trip that cost taxpayers at least $65,000(£50,300) in Secret Service protection. The costs included hotel accommodation and ski passes for the security personnel.
Both Ms Trump and Mr Kushner work as advisers to the president.
The Independent has reached out to the Trump Organisation for comment.
Join our new commenting forum
Join thought-provoking conversations, follow other Independent readers and see their replies