Donald Trump Jr Russian lawyer meeting: A 'loyal American' would have called the FBI, says ex-Bush ethics lawyer
'Let's cut through the baloney here, we know what the Russians have been doing,' says Richard Painter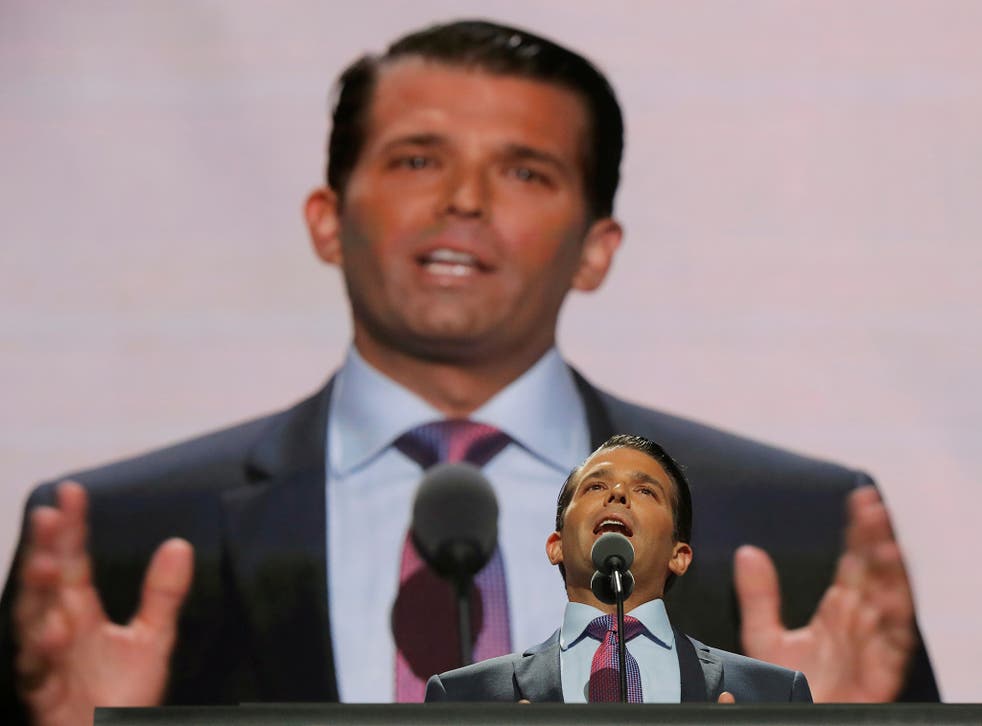 Donald Trump Jr's first call after he was allegedly offered information on Hillary Clinton by a Russia-linked lawyer should have been to the FBI, a former White House ethics lawyer has said.
Mr Trump met Natalia Veselnitskaya during his father's presidential campaign in June 2016, and she reportedly claimed she had "information that individuals connected to Russia were funding the Democratic National Committee and supporting [Hillary] Clinton," the billionaire's son said.
The meeting, also attended by now-White House adviser Jared Kushner and former campaign chief Paul Manafort, was uncovered by the New York Times.
Richard Painter, a White House ethics chief under George W Bush, said on Twitter that knowingly receiving — and using — "information obtained by a foreign adversary through spying in the US" could amount to treason.
"When a Russian agent calls to offer dirt on a political opponent, a loyal American will call the FBI," he said.
Mr Painter told MSNBC: "Let's cut through the baloney here, we know what the Russians have been doing.
"They've been doing this since the 1917 Russian revolution, when the Communists started to want to destabilise all the Western democracies including the United States and western Europe.
"They've been conducting an espionage inside the United States and that has continued up through 2017. It's going on right now.
World news in pictures

Show all 50
"When the Russians call — or when someone calls up on behalf of the Russians — and offers derogatory information about a former Secretary of State who is a presidential candidate, the first person you call is the FBI.
"I don't care if you're a Republican, as I am, or a Democrat, you call the FBI. The last thing you do is go meet with the Russians to try to get the derogatory information.
"They're only trying to do that in order to use you to accomplish some purpose, and we know what that is... Undermining our system of representative democracy.
"It's a very, very serious problem that several high-ranking representatives of the Trump campaign would not call the FBI about this. That's not how we win elections in the United States.
"We don't use Russian agents, Russian spies, to gather information on our opponents. We don't accept such information from Russian agents or the agents of any other adversary."
Join our new commenting forum
Join thought-provoking conversations, follow other Independent readers and see their replies