Donald Trump attacks Kate Steinle killing court verdict to promote his Mexico border wall plan
President claims acquittal 'complete travesty of justice' because US law prevented prosecutors using previous convictions as evidence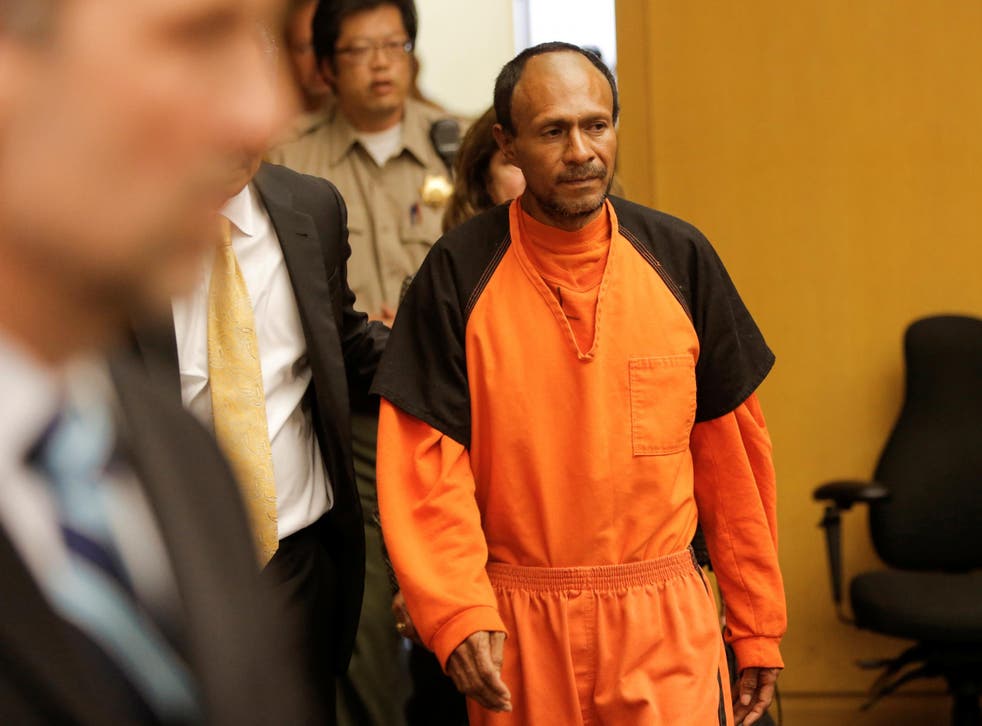 Donald Trump has described the acquittal of a Mexican man in a high-profile San Francisco murder trial as a "travesty of justice", exploiting the verdict to promote his plans for a wall on America's southern border.
Kate Steinle was fatally shot in the back by Jose Ines Garcia Zarate while walking with her father Jim on the pier in the Californian city in July 2015.
The shooting came amid the presidential primary campaign and has been repeatedly cited by the Republican as evidence that a wall along the Mexican frontier is needed.
Prosecutors argued Garcia Zarate intentionally shot the 32-year-old, but a jury acquitted him of murder, involuntary manslaughter and assault with a deadly weapon on Thursday. Garcia Zarate, 45, did not deny firing the gun, but defence lawyers painted him as a hapless homeless man who killed Ms Steinle in a freak accident.
Describing the acquittal as "a disgraceful verdict", the President complained in angry tweets on Friday: "The jury was not told the killer of Kate was a 7 time felon".
He tweeted: "The Kate Steinle killer came back and back over the weakly protected Obama border, always committing crimes and being violent, and yet this info was not used in court. His exoneration is a complete travesty of justice. BUILD THE WALL!"
​Prosecutors were not permitted to use Garcia Zarate's previous convictions as evidence during the trial and would probably have been in contempt of court if they had disclosed them to the jury. Other than in exceptional cases, US judges admit only evidence directly related to whether a defendant committed the crime with which they have been charged.
Garcia Zarate had been deported five times and was wanted for a sixth deportation when the shooting took place.
The case fuelled a debate over San Francisco's "sanctuary city" policy, which limits local officials from cooperating with US immigration authorities.
"No wonder the people of our country are so angry with Illegal Immigration," tweeted Mr Trump shortly after the verdict. He has been accused of seizing upon the case to stoke up anti-immigrant sentiment and bolster his own support.
Russell Wheeler, a fellow at the Brookings Institution's governance studies programme, said Mr Trump's attack on the jury verdict continues his longstanding criticism of judges and court rulings.
"He went out after judges and now he's going after the jury," Mr Wheeler said. "He wants to compound it by debates over sanctuary cities and a border wall, but that's separate from the job of a jury. The job of the jury to determine the facts of the case."
After the verdict was issued, defence lawyer Francisco Ugarte said: "From day one this case was used as a means to foment hate, to foment division and to foment a programme of mass deportation. It was used to catapult a presidency along that philosophy of hate of others.
"I believe today is a day of vindication for the rest of immigrants."
Garcia Zarate was found guilty of being a felon in possession of a firearm, an offence which carries a potential sentence of 16 months to three years.
"The verdict that came in today was not the one we were hoping for," said Alex Bastian, a spokesman for the San Francisco prosecutor's office.
"The jury came back with the verdict they did, and we will respect that decision. This is really about the Steinle family. They showed incredible resolve during this whole process."
World news in pictures

Show all 50
Jim Steinle told the San Francisco Chronicle the family was "saddened and shocked" by the verdict.
"There's no other way you can coin it. Justice was rendered, but it was not served," he said.
The family have said they support the idea behind sanctuary cities and sought to distance themselves from the anti-immigration zeal. But Liz Sullivan, Ms Steinle's mother, added: "It was never meant to be a safe harbor for violent criminals. That's the bottom line."
San Francisco deputy district attorney Diana Garcia said during the trial that she did not know why Garcia Zarate fired the weapon, which he said he found on a bench.
But she said he created a risk of death by taking the firearm to the pier before the bullet ricocheted off the concrete walkway and struck Ms Steinle in the back.
Defence lawyer Matt Gonzalez told jurors that Garcia Zarate had no motivation to kill Ms Steinle. He said her death was tragic but added "nothing you do is going to fix that".
Join our new commenting forum
Join thought-provoking conversations, follow other Independent readers and see their replies