Donald Trump and Kim Jong-un summit 'to take place in Singapore'
Precise date and confirmation of location expected in coming days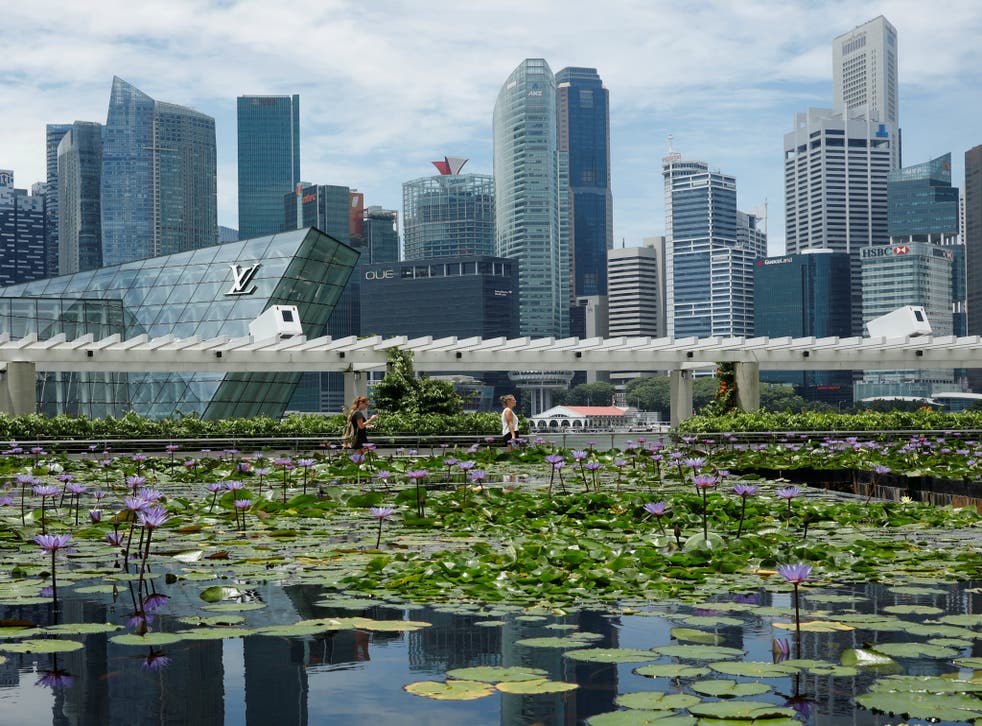 Singapore appears to have been chosen as the location for the historic first-time meeting between US President Donald Trump and North Korean leader Kim Jong-un.
Mr Trump had said late last week that a time and location had been set for the meeting, and it has been reported to be the small Asian island nation by South Korea's Chosun Ilbo newspaper and Yonhap news agency.
An unnamed US official has also said Singapore emerged as the most likely choice for the summit. Mr Trump himself has previously mentioned Singapore as an option, and ruled out meeting with Mr Kim at the heavily fortified demilitarised zone between North and South Korea.
The meeting is expected to take place before or after Mr Trump's attendance at the G7 meeting on the 8 and 9 June in Canada, but Mr Trump is expected to announce the exact time later this week, White House press secretary Sarah Huckabee Sanders said during a news conference.
The Demilitarised Zone (DMZ), or the neutral border between North and South Korea, had been floated as a possible summit location, but was ultimately ruled out. US officials felt that the city-state was a better, more neutral location far away from Pyongyang and the Korean peninsula. Others have said Singapore is a unique choice to host Mr Kim given its fiercely capitalist environment and large, wealthy Chinese population.
Hopes for the summit remain high in the diplomatic world as it comes just a month after a historic meeting between Mr Kim and South Korean President Moon Jae-in. The pair had met in the DMZ to sign the Panmunjom Declaration for Peace, Prosperity and Unification of the Korean Peninsula during the Inter-Korean Summit and officially ended the war that began when the north and south split in a battle over communism and democracy that began on 25 June 1950.
Donald Trump says he 'believes' North Korea leader Kim Jong Un about peace talks
Though Mr Moon had run for president on a platform of adopting the "sunshine policy" of increasing and improving economic ties with the North, he suggested that Mr Trump receive the prize and said the US leader deserves credit for the peace agreement.
However, the US leader himself sought to temper expectations. He said: "Everything can be scuttled. Everything can be scuttled," he said. "A lot of good things can happen, a lot of bad things can happen. I believe that we have -- both sides want to negotiate a deal. I think it's going to be a very successful deal."
North Korea – South Korea relations: in pictures

Show all 21
"Lots of things can happen. And, of course, you'll be the first to know about it if it fails," Mr Trump noted. One possible issue: the relationship between Mr Trump and Mr Kim who, for Mr Trump's first year or so in office, traded several rounds of public insults. Mr Trump referred to the reclusive North Korean leader as "rocket man" repeatedly and even during a United Nations speech. Mr Kim in return called Mr Trump a "dotard" and continued developing intercontinental ballistic missile capabilities.
Tensions seemed to abate as the Winter Olympics, held this past February in South Korea, began. North and South Korean athletes marched together in the opening and closing ceremonies in a small sign of unity, the US sent Vice President Mike Pence and White House adviser Ivanka Trump as official delegates, and Mr Kim sent his sister Kim Yo Jong as his representative.
Register for free to continue reading
Registration is a free and easy way to support our truly independent journalism
By registering, you will also enjoy limited access to Premium articles, exclusive newsletters, commenting, and virtual events with our leading journalists
Already have an account? sign in
Register for free to continue reading
Registration is a free and easy way to support our truly independent journalism
By registering, you will also enjoy limited access to Premium articles, exclusive newsletters, commenting, and virtual events with our leading journalists
Already have an account? sign in
Join our new commenting forum
Join thought-provoking conversations, follow other Independent readers and see their replies