Donald Trump attacks Senator Kirsten Gillibrand for calling him to resign over sexual assault allegations
At least 15 women have come forward with a wide range of allegations against Mr Trump. He has denied the accusations
Alexandra Wilts
Washington DC
Tuesday 12 December 2017 14:53 Comments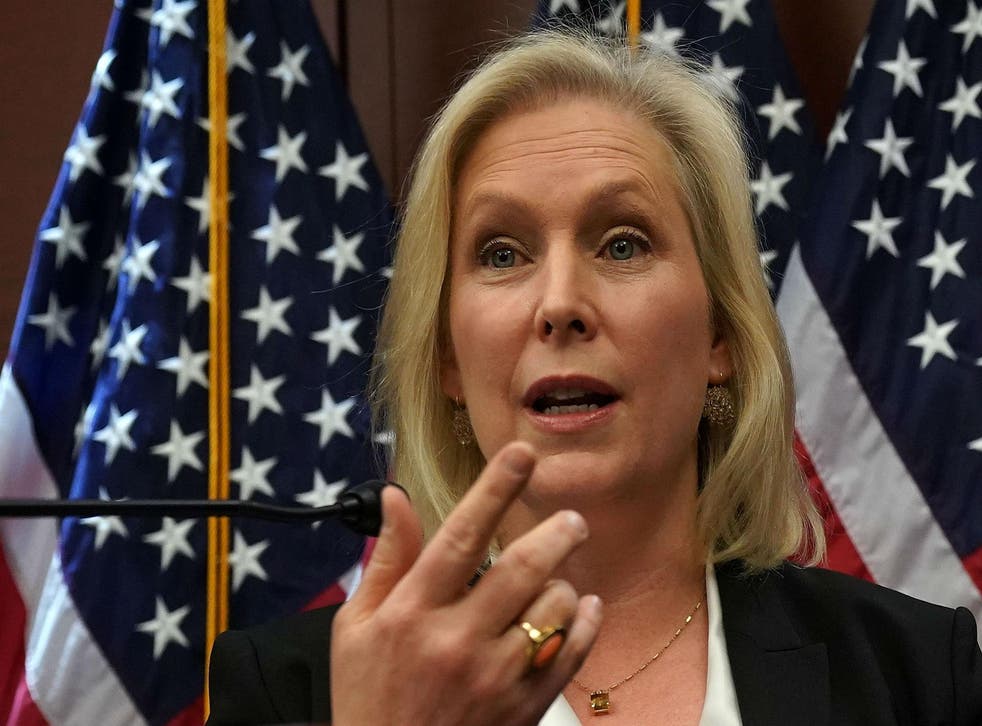 President Donald Trump has attacked a Democratic senator for calling him to resign over allegations of sexual assault.
"Lightweight Senator Kirsten Gillibrand, a total flunky for Chuck Schumer and someone who would come to my office 'begging' for campaign contributions not so long ago (and would do anything for them), is now in the ring fighting against Trump. Very disloyal to Bill & Crooked-USED!" Mr Trump wrote on Twitter.
Both Mr Schumer, the Senate's top Democrat, and Ms Gillibrand represent the President's home state of New York.
Ms Gillibrand quickly fired back at Mr Trump, tweeting: "You cannot silence me or the millions of women who have gotten off the sidelines to speak out about the unfitness and shame you have brought to the Oval Office."
Senator Kirsten Gillibrand of New York told CNN"s Christiane Amanpour on Monday that the President "should be fully investigated and he should resign" over the accusations.
"President Trump has committed assault, according to these women, and those are very credible allegations of misconduct and criminal activity," she said.
"These allegations are credible; they are numerous, " said Ms Gillibrand, who is co-sponsoring a bill aimed at overhauling how sexual harassment is treated on Capitol Hill.
"I've heard these women's testimony, and many of them are heartbreaking," she added.
Mr Trump has denied the allegations.
Donald Trump's least presidential moments so far...

Show all 30
At least 15 women have come forward with a wide range of allegations against Mr Trump, ranging from sexual harassment and sexual assault to lewd behaviour around women. All the alleged incidents took place prior to Mr Trump being sworn into office.
On Monday, White House press secretary Sarah Sanders said the President "thinks it's a good thing that women are coming forward".
"But he also feels strongly that a mere allegation shouldn't determine the course," she added. "And, in this case, the President has denied any of these allegations, as have eyewitnesses. And several reports have shown those eyewitnesses also back up the President's claim in this process. And again, the American people knew this and voted for the President, and we feel like we're ready to move forward in that process."
Democratic Senator Al Franken announced last week that he would resign from office, after a slew of senators - led by Ms Gillibrand - demanded that he do so following several sexual misconduct allegations against him.
"Some of the allegations against me are simply not true," Mr Franken said during a speech on the Senate floor. "Others, I remember very differently."
"I of all people am aware there is some irony in the fact I am leaving while a man who has bragged on tape about his history of sexual assault sits in the Oval Office and a man who has repeatedly preyed on young girls campaigns for the Senate with the full support of his party," Mr Franken declared, referring to Mr Trump and Roy Moore, the Republican candidate in the special election for a US Senate Seat in Alabama.
Mr Moore is also dogged by sexual misconduct allegations, which he has vehemently denied.
The President once admitted it was his voice on a Access Hollywood tape in which he could be heard bragging about sexual assault. But according to the New York Times, he has since suggested that it wasn't him.
Register for free to continue reading
Registration is a free and easy way to support our truly independent journalism
By registering, you will also enjoy limited access to Premium articles, exclusive newsletters, commenting, and virtual events with our leading journalists
Already have an account? sign in
Join our new commenting forum
Join thought-provoking conversations, follow other Independent readers and see their replies