All smiles as Donald Trump and China's Xi shake hands ahead of tricky Florida talks
With a pair of broad smiles, the leaders of the world's two biggest economies shook hands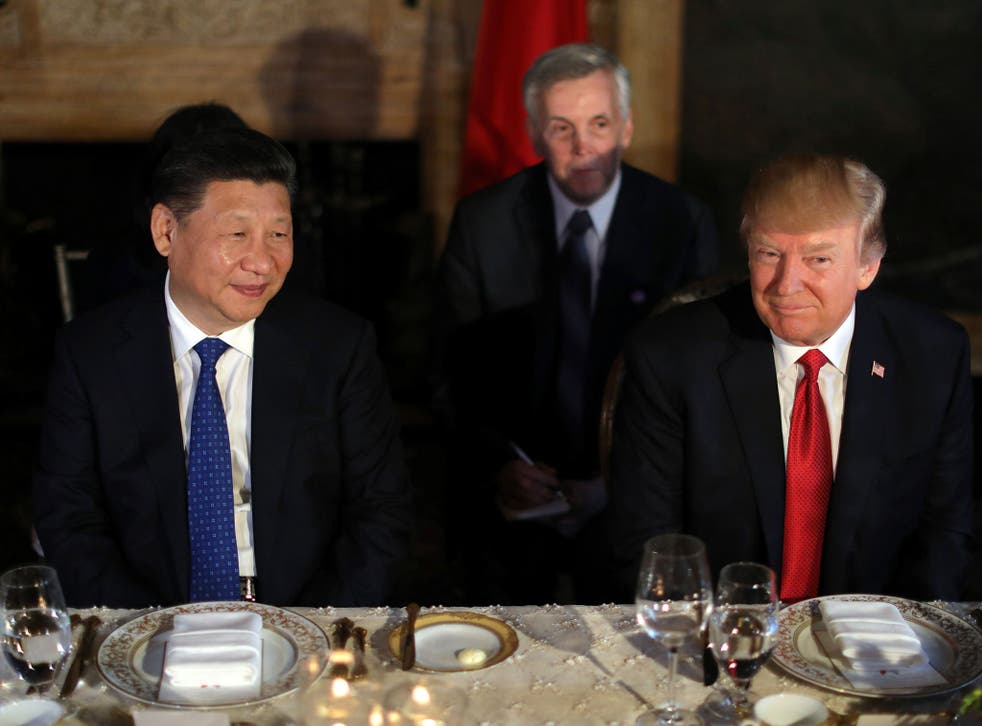 Donald Trump and Chinese President Xi Jinping began a high-stakes summit at the US leader's Florida beach resort, amid suggestions the US leader's administration was considering military action against Syria.
With a pair of broad smiles, the leaders of the world's two biggest economies shook hands at the president's Mar-a-Lago retreat in Palm Beach.
The pair then formally posed with their wives, Melania Trump and Peng Liyuan, on the steps before making their way to dinner.
The meeting kicked off the US leader deliberated on how to respond to a chemical attack that killed more than 80 people.
The President pointed to the crisis in North Korea as a top priority in the meetings with Mr Xi, telling reporters on Air Force One that he thinks China will "want to be stepping up" in trying to deter North Korea's nuclear ambitions.
Ahead of the dinner, Mr Trump said he and Mr Xi already had had a long discussion and had "developed a friendship," and then joked, "I have gotten nothing, absolutely nothing."
The White House said the location was selected to give the two days of discussions a more relaxed feel. A number of Mr Trump's top advisers were in attendance, including his daughter, Ivanka Trump, and son-in-law, Jared Kushner.
While Mr Trump would not say what he wants China to do specifically with regard to North Korea, he suggested there was a link between "terrible" trade agreements the U.S. has made with China and Pyongyang's provocations. He says the two issues "really do mix."
The president has previously suggested that if China doesn't exert more pressure on North Korea, the US will act alone.
Both as a candidate and president, Mr Trump has taken an aggressive posture toward China, labeling Beijing a "tremendous problem" and arguing that lopsided trade deals with China shortchange American businesses and workers. Last week, the president predicted in a tweet that his meeting with Xi would be "very difficult."
The White House has downplayed expectations for a breakthrough on issues like trade and tariffs, insisting that the 24-hour summit is mostly an introductory meeting for the two leaders. And within Trump's administration, there are still divisions over how to approach China.
The urgency about North Korea is expected to be at the forefront of the leaders' discussions. A senior White House official said this week that the "clock has now run out" on Pyongyang, though officials have not detailed what steps Trump is willing to take to halt North Korea's nuclear ambitions.
Like his predecessors, Mr Trump is pressing China to exert more economic pressure on its secretive Communist neighbour, though there is no sign he will be any more successful than past American presidents.
Mr Xi is also expected to seek assurances that Trump will not interfere in the territorial dispute over the South China Sea or question the "One China" policy by reaching out to Taiwan's leader again, as he did during his presidential transition. The move infuriated Beijing, leading Mr Trump to eventually reiterate his commitment to the decades-old policy.
Join our new commenting forum
Join thought-provoking conversations, follow other Independent readers and see their replies