Trump letter to African leaders says he 'deeply respects' people of continent after 's***hole' furore
President on charm offensive after African Union said it was 'frankly alarmed' by his remarks
Jon Sharman
Saturday 27 January 2018 13:58 Comments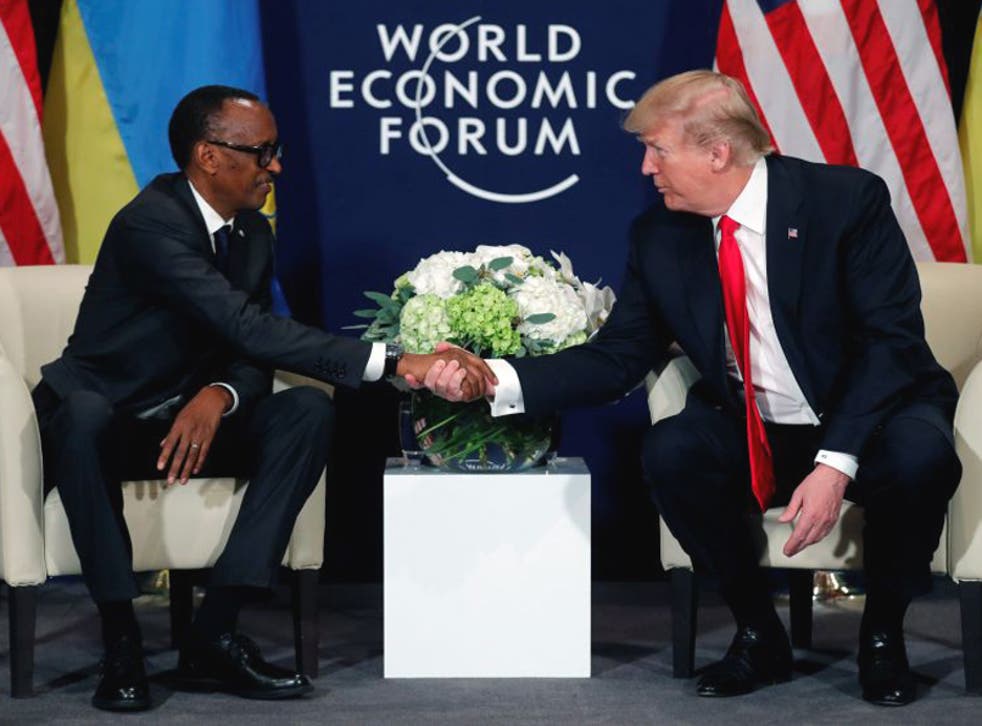 President Donald Trump has said he "deeply respects" the people of Africa in a letter to 55 continental leaders, in the wake of his reported "s***hole countries" comments.
The leaders are gathering for an African Union (AU) summit this weekend in Ethiopia's capital, Addis Ababa.
US diplomats have scrambled for weeks to address the fallout from Mr Trump's remarks, allegedly made during an immigration meeting earlier this month.
Mr Trump has denied using the phrase, but admitted the meeting was "tough". Others present have said he did use it.
The US President met with Paul Kagame, his opposite number in Rwanda, at the World Economic Forum in Davos on Friday.
Mr Kagame said the pair had had "good discussions" on economic and trade issues, and that the African Union was "looking forward to working with the United States."
Mr Trump said it had been "an honour" to meet the incoming AU leader.
The 55-nation continental body's summit is expected to respond to Trump's vulgar remark, having said previously it was "frankly alarmed" by his language.
Secretary of State Rex Tillerson will make an "extended visit" to the continent in March, Mr Trump added in his letter.
The missive says the US "profoundly respects" the partnerships and values shared by the the US and Africans and that the President's commitment to strong relationships with African nations is "firm".
World news in pictures

Show all 50
The letter offered Mr Trump's "deepest compliments" to the African leaders as they gather. It noted that US soldiers are "fighting side by side" against extremism on the continent and that the US was working to increase "free, fair and reciprocal trade" with African countries and partnering to "safeguard legal immigration."
The letter gave no details on Mr Tillerson's upcoming visit.
Mr Trump's alleged comments came during a bipartisan meeting on immigration at the White House on 11 January.
According to The Washington Post, when plans were floated to protect some immigrants as part of the DACA deal Mr Trump asked: "Why are we having all these people from s***hole countries come here?"
Rupert Colville, a UN human rights spokesman, called Mr Trump's offensive remarks about Haiti, El Salvador and unspecified African nations "racist", saying "there is no other word you can use".
The President tweeted that the claims had been "made up" by Democrats.
Opposition senator Dick Durbin, who attended the Oval Office meeting, later told journalists that reports of Mr Trump's "hate-filled, vile and racist" language were accurate. He had used the word "s***hole" "not just once but repeatedly", Mr Durbin said.
Additional reporting by agencies
Register for free to continue reading
Registration is a free and easy way to support our truly independent journalism
By registering, you will also enjoy limited access to Premium articles, exclusive newsletters, commenting, and virtual events with our leading journalists
Already have an account? sign in
Join our new commenting forum
Join thought-provoking conversations, follow other Independent readers and see their replies