Donald Trump's press briefing before Davos trip omitted reporter from LGBT newspaper
The White House has not yet responded to enquiries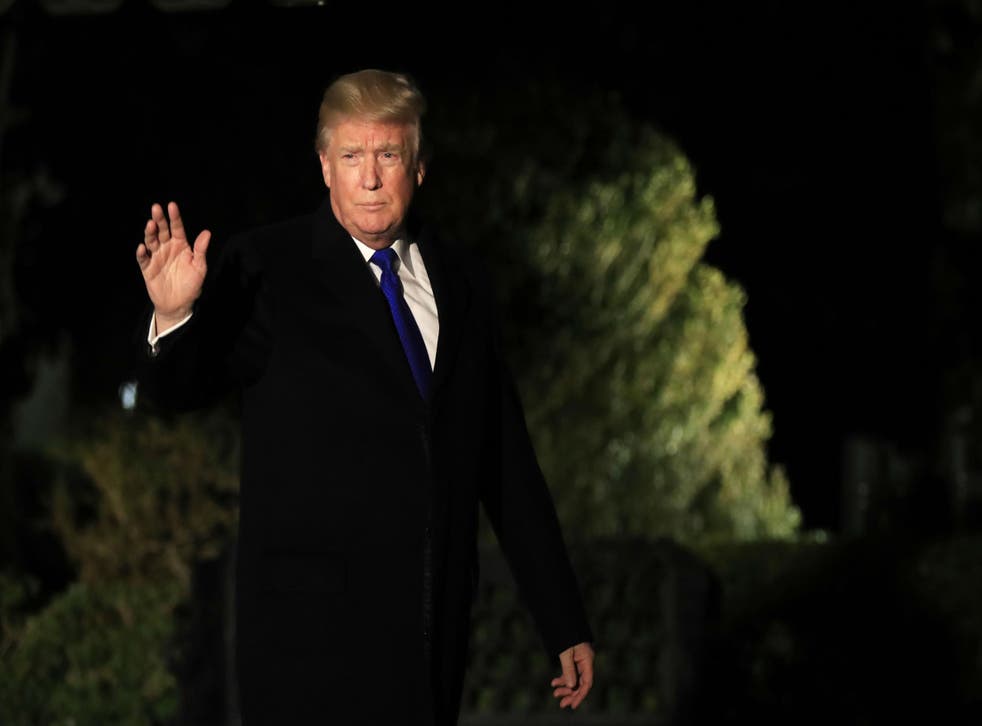 A White House reporter with an LGBT news organisation has said he was omitted from a press gaggle with the President at which he was a designated pool journalist, and has questioned whether it was the result of discrimination.
Chris Johnson, the chief political & White House reporter for the Washington Blade, has written to White House press secretary Sarah Sanders asking for an explanation as to why he was not included.
Mr Johnson, 35, who has been covering the White House since the start of the administration of Barack Obama, was the designated print pool reporter on Wednesday. Yet on Wednesday evening, when Donald Trump decided to hold an impromptu press gaggle before he left for the World Economic Forum in Davos, Switzerland, Mr Johnson was not included.
"For those seeking a pool report on the POTUS gaggle, your print pooler wasn't among those invited to the chat," he wrote in one dispatch, which are circulated to hundreds of news outlets around the country and internationally.
"Your pooler has registered a complaint with the press office and apologises for not being able to provide a transcript."
Mr Johnson told The Independent he did not know if he had been excluded because of the organisation he worked for, though he said that he and several African American reporters were not invited to last year's White House holiday party.
"They have a history of excluding LGBT people in general - such as transgender with the military issue and some of the recent Department of Justice measures about religious exemptions," he said.
Donald Trump threatens to stop aid to Palestine in Davos meeting
He added: "I would like to think the White House would recognise me as not just an LGBT reporter, but the print pooler when that's my duty because on those days I'm responsible for obtaining and disseminating information to all media outlets.
"My exclusion from the Trump gaggle may have just been disorganisation on their part, but their habit of excluding me did make wonder if they left me out over some kind of anti-LGBT bias."
Mr Trump's gaggle was certainly newsworthy.
He told reporters he was happy to meet with Special Prosecutor Robert Mueller and speak to him under oath as he continues his investigation into possible collusion between the Trump campaign and Russia's alleged meddling in the 2016 election.
He also said he envisaged a path for young immigrants to the US, known as "Dreamers", to "morph into" citizens.
World news in pictures

Show all 50
"Over a period of 10 to 12 years, somebody does a great job, they work hard - that gives incentive to do a great job," Mr Trump said.
"Whatever they're doing, if they do a great job, I think it's a nice thing to have the incentive of, after a period of years, being able to become a citizen."
Mr Johnson said he had subsequently been told by a White House official the event was was intended as a small group briefing with the White House Chief of Staff that evolved into Presidential gaggle when Mr Trump unexpectedly showed up. "The White House official said it was never intended for pool distribution and it has nothing to do with the Washington Blade being an LGBT publication," he said.
The White House did not immediately respond to enquiries for comment.
Last October, Attorney General Jeff Sessions issued a wide-ranging directive that many believed undercut federal protections for LGBT people, telling agencies to do as much as possible to accommodate those who claimed their religious freedoms were being violated.
The directive lifted a burden from religious objectors to prove their beliefs about marriage or other topics are sincerely held. As a result, a claim of a violation of religious freedom is enough to override many anti-discrimination protections for LGBT people and women.
"This is putting the world on notice - you better take these claims seriously," Robin Fretwell Wilson, a professor of law at the University of Illinois at Urbana-Champaign, told the Associated Press. "This is a signal to the rest of these agencies to rethink the protections they have put in place on sexual orientation and gender identity."
Join our new commenting forum
Join thought-provoking conversations, follow other Independent readers and see their replies