Donald Trump accused of trying to 'erase' LGBTQ community from next US census
It comes two days after Mr Trump stripped back the LGBT protections he promised to leave alone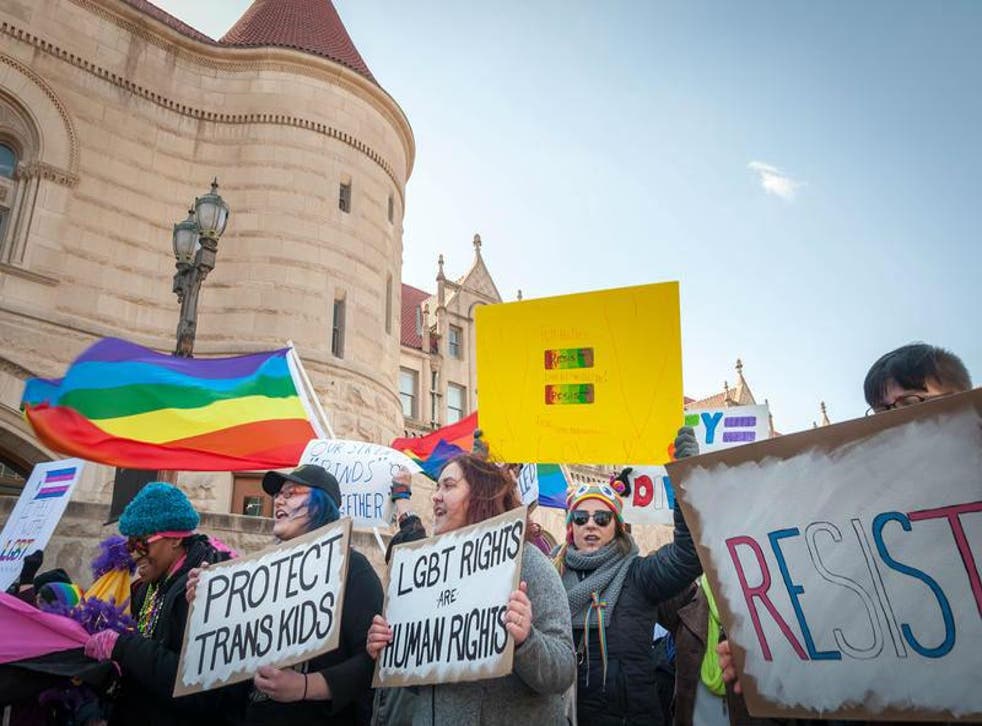 A plan to ask people about their sexual orientation has been dropped from the next US Census - a decision that been strongly criticised by LGBTQ activists who have accused Donald Trump of trying to "erase them".
A draft of subjects that were planned for the 2020 census, the next ten-yearly survey of the population, had included a question about a person's sexual orientation and gender identity. However, those questions were not included in the final report that has been sent to Congress.
The move has sparked anger among members of the LGBTQ community, which had said the information was a crucial in trying to ensure equality and justice for such individuals.
Meghan Maury, criminal and economic justice project director at the National LGBTQ Task Force, said: "Information from these surveys helps the government to enforce federal laws like the Violence Against Women Act and the Fair Housing Act and to determine how to allocate resources like housing supports and food stamps," Maury said.
"If the government doesn't know how many LGBTQ people live in a community, how can it do its job to ensure we're getting fair and adequate access to the rights, protections and services we need?"
The development was first recorded by the Washington Blade.
Facebook apologises to LGBTQ community over naming policy
It quoted Census Bureau Director John Thompson, as saying: "Our goal is a complete and accurate census. In planning for the 2020 Census, the Census Bureau has focused on improving its address list by using imagery, finding ways to increase household self-response, leveraging resources inside and outside the government, and making it easier and more efficient for census takers to complete their work.
"Furthermore, for the first time ever, the decennial will offer an online response option with the ultimate goal of improving question design and data quality while addressing community concerns."
No US census has ever included questions about sexual orientation or gender identity. Same-sex unmarried partners were first tallied by the census in 1990, but there has never been a question to identify LGBT individuals, the newspaper reported.
Yet a draft version of the proposed census questionnaire was to to include such data. The Census Bureau issued a statement saying that had been an error.
"The Subjects Planned for the 2020 Census and American Community Survey report released today inadvertently listed sexual orientation and gender identity as a proposed topic in the appendix," it said. "The report has been corrected."
Some activists said the move was an attempt to "erase" the community.
Sarah Kate Ellis, CEO of the LGBTQ rights group GLAAD, said: "By erasing LGBTQ Americans from the 2020 US Census, the Trump Administration is adding a disgusting entry to a long list of tactics they've adopted to legally deny services and legitimacy to hard-working LGBTQ Americans."
She added: "The Trump Administration is trying hard to erase the LGBTQ community from the fabric of America, but visibility has always been one of the LGBTQ community's greatest strengths."
Register for free to continue reading
Registration is a free and easy way to support our truly independent journalism
By registering, you will also enjoy limited access to Premium articles, exclusive newsletters, commenting, and virtual events with our leading journalists
Already have an account? sign in
Register for free to continue reading
Registration is a free and easy way to support our truly independent journalism
By registering, you will also enjoy limited access to Premium articles, exclusive newsletters, commenting, and virtual events with our leading journalists
Already have an account? sign in
Join our new commenting forum
Join thought-provoking conversations, follow other Independent readers and see their replies