Christian university crowd goes wild when Trump introduced as 'man who bombed Middle East'
The president said 'we don't worship government, we worship God'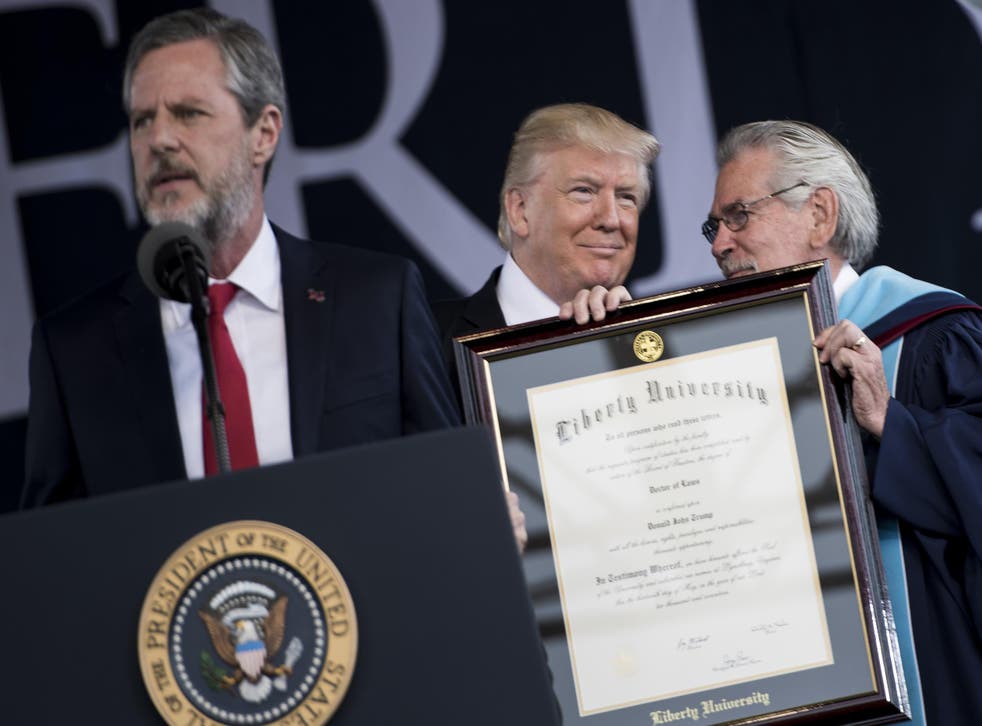 Donald Trump spoke at the commencement ceremony for Liberty University and the crowed roared when he was introduced as a man who "bombed those in the middle east who persecuting Christians."
Jerry Fallwell Jr., president of the Christian school, was a staunch supporter of the president through much of the 2016 campaign, even defending him when Mr Trump was accused of sexual harassment.
Mr Fallwell's father, Jerry Fallwell Sr., was a famous televangelist and founded the university in Lynchburg, Virginia to serve the American evangelical community. He was referring to Mr Trump's missile strike on Syria after video surfaced of a horrific chemical weapons attack in the Idlib province. The sarin gas attack killed nearly 100 people, many of them children.
Mr Trump said the missile strike was to establish a "red line" on the use of chemical weapons by the regime of Syrian President Bashar al-Assad.
It appears Mr Fallwell and other evangelicals have taken to assume that Mr Trump is attacking Syria to protect the religious minority Christians still living in the country.
Mr Trump's theme for the speech seemed to be summed up when he said, "in America we don't worship government, we worship God."
The controversial orders Donald Trump has already issued

Show all 9
The focus on the US being a Christian nation, defending Christian values all over the world, played well with the crowd of 50,000 attendees.
Mr Trump, who never touted his faith publicly prior to the campaign, emphasised that the students from the faith-based university were "outsiders" just like he is in Washington.
"Following your convictions...means you must face criticism from those who lack courage to do what is right," he said.
He received another loud applause when he said "we don't need a lecture from Washington on how to lead our lives."
Mr Trump called leaders in Washington "a small group of failed voices...think they know everything and understand everyone."
He further pushed the idea hat the US is a Christian nation by pointing out that elected officials get sworn-in on Bibles and the pledge of allegiance includes the words "under God."
Mr Trump mentioned that there was "tide of barbarity" in the world after introducing a prisoner of war who was a special guest at the ceremony.
"We're doing very, very well" against that, he said but did not mention specifically to what he was referring only that Americans can "expect to hear from our generals next week" about it.
Newly elected US presidents usually give their first commencement speeches at the University of Notre Dame, the country's most well known Roman Catholic school. However Vice President Mike Pence will be doing so this year as Mr Trump chose to be among a more friendly crowd.
He also spoke at the school twice during the 2016 campaign.
This is Mr Trump's first extended public experience since firing FBI Director James Comey.
Register for free to continue reading
Registration is a free and easy way to support our truly independent journalism
By registering, you will also enjoy limited access to Premium articles, exclusive newsletters, commenting, and virtual events with our leading journalists
Already have an account? sign in
Register for free to continue reading
Registration is a free and easy way to support our truly independent journalism
By registering, you will also enjoy limited access to Premium articles, exclusive newsletters, commenting, and virtual events with our leading journalists
Already have an account? sign in
Join our new commenting forum
Join thought-provoking conversations, follow other Independent readers and see their replies