Donald Trump behaviour 'showing a lot of signs' of dangerous mental illness, says leading Yale psychiatrist
Dr Bandy Lee insists claim not politically-motivated, after she is accused of 'throwing ethics out of the window'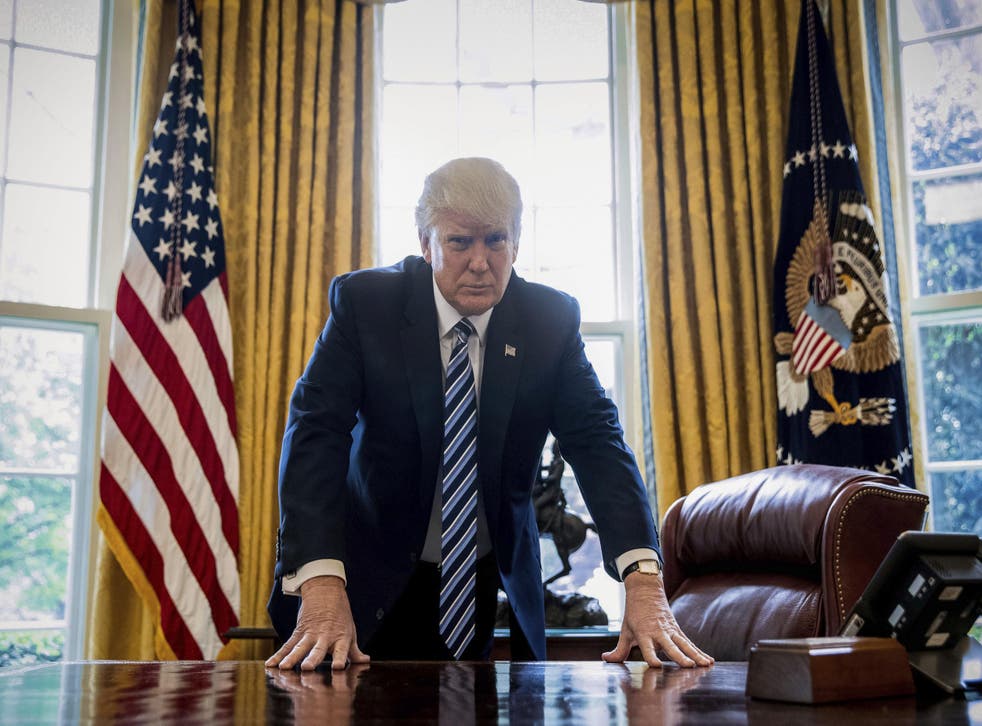 Donald Trump is "showing a lot of signs" of dangerous mental impairment and may be a threat to the survival of American society, a leading Yale psychiatrist has claimed.
In an exclusive interview with The Independent, Yale University's Dr Bandy Lee said she had seen a "marked surge" in violence among her own patients since the day of Mr Trump's election, blaming his strong rhetoric.
The lecturer, a former Harvard research fellow and chief resident at Massachusetts general hospital, was defending experts at an event she organised after they called the President "dangerous" and "delusional".
The claim led one Republican politician to accuse them of "throwing ethical standards out the window because they cannot accept the election results".
But Dr Lee insisted she and the panellists had people's safety foremost in mind and that their judgement was not politically-motivated.
She told The Independent: "To say that there are mental health impairments in Mr Trump is not to make a moral judgement on him, and not to indict him in any way.
"It should not be used as a political weapon against him, but rather should be raised as a concern just like any medical issue that may impair an individual's ability to function in office.
"I actually am afraid of politicisation of this. We wouldn't make up that someone has cancer, or a disability. Mental health should be treated the same.
Ivanka Trump gets booed for trying to defend her father at major international summit
"One of the reasons why I think that this matter needs to be out in public discussion is because of the very special stigma that is attached to mental illness. That stigma is due to ignorance.
"It's about the situation where the presence of mental instability in a person in a position of power [is] affecting the survival and safety, not just of our patients, but of our whole patient base, meaning it spills into our responsibility.
"As mental health professionals we are privy to specialised knowledge that most others may not have, or be able to perceive. That is how psychiatric or psychological dynamics can have public health consequences at large.
"Most of my patients are violent offenders. I've been treating them and designing programmes for them for over 20 years. Since the morning after Mr Trump's election, there has been a marked surge in violence among my patients. They find justification for their violence in the rhetoric."
Asked whether she had similar fears under Barack Obama's presidency, she said: "No. None of us had this level of concern."
World news in pictures

Show all 50
Controversy around the panel's claims stemmed from whether they violated the Goldwater Rule, instituted by the American Psychiatric Association (APA) in the 1970s to discourage practitioners from offering professional opinions on people in the public eye unless they had personally examined them.
In an election blog last year, APA president Dr Maria Oquendo said breaking the rule would be "irresponsible, potentially stigmatising, and definitely unethical," and that it could decrease patients' confidence in their doctors.
Dr Lee said that while she believed "diagnosing an individual from afar isn't possible", she and others had a duty to speak out and that "we are expected and required to put survival and safety above all else".
She claimed that a "reaffirmation" of the rule in March had expanded it "beyond any original language" and that her panel had "adhered to the Goldwater Rule in its original conception".
It was acting as a psychiatrist might do in "ordinary practice" if they were forced to break confidentiality rules to protect people, she said.
The controversial orders Donald Trump has already issued

Show all 9
She added: "That is how all ethical principles are applied. They're meant to be applied thoughtfully, and larger ethics need always to be considered. Professionals should be speaking out with consideration, restraint and responsibility, and only in truly exceptional cases.
"Assessing dangerousness is actually quite different from doing an individual analysis. It's about protecting the individual and his or her potential victims.
"[Mr Trump] is certainly showing a lot of signs. A number of us really believe that he should undergo an evaluation, to undergo really the true extent of his impairment. This shouldn't be spoken about carelessly, gratuitously.
"The real dangerousness is this instability, unpredictability and impulsivity that point to dangerousness due to mental impairment. The kind of taunting of North Korea, for example. The military attack that was done within a few days of office.
"He suddenly, impulsively, bombed Syria. And then the dropping of the Mother of All Bombs, the expression of contentment at the show of force, is very troublesome."
Asked whether she believed the President represented a threat to the survival of American society, she said: "I wouldn't be speaking up unless it rose to that level. It may come to that."
In February another psychiatrist, Dr Allen Frances, wrote in the New York Times that "psychiatric name-calling is a misguided way of countering Mr Trump's attack on democracy".
Dr Frances, of Duke University Medical College, headed a taskforce that literally wrote the book on diagnosing mental illness in 1994. He added in a letter to the paper: "It is a stigmatising insult to the mentally ill (who are mostly well behaved and well meaning) to be lumped with Mr Trump (who is neither)."
The Independent has contacted the White House for comment.
Join our new commenting forum
Join thought-provoking conversations, follow other Independent readers and see their replies