Trump rebukes Republican candidates who refused to embrace him and lost their elections
"Mia Love gave me no love."
Sarah Harvard
New York
Wednesday 07 November 2018 18:48 Comments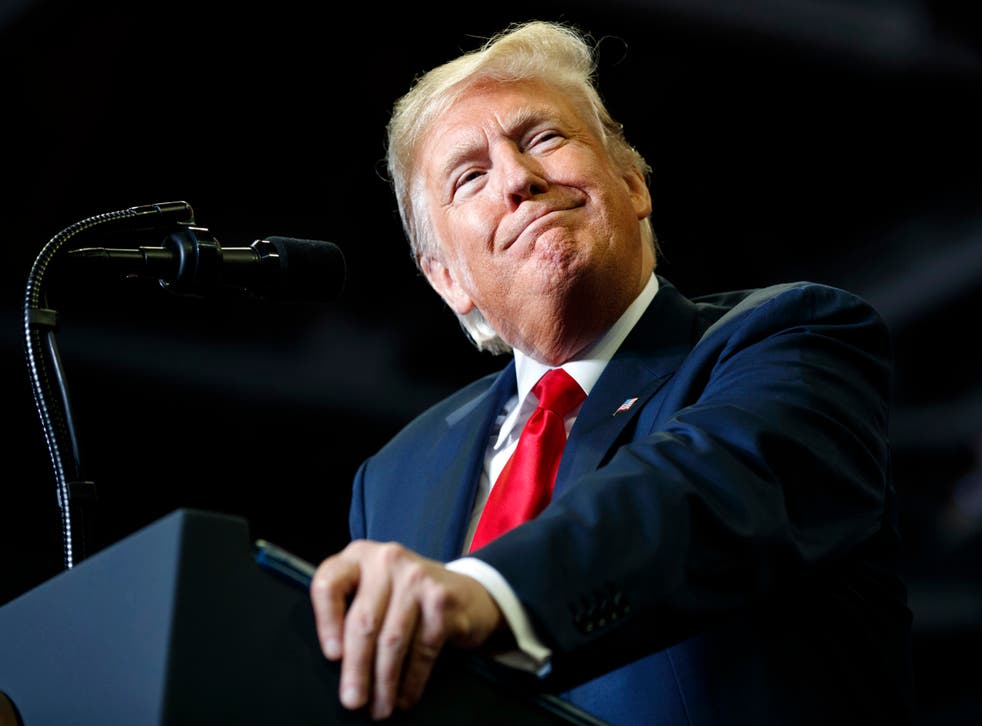 President Donald Trump has chastised the several Republicans who distanced themselves from him and eventually lost their re-election campaigns.
"Peter Roskam didn't want the embrace. Erik Paulsen didn't want the embrace." Trump said in a press conference on Wednesday. "Mia Love gave me no love."
Illinois Rep Peter Roskam, Minnesota Rep Erik Paulsen, Utah Rep. Mia Love and Virginia Rep Barbara Comstock were among the Republicans that lost their re-election campaigns after rebuffing Mr Trump.
Mr Trump also rebuked Republican New Jersey Senate candidate Bob Hugin who fell short of ousting Democrat incumbent Senator Bob Menendez.
"They decided for their own reason not to embrace, whether it's me or what we stand for," Mr Trump added. "What we stand for meant a lot to most people, and we had tremendous support in the Republican party."
For the most part, the Trump administration has considered the results from midterm election as a net positive. Kentucky Senator Mitch McConnell said it was a "good morning" for Republicans, before praising the president for rallying his supporters to vote for his party in the midterms. Sean Spicer, the former White House secretary, told Fox News that Republicans won "at least four" Senate seats to remain control, despite losing the House. "The president inserted himself in this election and I think it paid off big time," Spicer added.
Mr Trump, himself, also called it a "tremendous success" and a "big victory."
However, the election results show something different. Several Republican favourites lost their House, Senate and gubernatorial races including incumbents like Wisconsin Governor Scott Walker, Illinois Governor Bruce Rauner, Sen. Dean Heller of Nevada and Representatives Dave Brat of Virginia, Rod Blum of Iowa, Rep. Pete Session of Texas, Keith Rothfus of Pennsylvania, Claudia Tenney of New York, John Faso of New York and Randy Hultgren of Illinois.
Republicans effectively lost control of the House in Tuesday's midterms election results, but were able to maintain their majority in the Senate.
World news in pictures

Show all 50
Republicans have a slight lead—51 to 47—in Senate Seats, but there are still two more Senate races in Montana and Arizona that are too close to call.
While there are still 23 congressional races underway, Republicans only won 193 seats on Election nights. Democrats were able to guarantee a Democratic majority in the House for two years by winning 219 seats.
A Democrat-controlled House could mean more investigations and subpoenas into the Trump administration. House Democratic Leader Nancy Pelosi said the new priority will be about upholding an "honest government." She also said that carrying out impeachment proceedings for Mr Trump won't be their main priority, unless new findings from special counsel Robert Mueller's investigation into Russian election interference, as well as possible collusion between the president and Russia, could draw some Republican support.
Support free-thinking journalism and attend Independent events
House Democrats are also reportedly looking into obtaining Trump's tax returns from Treasure Secretary Steve Mnuchin.
The president threatened House Democrats for their proposed probes into his administration with retaliated investigations into their party from the GOP-controlled Senate.
The president preemptively lambasted House Democrats for the alleged plan. "If the Democrats think they are going to waste Taxpayer Money investigating us at the House level, then we will likewise be forced to consider investigating them for all of the leaks of Classified Information, and much else, at the Senate level," Mr Trump tweeted. "Two can play that game!
Register for free to continue reading
Registration is a free and easy way to support our truly independent journalism
By registering, you will also enjoy limited access to Premium articles, exclusive newsletters, commenting, and virtual events with our leading journalists
Already have an account? sign in
Join our new commenting forum
Join thought-provoking conversations, follow other Independent readers and see their replies