Trump instructs Homeland Security to turn immigrants in migrant caravan away at the border
Migrants on the caravan are running away from danger and poverty in their predominantly Central American home countries
Clark Mindock
New York
Monday 23 April 2018 18:58 Comments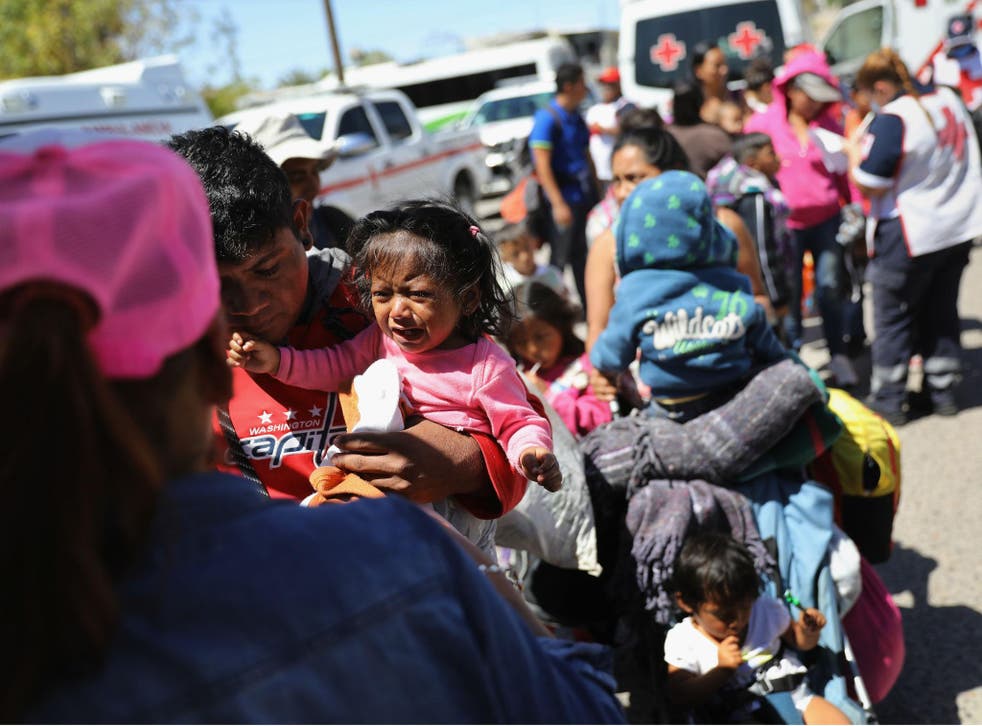 President Donald Trump says he has instructed the Department of Homeland Security to turn migrants arriving at the US-Mexico border in a caravan away.
Mr Trump, in a series of two tweets, announced that he had told DHS to do so, and added that he believes the United States is being taken advantage of by individuals attempting to enter the country as refugees, and that he is considering using the North American Free Trade Agreement (Nafta) as a bargaining chip to force Mexico to take care of the migrants before they even get to the US.
"Despite the Democrat inspired laws on Sanctuary Cities and he Border being so bad and one sided, I have instructed the Secretary of Homeland Security not to let these large Caravans of people into our country," one of Mr Trump's tweets reads. "It is a disgrace. We are the only Country in the World so naive! WALL".
The president followed that with his musing about using Nafta to pressure Mexico.
"Mexico, whose laws on immigration are very tough, must stop people from going through Mexico and into the US. We may make this a condition of the new Nafta Agreement. Our Country cannot accept what is happening!" Mr Trump wrote. "Also, we must get Wall funding fast".
Mexico's top diplomat, Luis Videgaray, rebuffed the president Monday for his suggestion that trade and immigration should be linked issues.
People strike across America for A Day Without Immigrants

Show all 16
"Mexico decides its migratory policy in a sovereign way, and migratory cooperation with the United States happens because it's in Mexico's interest," Mr Videgaray said in a tweet.
"It would be unacceptable to condition the renegotiation of Nafta to migratory actions outside this frame of cooperation," he said.
Mr Trump first began talking about the migrant caravan weeks ago, when a group of about 1,200 people first convened at Mexico's southern border.
At the time, Mr Trump attempted to force Mexico to deal with the group of people itself, and later said that the caravan had dissolved.
The group has thinned out quite a bit since then, but a considerable group is still headed to the US, where many say they plan on submitting themselves to authorities and ask for asylum.
Organizers for the group say that there are roughly 600 people left, and some have begun arriving at the border.
It is unclear how the DHS might turn away the asylum seekers, and doing so is likely to spark a fast outcry against the Trump administration by immigrant rights group, who have already sued American officials for allegedly turning away asylum seekers illegally.
Register for free to continue reading
Registration is a free and easy way to support our truly independent journalism
By registering, you will also enjoy limited access to Premium articles, exclusive newsletters, commenting, and virtual events with our leading journalists
Already have an account? sign in
Join our new commenting forum
Join thought-provoking conversations, follow other Independent readers and see their replies